Ubisoft releases latest Assassin's Creed: Unity patch, lists all known issues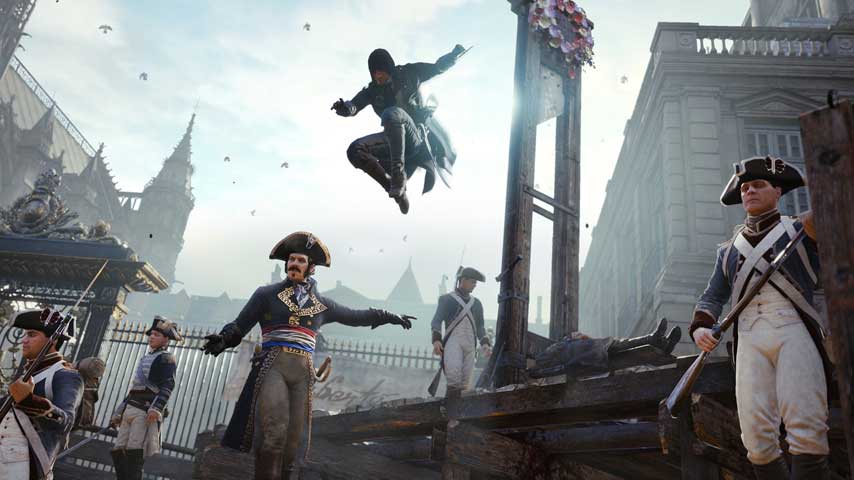 Want to know everything that's wrong with Assassin's Creed: Unity? Ubisoft has a list for that, along with patch notes on the latest fixes.
Over on the Ubisoft forums, the company has posted a list of currently known issue. There may be more out there, but these are the ones the company is aware of at present.
A list of workarounds for some issues is also included.
The list spans all three platforms: PC, PlayStation 4 and Xbox One.
Elsewhere in the post, Ubisoft suggests playing offline on all systems when in single-player mode to improve framerate, going as far as "disconnecting from your internet connection" until a fix is applied.
However, Digital Foundry tested the offline suggestion on consoles, and found "no game-changing difference to the overall experience."
"In some cases, running offline is faster, while in others performance is the same or lower," reads the post. "If there is any improvement, it's very, very small and we're inclined to think this is just down to the variation in engine load between the two sessions.
"Certainly, there's little evidence to suggest that running offline brings us appreciably closer to the target 30fps."
A patch for PC was released yesterday, and one of the main fixes stopped instances of Arno falling through the game world when "free running on various props or when dropping down on to an NPC."
Arno should no longer get "stuck in a hay cart" next to the Pantheon in the Bièvre district and it the game should no longer crash when joining a co-op session of another player who has a specific single player and side missions progression.
Other fixes can be found in the patch notes.
The hay cart, falling through space, and co-op crashes were also addressed on the PlayStation 4 version.
A patch for Xbox One is in the works, and another update is currently on the horizon for all formats.
We'll keep you updated on patches as they are announced.