Animal Crossing: New Horizons Might Have Genders After All Among Other New Details From PAX East
With a new demo at PAX East, fans are finally getting their hands on the latest Animal Crossing.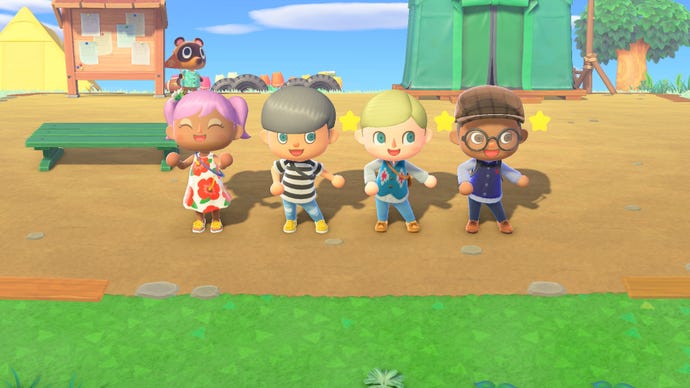 This article first appeared on USgamer, a partner publication of VG247. Some content, such as this article, has been migrated to VG247 for posterity after USgamer's closure - but it has not been edited or further vetted by the VG247 team.
This weekend is PAX East. Some companies dropped out of its plans to attend due to the looming epidemics of the novel coronavirus across the world. Still, one big company didn't hold out. After seeing its adorably done-up booth for Animal Crossing: New Horizons and a mascot of Tom Nook fishing in a fake river, it's easy to see why Nintendo risked the trip.
This weekend marks the first hands-on opportunity with Animal Crossing: New Horizons for the public. Players are noticing the most minute details in full force as a result, from new features to quality of life changes. The fan community Twitter ACPocketNews has been doing a swell job keeping up with every new thing that's popped up across Reddit and social media. It seems that long Nintendo Direct from last week actually didn't tell us everything after all.
Now kicks also sells accessories and bags from r/ac_newhorizons
Kicks Doesn't Sell Just Shoes Anymore
Kicks the Skunk has appeared in the hands-on demo many have played, and players have discovered that he now sells bags and other accessories. In an off-screen photo taken at PAX East and shared on Reddit by user "Sparr126da," messenger bags, a backpack, a cute crossbody purse, aerobics leggings, and more are seen in Kicks' shop for the day. Considering in the New Leaf era, I often downloaded custom designs from other players that etched in their own bags onto a dress, the addition of carrying a bag is a very welcome addition.
New Animals to Fish For
Another eagle-eyed player posted on Reddit a heavily cropped image showcasing not just a new fish, but a new snapping turtle too. Considering how beautiful the new museum looks in New Horizons, the addition of new fish and other animals to catch was nearly a given. As for me, I just hope there are even more gorgeous butterflies to catch this time around.
You Can Toggle to a Top Down Camera View Like How It Looked On GameCube
Our friends at GameXplain posted a 20 minute off-screen demo which includes an inside look at the museum, how co-op works, and most surprisingly, a toggle function to change the camera view. While players won't have full analog camera support, as always, the camera can be changed to more of a top-down view with a click of the right analog stick, similar to how it once always was on GameCube with the first Animal Crossing. You can see it in action around the six minute mark of the video embedded above.
Tom Nook and Isabelle Are Impossibly Adorable Co-Workers
When idle, Tom Nook and Isabelle clean around the office. In one clip, Isabelle is seen dusting a shelf, while in another, Tom Nook is dusting a shelf. The two colleagues are always keeping busy when you walk in, rather than just sitting there, as if waiting for your arrival. I can only hope now that when I walk into Timmy and Tommy's place, they're acting like the rambunctious little kids they are.
You'll Be Able to Customize Your Phone Case
The Nook Phone is one of New Horizons' new additions, and much like how in the Nintendo Direct revealed that you can customize things like coffee mugs, a new menu of seemingly where you can spend your Nook Miles (a new second currency in addition to Bells), a decorative phone case is seen. It's unknown if fans will be able to customize their own designs for the Nook Phone, but at the very least, we can buy the cutest cases on the Animal Crossing market.
You Can Place Welcome Door Mats Now
A new furniture item includes door mats, specifically, welcome mats. I had to Google this, because I swore there were previous welcome mats in the series, but apparently, it was reserved to flash rugs only. Welcome to the rug party, welcome mats!
Face Paint Custom Design and Gender options confirmed in Animal Crossing: New Horizons' character editor! pic.twitter.com/csnc8NkMq1

- Animal Crossing World? (@ACWorldBlog) February 27, 2020
Face Paint And Choosing A Gender Are New Customization Options
In the run up to Animal Crossing: New Horizons, Nintendo revealed that character creation options would no longer be locked behind genders. Any hair or clothes you want, you can wear. In a new menu, seen in a demo today by YouTuber GreatFairyCari (and spotted by the fan community Twitter Animal Crossing World), a new tab marked by a pen lets players customize "face paint" on their Villager. They also have the option of choosing a "setting," marked by a more feminine villager with a ponytail, and a more male-presenting icon.
While the usually-gendered customization options are open for anyone, this particular setting appears to be mandatory. It's likely it's for pronoun reasons, with no option for a truly gender-neutral option. It is a bit of a bummer, but at least all the other customization options remain open to whoever.
---
Animal Crossing: New Horizons is our most anticipated game of the season. Or at least, this writer's most anticipated game. The charming life simulation from Nintendo is out exclusively on Nintendo Switch on March 20, sharing a release date with Isabelle's best friend's Doom Slayer. For now, I leave you with this aforementioned clip of mascot Tom Nook fishing in a non-existent river to an audience of this lone camera person.
Excuse me while I cry.#PAXEast pic.twitter.com/N4L4V1RVqN

— @ PAX EAST (@anabphoto) February 27, 2020