How to use HDR on PC with games like Forza Horizon 4
Playing HDR games on PC is much easier than it was a year ago, but it's still not quite as straightforward as you'd like.
HDR is becoming more and more important to video games presentation, thanks in large part to the push from Sony and Microsoft. Enjoying HDR content is mostly hassle-free on PS4, or Xbox One S or X – but that's unfortunately far from being the case on PC. There are a number of reasons why things are the way they are today, but we'd rather not bore you with tech chat.
Bottom line is: the state of HDR on PC is a bit of a mess. Many games that support HDR on consoles neglect to add the feature on PC, partially because of the headache it would cause developers to implement and support it on PC compared to consoles.
But HDR is great on PC, and when it works, it's as good as it is on consoles. Monitor manufactures are starting to recognise the demand, and many already have HDR PC screens on store shelves or on the way. If you don't currently own one of those monitors, and don't intend to change yours in the near future, you can still take advantage of HDR if your TV supports it. After all, TVs with HDR support are much more popular than those fancy new PC monitors.
In the short guide to follow, we'll explain how you can take advantage of your TV's HDR support using a PC. These steps are mostly aimed at players who have a PC hooked up to a TV, but they'll also work if you prefer to play at your desk – assuming your monitor supports HDR.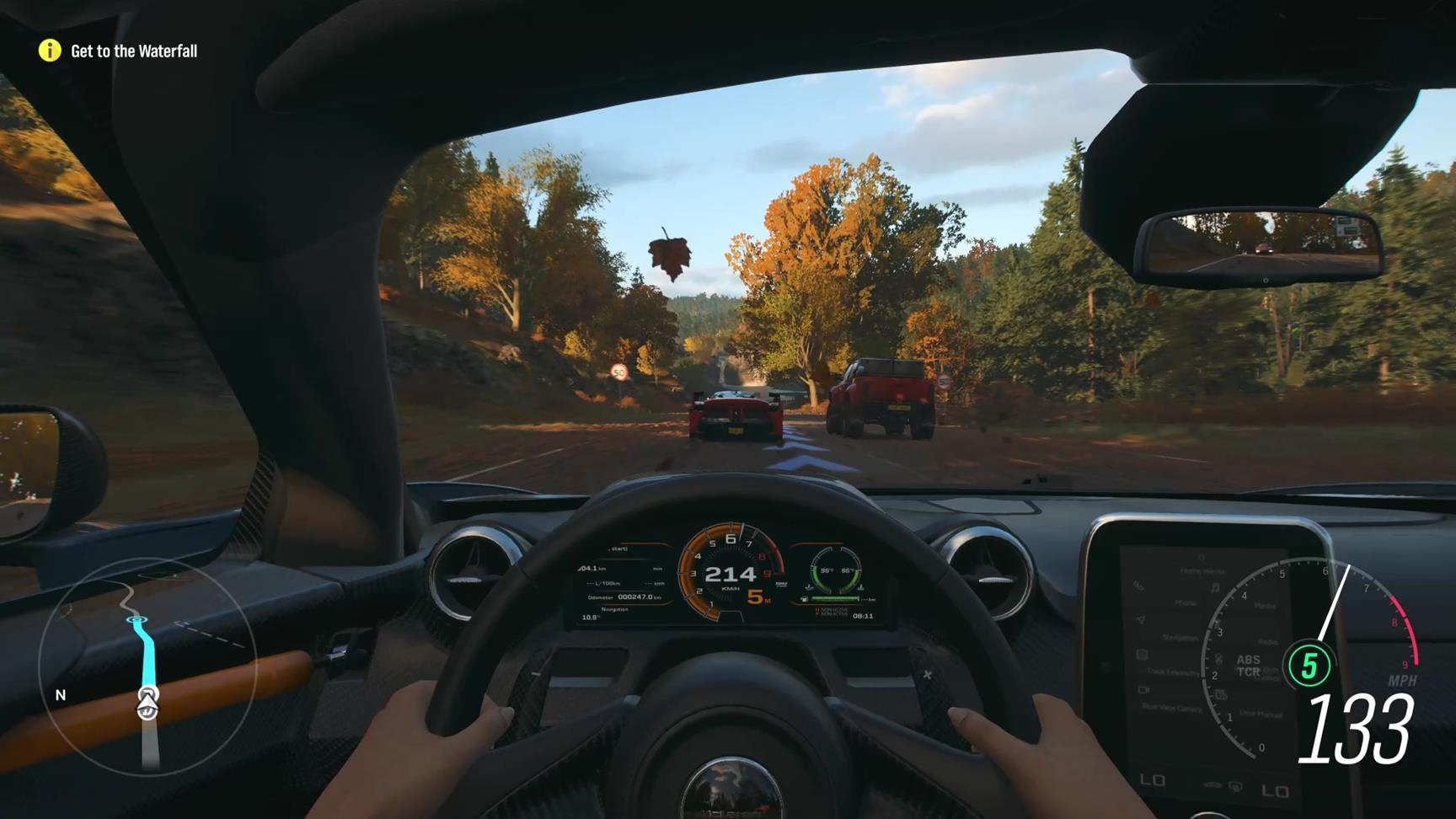 Before we begin, it's worth pointing out that there are great examples of effortless HDR support in some PC games. Titles such as Destiny 2, Hitman, Assassin's Creed: Origins, F1 2018 and others don't require any work on the part of the player. All you have to do is toggle the HDR option through their settings menu, and they'll automatically switch to an HDR signal if they detect that your TV/monitor support it.
For most PC games that do support HDR, their detection is a bit finicky. This is especially true for UWP titles like Microsoft's exclusives Forza Horizon 4, and Forza 7. For these games, you'll have to enable HDR manually before launching the game.
How to play PC games in HDR
To begin, make sure your GPU supports HDR, and that you're running Windows 10. Microsoft made several improvements to HDR support on Windows 10 over the course of several updates released between late 2017 and early this year. It's best to have Windows 10 build 1803 or higher. You should also verify that the HDMI cable between your PC and TV (display port 1.4 users need not worry about this) has sufficient bandwidth.
For Nvidia, all GPUs in the GTX 900 and 1000 series support HDR. For AMD, you'll need an RX 400, RX 500 or RX Vega card. Technically, R9 300 cards can do HDR but they're more limited in bandwidth thanks to their outdated HDMI ports.
If you don't want to spend a few minutes reading HDMI specs and dodging marketing terms, you can get one of these cables. In short, get a 2.0a cable rated at 18Gbps or better to be safe. These can carry a 4K 60fps HDR signal without issue.
Using the HDMI cable, connect your monitor to the back of your GPU into any of the HDMI ports available. You'll know when you have a signal. Then, make sure your TV has HDR enabled on the specific input you've plugged your PC into. That would be HDMI 1/2/3/4 etc., but keep in mind that not all TVs support HDR across all HDMI inputs.
Enabling HDR on specific HDMI inputs is different for each TV brand, but it should be something along the lines of Ultra Deep Colour for LG, HDMI UHD Colour for Samsung, or Enhanced Format for Sony.
You obviously don't have to do this if you previously had a console connected to the same port and played an HDR game through it. If you're having trouble locating this setting, refer to your TV's manual.
How to enable HDR on PC
For Nvidia GPU owners, right click anywhere on your desktop and bring up the Nvidia Control Panel. Under Display, select Change Resolution.
Make sure your TV is selected, then pick the native resolution and maximum refresh rate the TV can support. Some TVs are only capable of doing 30hz at 4K, while others can go up to 60Hz. Assuming your TV is recent enough and is capable of 4K 60Hz, pick them. From there you have a couple of options.
You can either keep the default colour settings below as they are, or tweak them individually. Leaving them on default allows games and windows to adjust where necessary. RGB on 8bpc is generally fine for games, since most games are mastered in that colour depth anyway.
That said, you may want to spend a few minutes testing out other settings to see what looks best to you. If you're feeling adventurous, your first order of business is changing the colour format to YCbCr 4.2.2 or YCbCr 4.2.0. Both settings allow colour depth higher than 8bpc, which means you'll be able to select 10bpc – an option that's greyed out when using RGB.
In my experience, I didn't notice any difference between either when running at 10bpc compared to RGB on 8bpc. Your mileage may vary. Whatever you do, you must hit Apply every time you change to the different colour formats. If you skip this step, the output colour depth list won't be updated.
Once all of that is sorted, your next order of business is enabling HDR in Windows. Right lick your desktop and go to Display Settings. Select your display and toggle the HDR and WCG setting on.
This will dim the colours of your desktop on that display. It's completely normal. Windows now allows you to turn up the brightness of SDR content if you click HDR and WCG Settings, but you don't need to bother with that if you're only turning HDR on to play an HDR game.
Enabling HDR through windows will force any game you run – that supports HDR – to display an HDR signal. Even then, Windows Store games are known to misbehave. Sometimes, you'll need to restart the game in question to get it to recognise HDR.
You can always refer back to Advanced Display Settings on the same page to check what type of signal is actually being sent to the TV, in case you want to be sure.