PlayStation Plus double discounts are back on the PS Store – save 60%-80% off
If you're still reeling from the PlayStation Easter sale, too bad because another sale has kicked off. This time, the deal is double discounts for PlayStation Plus members.
These double discounts for PlayStation Plus members are currently live on the US and EU PS Stores, and you have plenty of time to take advantage.
From now until April 24 on the North American end and April 25 in Europe, PS4 users can save double on a large number of titles.
On the EU PS Store, PlayStation users can save up to 40% while PlayStation Plus members can save up to 80% off. On the North American end, the discounts are 30% for non-Plus users and 60% for those with Plus.
PS4 users can choose from a variety of titles such as Call of Duty: Modern Warfare Remastered, Destiny 2, Dragon Age: Inquisition: GOTY Edition, The Surge, Titanfall 2, and many others.
Another discount to take advantage of is the current EU Deal of the Week: Crash Bandicoot N-Sane Trilogy. Those who have been holding out can grab it for 40% off until April 18. Instead of paying £34.99, you'll only have to fork over £20.99.
That's not all. A digital zone sale is also live until April 25 over on the EU Store.
PlayStation users can save up to 60% on titles such as Layers of Fear, Accounting Plus, Speed Runners, and more.
Titles available through the EU PS Plus Double Discount Sale are posted below.
More information on the sale, as well as digital zone discounts can be found through the inks to the EU PS Store.
A list of deals for North America can be found over on the US PS Blog.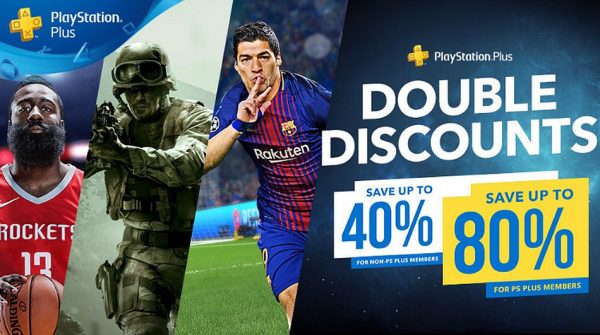 PlayStation Plus Double Discount Sale
AER – Memories of Old
AereA – Deluxe Edition
AFL Evolution
Agents of Mayhem
Agents of Mayhem – Total Mayhem Bundle
Air Conflicts Vietnam Ultimate Edition
ArcaniA – The Complete Tale
ATV Drift & Tricks
Baila Latino
Baja: Edge of Control HD
Batman: Arkham VR
Battle Chasers: Nightwar
Battle of the Bulge
BATTLESHIP
Battlestar Galactica Deadlock
Ben 10
Blood Bowl 2
Blood Bow l2 – Team Pack
Blood Bow l2: Legendary Edition
Blood Bowl 2: Official Expansion
Blood Bow l2: Official Expansion + Team Pack
Bound by Flame
Bubsy: The Woolies Strike Back
Bulletstorm: Full Clip Edition
Bulletstorm: Full Clip Edition Duke Nukem Bundle
Call of Duty Black Ops III: Zombies Chronicles
Call of Duty: Infinite Warfare
Call of Duty: Infinite Warfare – Digital Deluxe Edition
Call of Duty: Modern Warfare Remastered
Canis Canem Edit
Carmageddon: Max Damage
Carnival Games VR
Carnival Games VR: Alley Adventure
Cartoon Network: Battle Crashers
Chaos on Deponia
Chivalry: Medieval Warfare
Chivalry: Medieval Warfare Ultimate Edition
Cities: Skylines – Premium Edition
Cities: Skylines – Season Pass
Cities: Skylines – Snowfall
Constructor Game
de Blob 2
Dead by Daylight: Special Edition
Dead Synchronicity: Tomorrow Comes Today
Deer Hunter: Reloaded
Deponia
Destiny 2
Destiny 2 – Digital Deluxe Edition
Destiny 2 – Game + Expansion Pass Bundle
Destroy All Humans!
Destroy All Humans! 2
DiRT 4
DIVINITY ORIGINAL SIN – ENHANCED EDITION
Don Bradman Cricket 17
Dragon Age: Inquisition
Dragon Age: Inquisition – Game of the Year Edition
Dragon Age: Inquisition – Jaws of Hakkon
Dragon Age: Inquisition – The Descent
Dragon Age: Inquisition – Trespasser
Dragon Age: Inquisition Deluxe Edition
Dragon Age: Inquisition Deluxe Edition Upgrade
Dragon Age: Inquisition DLC Bundle
DUCATI – 90th Anniversary
EA SPORTS Rory McIlroy PGA TOUR
EA SPORTS UFC
EA SPORTS UFC 2
ELEX
Elite Dangerous
Elite Dangerous: Commander Deluxe Edition
F1 2015
F1 2016
Farmer & Forestry Bundle
Firefighters – The Simulation
Firefighters: Airport Fire Department
Firefighters: Plant Fire Department
Flockers
Forestry 2017 – The Simulation
Gem Smashers
Ghostbusters
Goosebumps: The Game
Grand Theft Auto 3
Grand Theft Auto: San Andreas
Grand Theft Auto: Vice City
Gravel
Gravel Special Edition
Handball 17
Hunting Simulator
Industry Giant 2
Industry Giant 2 – Gold Edition
Industry Giant 2: 1980-2020
Injustice 2 – Standard Edition
Ken Follett's The Pillars of the Earth
Kerbal Space Program Enhanced Edition
Killing Floor 2
Krinkle Krusher
Kromaia Ω
L. A. Noire
La Voz – Quiero tu voz
Legend of Kay Anniversary
Life is Strange Season Pass
Lock's Quest
Manhunt
Marvel: Ultimate Alliance
Marvel: Ultimate Alliance 2
Marvel: Ultimate Alliance Bundle
Max Payne
Metro Redux
Middle-earth: Shadow of Mordor Legion Edition
Middle-earth: Shadow of Mordor- GOTY Edition
Mirror's Edge Catalyst
Monster Jam: Crush It!
Mordheim: City of the Damned
Mordheim: City of the Damned – Complete DLC Pack
Mordheim: City of the Damned – Complete Edition
Moto Racer 4
Moto Racer 4 – Deluxe Edition
MotoGP17
Mount & Blade: Warband
MX vs. ATV Supercross Encore
MXGP – COMPACT to Full Game UPGRADE
MXGP – The Official Motocross Videogame
MXGP – The Official Motocross Videogame COMPACT
MXGP3 – Season Pass
MXGP3 – Special Edition
MXGP3 – The Official Motocross Videogame
NBA LIVE 18: The One Edition
Need for Speed
Need for Speed Deluxe Bundle (NFS2015 & Rivals)
Need for Speed Deluxe Edition
Need for Speed Deluxe Upgrade
No Heroes Allowed! VR
No Man's Sky
Outcast – Second Contact
Outcast – Second Contact Launch Edition
Peggle 2
Peggle 2 Magical Masters Edition
Pro Evolution Soccer 2018
Professional Farmer 2017
Professional Farmer 2017 – Gold Edition
Professional Farmer: American Dream
Prototype Biohazard Bundle
Prototype 2
PROTOTYPE
Psychonauts
Psychonauts In The Rhombus Of Ruin
Putty Squad Game
Radial-G : Racing Revolved
Rapala Fishing: Pro Series
Real Farm – Deluxe Edition
Realms of Arkania: Blade of Destiny
Red Dead Revolver
Red Faction
Red Faction II
REUS – Deluxe Edition
RIDE
Ride 2
Ride 2 Season Pass
Ride 2 Special Edition
RIDE Season Pass
RiME
Risen 3: Titan Lords – Enhanced Edition
Rock Band 3 Export Pack
Rock Band 4 Rivals Bundle
Rock Band Rivals Expansion Pack
Rogue Trooper Redux
RUGBY 18
Rugby League Live 4
Saints Row 4: Re-Elected
Saints Row 4 Re-Elected & Gat out of Hell
Saints Row: Gat out of Hell
Saints Row 4: Re-Elected & Gat out of Hell
Schlag den Star – Das Spiel
Sébastien Loeb Rally EVO
Sébastien Loeb Rally EVO – Special Edition
Shadow Warrior
Shadow Warrior 2
Shiness: The Lightning Kingdom
Silence
Sine Mora EX
Sniper Elite 4
Sniper Elite 4 Digital Deluxe Edition
Sniper Ghost Warrior 3 Season Pass Edition
SOEDESCO Collection – Volume 1
South Park: The Stick of Truth
Space Hulk
Space Hulk: Ascension
Spintires: MudRunner
Star Hammer: The Vanguard Prophecy
Star Wars Jedi Starfighter
Star Wars Racer Revenge
Star Wars Battlefront Bespin
Star Wars Battlefront Death Star
Star Wars Battlefront Deluxe Edition Content
Star Wars Battlefront Outer Rim
Star Wars Battlefront Rogue One: Scarif
Star Wars Battlefront Season Pass
Star Wars Battlefront Ultimate Edition
Star Wars Battlefront Ultimate Upgrade Pack
Star Wars BOUNTY HUNTER
Star Wars PS4 Mega Bundle
Styx: Master of Shadows
Styx: Master of Shadows + Styx: Shards of Darkness
Styx: Shards of Darkness
Subject 13
Super Star Wars
Syberia 3
The Book of Unwritten Tales 2
The Complete EA SPORTS UFC 2 Bundle
The Dwarves
The Inpatient
The Shadow Warrior Collection
The Surge
The Surge: Complete Edition
The Talos Principle: Deluxe Edition
The Warriors
theHunter: Call of the Wild
This is the Police
This War of Mine: The Little Ones
Titanfall 2 Standard Edition
Titanfall 2: Angel City's Most Wanted Bundle
Titanfall 2: Colony Reborn Bundle
Titanfall 2: Monarch's Reign Bundle
Titanfall 2: Operation Endeavor Warpaint Bundle
Titanfall 2: Prime Titan Bundle
Titanfall 2: Ultimate Edition
Torment: Tides of Numenera
Tour de France 2017
Tropico 5
Tropico 5 – Complete Collection
Tropico 5 – Complete Collection Upgrade Pack
Undead
Valentino Rossi The Game
Valentino Rossi The Game – Digital Deluxe
Valentino Rossi The Game – Season Pass
Valentino Rossi The Game – Special Edition
Valentino Rossi The Game Compact
Vegas Party
Vikings – Wolves of Midgard
Warhammer 40,000: Deathwatch
We Sing
We Sing Pop
Witch Hunters
Worms Anniversary Edition
Worms W.M.D
Worms Battlegrounds
WRC 5 eSports Edition
WRC 6 FIA World Rally Championship
Wuppo
Wuppo – Deluxe Edition
Yesterday Origins
Yonder: The Cloud Catcher Chronicles
Yooka-Laylee
Zotrix