Square Enix's King's Knight is more than just a Final Fantasy 15 spin-off – it's a labor of love
King's Knight might just be the strangest piece of the Final Fantasy 15 universe, but this little spin-off game is a labor of love.
In Final Fantasy 15, Noctis and his crew of buddies are hopelessly addicted to a mobile game. While the FF15 story does eventually get very serious indeed and they spend more of their time at camp broodily sulking, for a good chunk of the game you'll often catch the foursome tapping away at their phones and discussing the game. That game is King's Knight, and that game is real.
This isn't just some mobile Final Fantasy 15 spin-off like the dubious-quality Justice Monsters 5 and the truly terrible FF15: A New Empire, however: it's also a beloved game from Square's past. In a slightly meta move, when deciding what game they'd make Noctis and his friends addicted to in FF15's world they chose an old NES Square title that FF creator Hironobu Sakaguchi and legendary FF musician Nobuo Uematsu worked on prior to creating FF. Off the back of its background appearance as world color in FF15 King's Knight has now been rebooted for mobile phones, and has just launched worldwide on iOS and Android.
"I saved up and bought myself the original game as a kid. I never thought that I'd get to do this – to be involved in its development!"
"It was conceived as part of the FF15 universe," King's Knight producer Daisuke Motohashi explained to VG247 in a short meeting. "They'd decided that they wanted the characters in FF15 to be really hooked on a game. We didn't know which game, but when we began to look to make a choice King's Knight emerged as an ideal candidate.
"When we were going about trying to choose what game we'd place there we thought maybe about creating a brand new game or it could be an existing title, or something that people might have forgotten that we could bring back – and after all that consideration, King's Knight was our choice. For me it's the fun, the childhood memories – it was a really big motivator behind this game."
For Motohashi, the childhood memories are clearly strong. He's one of the most endearingly animated, excited and funny Japanese developers I've ever had the pleasure of meeting in our short meeting. When big games usually have demos shown to you on enormous projectors or 4K screens, Motohashi gives me a brief presentation on the now-subtitled King's Knight: Wrath of the Dark Dragon by flipping open his laptop and turning it to face me. That's endearing, but more important than that is the fact that he's clearly absolutely thrilled to be talking about this project. When I ask if he was a fan of the original game, he lights up.
"Oh, man, yes! I really, really love the original," he grins. "You might know, but in Japan there's new year's money, where grown-ups give kids money once a year. With that, I saved up and bought myself the original game as a kid, and I loved it!"
"But, really, I never thought that I'd get to do this," he adds with a laugh. "To be involved in its development!"
Motohashi can't believe his luck, and it's clear that he's taken great care to recreate the game he fell in love with as a kid. He tells me that he's been keeping his finger on the pulse of the reaction to the announcement in Japan, keeping a close eye on the reaction of those who over thirty years ago played the original on the Famicom.
"Kids who were like ten years old when they played it then will now be in their forties… like me," he laughs. "They've actually been receiving this news very well, and some of them may have kids that they'll now want to play the game with, too. A lot of them are actually looking forward to this, it seems, since the storyline actually takes place 50 years after the original. For them, it's kind of like being able to continue the story where they left off."
Underlining all of these efforts, however, is an awareness that Motohashi and his team are turning King's Knight into a very different type of game to what it was originally. Back then it was a dinky and expensive green Famicom cart, now it's a free digital download with microtransactions designed to support the game.
During our chat he speaks at length about his desires to ensure that free-to-play doesn't mean pay-to-win, and the efforts he and his team have gone to in order to ensure King's Knight remains fun, singling out in particular practices such as springing 'surprise' events that prevent players from planning out how to spend their free currency, thus forcing people to spend real money on special draws.
"We want to make sure that we let people know ahead of time that events are coming so that people have time to prepare and be ready and of course use their currency in a more strategic way," he says. The game will have 'gacha' style random draw content, but Motohashi's aim is to make it as fair as possible.
"We want to make sure that we help players out with that," he continues. "It's important that both sides enjoy the gacha system, so that's what we have in mind."
"We want people to pick up the game and sense little bits of nostalgia and feel that it's a throwback to that golden age; I want people to feel how I felt back then."
Even with his approaching the game as a fan, Motohashi hasn't found it easy to decide how to approach the remake. In the original King's Knight, players moved from the bottom to the top of the screen with a party of RPG characters destroying terrain and defeating enemies. It was important to Motohashi that remain the same, and with a laugh he says his main priority with modern graphics hardware was to enhance the "beauty of destruction" as players blast through terrain and enemies, some of which is stylized to look like retro 8-bit graphics in a mash-up designed to at once look modern and prompt feelings of nostalgia.
But it wasn't all plain sailing. For one, none of the original King's Knight code had been preserved. "You might not believe it," Motohashi begins, lowering his voice to a whisper. "But there is nothing left at all!" The whisper is broken by his infectious laugh at the situation. "It was almost like we were another company coming in from the outside… we had to go in and try to figure out what was going on in the original data." The biggest help, Motohashi reveals, was an official guide book from back in the NES days. Even that wasn't available in Square's offices – the producer picked it up himself off ebay.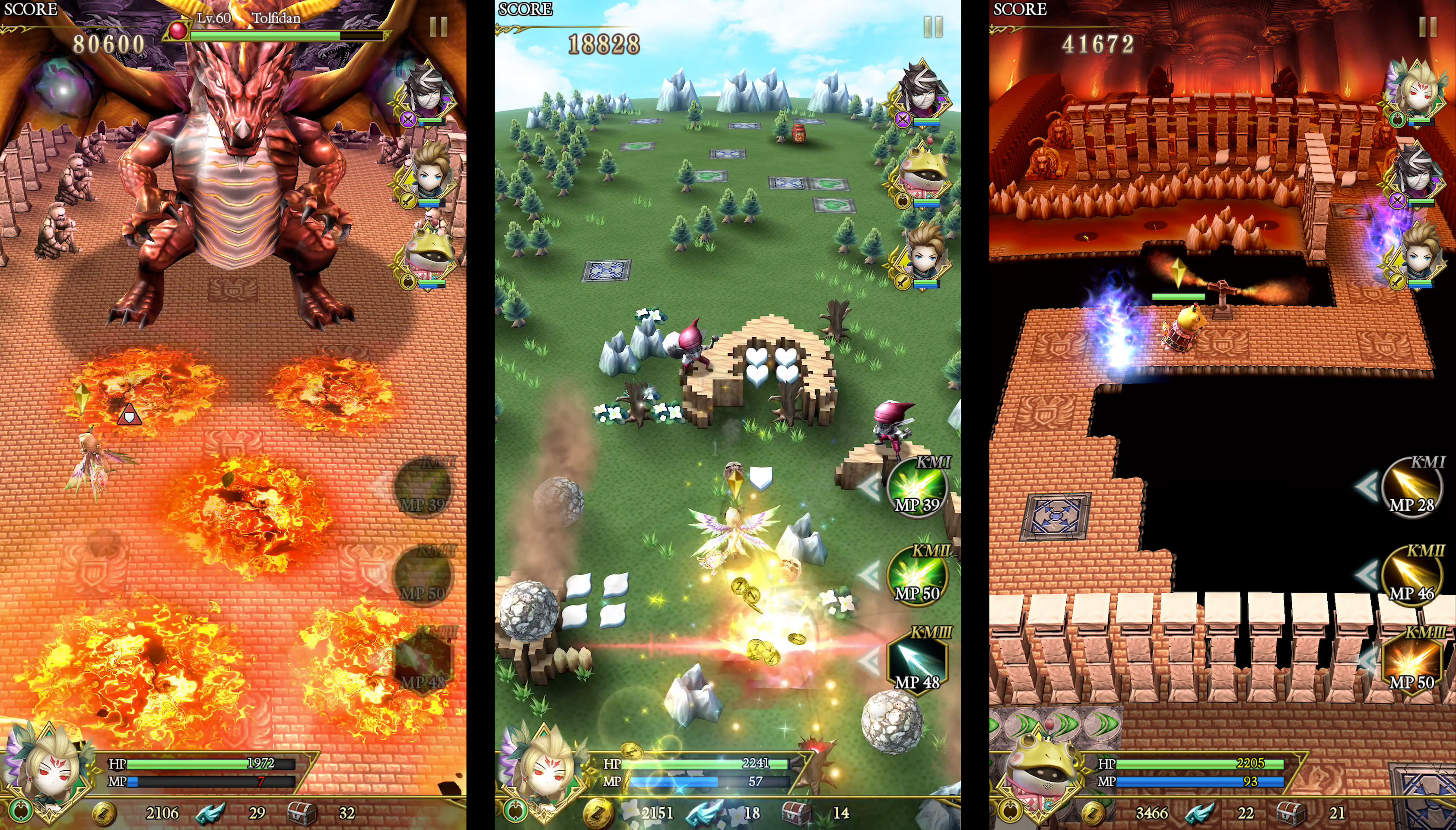 Even after all that, there were still hurdles to climb – and one in particular made Motohashi particularly nervous. "I did show the game to Sakaguchi-san, even though he's left the company," Motohashi says of Hironobu Sakaguchi, the creator of both FF and King's Knight. "I was definitely nervous!"
"The first time I showed it to him, he said… this is no good!" Motohashi roars with laughter. "I didn't go back to him until I was finally like – okay, this is good. I can show him!" Eventually, the game got Sakaugchi's full approval, and it's that vision that's now available on phones.
In many ways the work for the King's Knight team is now only just beginning, with the game live and its content updates beginning to roll out as is expected for free-to-play. There's also likely to be some deeper tie-in with Final Fantasy 15 eventually – "we do want to create a sort of link between the two games where maybe if you play King's Knight something good might happen in FF15," Motohashi teases – but for now the focus is getting the game out there and stable, and in encouraging fans to play it. Based on the infectious enthusiasm of the producer, it's difficult to not want to give this one a shot.
"We want people to pick up the game and sense little bits of nostalgia and feel that it's a throwback to that golden age," Motohashi muses. "I want people to feel how I felt back then."