Vanquish PC port teased in Bayonetta Steam update – is it finally happening?
Sega is definitely teasing a Vanquish PC port, because there's no other way to view this.
The recently released PC version of Bayonetta received a very small Steam update earlier today that added a very strong teaser for Vanquish.
The update weighed in at just 22kb. On the surface, the update didn't make changes to the game itself. However, look closer and you'll find this image in the game's Extras folder (via NeoGAF).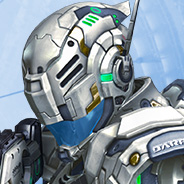 This is clearly a small version of the helmet worn by the protagonist in Vanquish, so unless Sega is toying with fan emotions, there's only way to interpret this.
Remember, the PC port of Bayonetta was never officially announced prior to release.
Rather, references to a teaser website were found in achievement art for a side-scrolling Bayonetta spin-off released as an April's Fools joke. This was Sega's way of hinting at the release of the port before saying a word, and it's hard not to believe it's doing the same with Vanquish.
Fans of Vanquish have never stopped asking Sega to port the game to PC. Though a port never materialised, recent interviews with developer Platinum suggested we may be about to get more than just Bayonetta.
If we're reading this correctly, it would truly be a quick turnaround.