20 Years Later, The Rowdy Creators of Tokyo-to Reflect on Making Jet Set Radio
Jet Set Radio turns 20.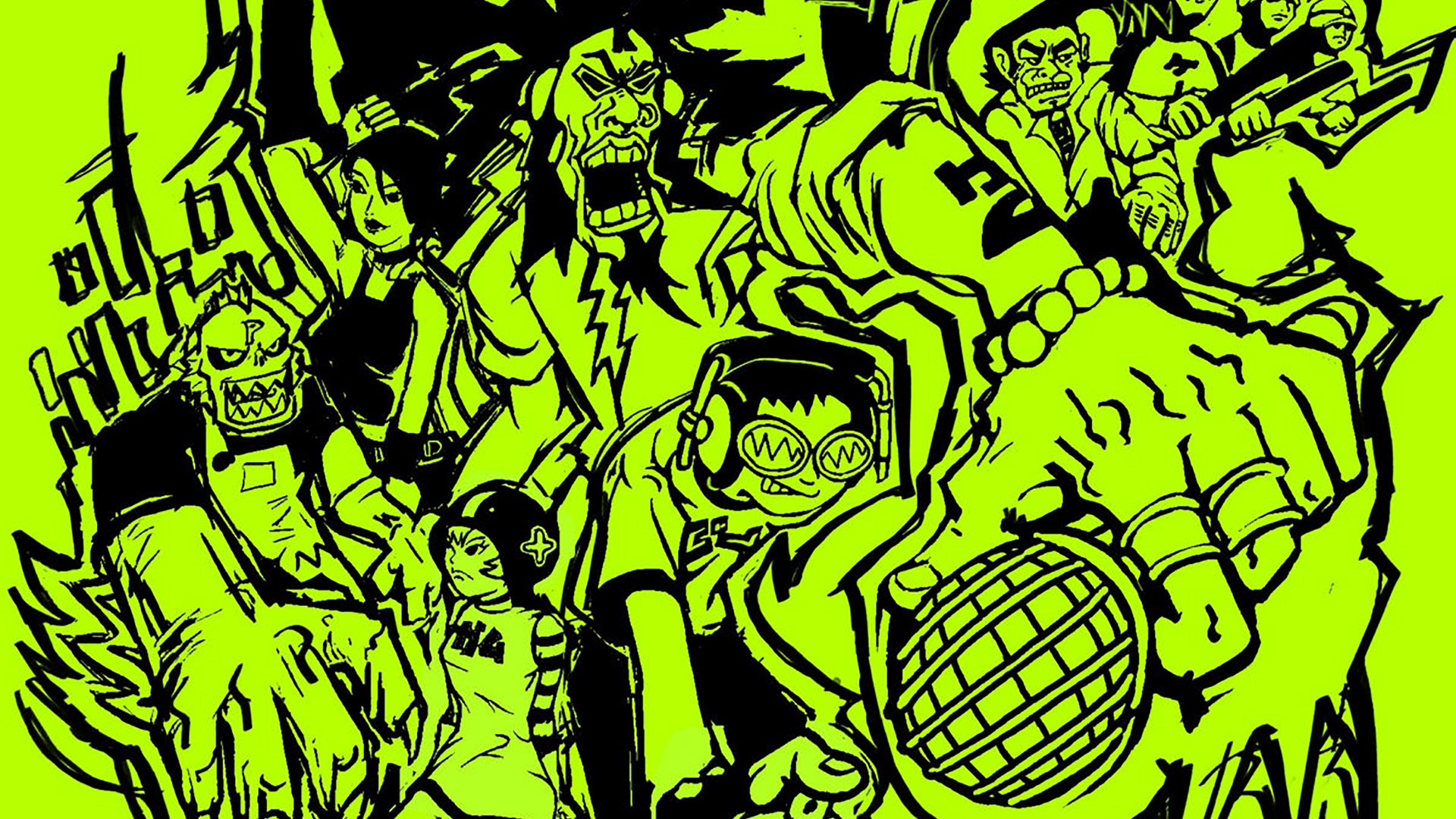 This article first appeared on USgamer, a partner publication of VG247. Some content, such as this article, has been migrated to VG247 for posterity after USgamer's closure - but it has not been edited or further vetted by the VG247 team.
Jet.
Set.
Radiooooooooooo!!!!
It was the pirate radio siren heard 'round the Dreamcast. DJ Professor K, the narrator of Jet Set Radio, setting the scene before we even see his face. He spins records of funky pop and trip-hop. He tells the story of Beat, Gum, Combo, and everyone else who joins the GGs, a gaggle of rebel inline skaters who work together to take down a conglomerate that's one record scratch away from world domination. On the title screen upon launching, we hear DJ Professor K's loud call, and all we see is the oval sunglasses-clad Beat skating and grinding all across a cel-shaded faux-Shibuya.
First and foremost, Jet Set Radio is a rollerblading-graffitiing game with lots of attitude, helmed by creative stewards at Sega like Masayoshi Kikuchi and Ryuta Ueda. It released in North America under the name Jet Grind Radio, but its sequel and later port took on its true name. In it, we skate and grind with hellish speed as trip-hop blares, and then we graffiti every wall and truck in sight with dazzling art. It's remained a cultural touchstone in gaming since its inception, thanks in part to its setting of young adults skating without a care for the establishment—whether it's the huffing and puffing police officer who has no qualms shooting at someone who is merely just defacing public property with art, or the mega-corp that's swallowing the city of Tokyo-to whole. Twenty years later, Jet Set Radio still hits hard. Its anti-establishment message is perhaps more salient than it's ever been; its art style has never fallen out of fashion.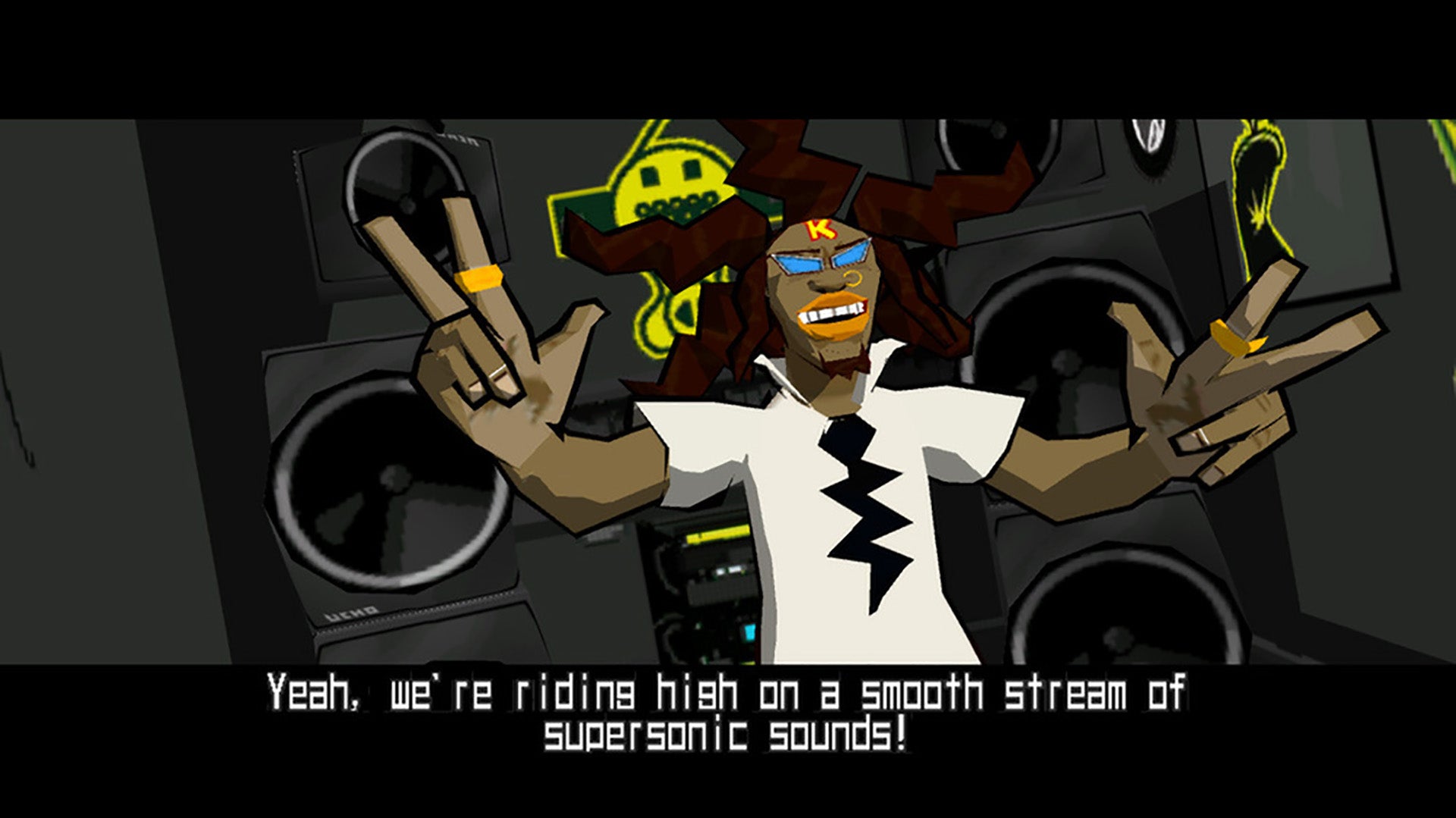 "There was a lot of momentum around us to create a world and experience that had not existed before, and to open up a market for it. Looking back on it now, we must have been influenced by such an atmosphere," says Kikuchi, director of Jet Set Radio, over email. "On the other hand, I didn't really consider the perspective of [a] sports-action game. At the time, it had only been a few years since the focus of gaming had shifted to 3D, so we were very particular about creating new ways to play in the 3D space."
The team that dreamt the effervescent, anarchic spirit of Jet Set Radio to life largely remains at Sega to this day. A few are now at Ryu ga Gotoku Studio, a.k.a. the developers of the Yakuza series; others have spread to different corners of Sega or left the company entirely. Kikuchi, who was in charge of overall game design and game planning on Jet Set Radio, worked on the first five entries in the Yakuza series and is currently overseeing the development and production of mobile titles.
Meanwhile, Kazuki Hosokawa was the lead designer on Jet Set Radio, and is currently the director of Asia Japan Development Studio 1 Department 2. He also recently produced Judgment. As of late, Masayoshi Yokoyama has been a key scriptwriter on the Yakuza series. "It was the first title since joining the workforce, so I did everything I could," says Yokoyama of working on Jet Set Radio two decades ago, "including anywhere from menial tasks to level designs, enemy placement, and voice recording support."
Mischievous Boy(s)
Back during Jet Set Radio's development, the developers were young. As Hosokawa remembers, it was an era where developers were exploring new genres and tastes for the first time; aided by Sega's willingness to back freewheeling creatives. It was freeing, and it was helped by the comparative lack of high-performance consoles, driving developers instead to create what Hosokawa says were "original and appealing" new looks for games. Games that didn't rely on realism, but also weren't held back by sprites. "This was the time when non-photorealistic expressions began to garner more attention as one of the advances in CG that had a different vector to reality," says Hosokawa, "and I feel that this trend had a major impact on JSR's visual expression."
Kikuchi namechecks the likes of Lupin the Third, the manga Tekkonkinkreet, and the "big beat" music trend of the time as being formative in inspiring Jet Set Radio's unique personality. Such themes and attitude still resonate, but they're also very much of their time; to the point that it's hard to imagine a game like Jet Set Radio being made today. It released back when funky trip-hop groups like Sneaker Pimps and Cibo Matto were percolating—the latter going on to make an appearance in the sequel Jet Set Radio Future's soundtrack. Action sports games were also at their peak, from Tony Hawk's Pro Skater to SSX. But they didn't really influence Jet Set Radio, according to Yokoyama.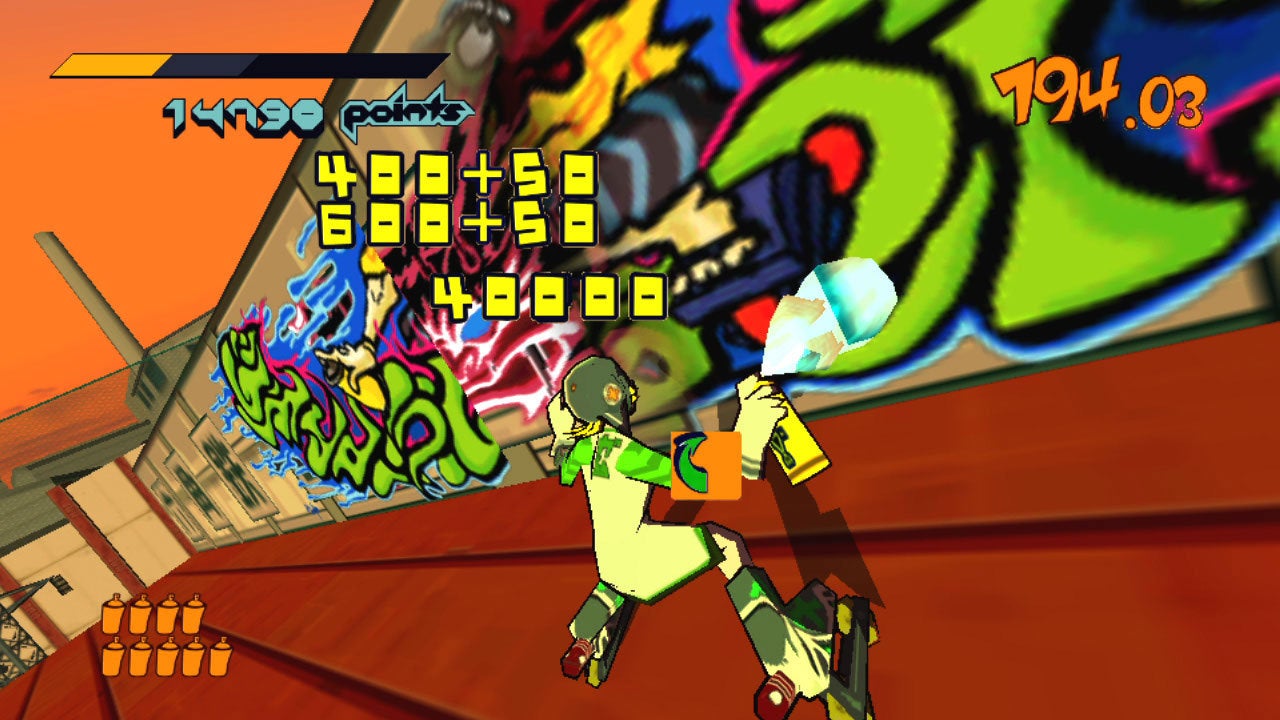 "I've played Tony Hawk's Pro Skater series, but wasn't really influenced by it," he says. "If anything, Nintendo's Excitebike was a game I played during my childhood, and my game design is based on it, so you could say that I was heavily influenced by it for the level designs."
The initial idea for Jet Set Radio was penned by art director Ryuta Ueda, who worked with Kikuchi on Panzer Dragoon Zwei and AZEL: Panzer Dragoon. Ueda showed Kikuchi his initial character sketches around the end of development for AZEL, which he remembers setting the familiar style we know of Jet Set Radio today: It was just a character in a T-shirt and jeans, wearing headphones and inline skates. "From there, we expanded the creative image: A setting in Tokyo, inline skating tricks, graffiti art, pirate radio stations, dance motion, and Japanese katakana," says Kikuchi. "From the worldview that had been formed, producer Kawagoe [Takayuki] and sound creator [Hideki] Naganuma played a central role in expanding the image of the sound."
At the start of development, everything about Jet Set Radio was quite vague, according to Hosokawa. "At the time, Kikuchi, Ueda, and I had just finished developing Panzer Dragoon Saga, and we didn't know the nuts and bolts of game creation, but we were just a couple of young guys with a strong passion to create our very own games," says Hosokawa. "Naturally, it was not an official project even within the company when we started out, and I remember the three of us quietly making concept art and image videos together. Because of this situation, it was difficult to get a formal start on development, and there was a time when I, for example, got fed up with the process and considered moving on to another project. Eventually, our little project caught the eye of Kawagoe, the producer, and he told us to give it a try because it sounded interesting. Looking back at it now, it was quite an unprecedented start of a project."
The project was, naturally, difficult to describe. For that, Kikuchi says that one of the biggest challenges was purely to get the budget approved for the game. "Another was that we were having a hard time making the game interesting," says Kikuchi. "Through repeated trial and error, the turning point came when we created a prototype where you ran through the 3D space with the grind and wall ride as its axis. I felt like I had found a ray of light in the thick fog."
For Yokoyama, the challenge lied in the design of the game adequately reflecting the boisterous personalities of its inline skating stars. "The design/art lead Ryuta Ueda's goal vision is what drove everyone forward to produce this game," says Hosokawa. "Even though we had created a unique world view, it was difficult to formulate a concrete image of how we were going to turn it into a game."
Humming the Bassline
With an uncertain but nevertheless striking vision, there were bumps in Jet Set Radio's development. But every game has its own drama. "If I were to bring up a few behind-the-scene stories, I'd say it was the decision to rebuild Shibuya-cho with Hosokawa near the development process even when the development schedule was super tight," says Kikuchi, "or perhaps when the server with all the development data just before the master-up [the completion of a game's development] and the release was in jeopardy. There were many instances when we were walking on thin ice."
Yokoyama reflects on one big bug where characters wouldn't slow down when grinding—it was an accident, but a eureka moment all the same. "At that moment, I thought that, 'Ah, this will become the core of the action,'" he says. "After that, in the sequel, JSRF, we recreated the gameplay to really push this grind action to the forefront. From this experience, I learned that regardless of how you imagine the gameplay to look in your head, games are born from a series of trial and error."
Jet Set Radio initially had a very different setting too. It was going to be set in a desolate version of Tokyo, with Shibuya and Shinjuku crumbling. Concept art was even drawn up of it. It was scrapped, according to Hosokawa, in favor of the cel-shaded style that would come to define Jet Set Radio for decades. Kikuchi mentions that of his regrets for Jet Set Radio, he wishes he could have incorporated skateboarding and BMX biking in addition to rollerblading.
Considering how singular Jet Set Radio is today, it's fascinating to speculate how an alternate version of it would have turned out. If skateboarding were possible too, would it stand out as much against other action sports games of the early 2000s? If it were post-apocalyptic, would its unique character design have been as memorable? They're questions that will never be answered.
Sweet Soul Brother
Today, Hosokawa, Yokoyama, and Kikuchi look back on Jet Set Radio fondly. "The imbalance between the pop taste and fun vibe you get, but yet you can kind of sense a darkness in the world," says Hosokawa, of its lasting appeal. Kikuchi maintains that his favorite aspects haven't changed since launch. The music, the aesthetic, the action itself, and the world—it all holds up for him. And for the rest of the fandom, at that. It is at once of its time and timeless.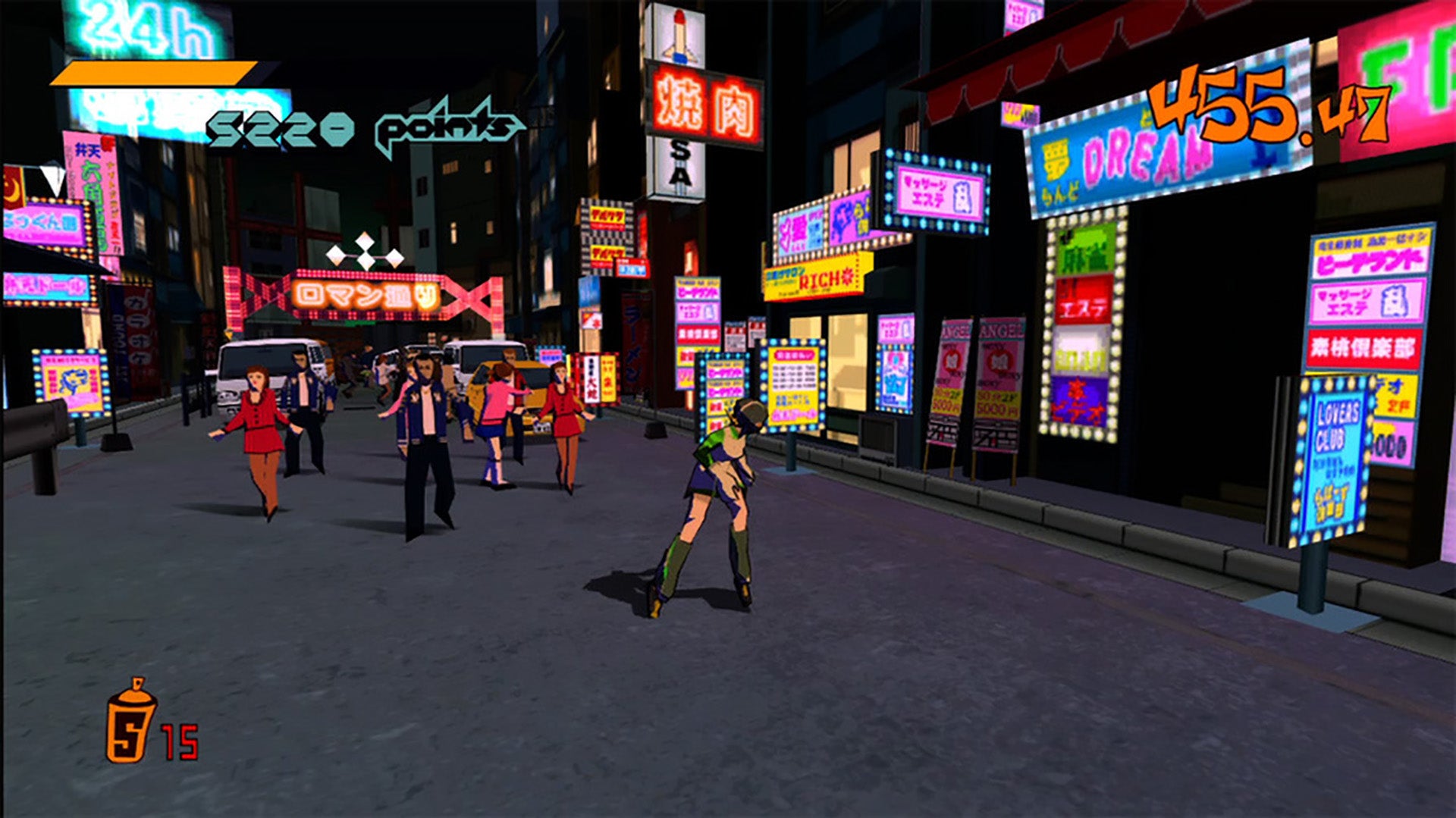 But it's hard to see it being made anew today with the same vivaciousness. Hideki Naganuma, the composer, lent some of his music making talents to a game called Hover that vowed to recapture the series' spirit, but the end results were generally mixed. A bulk of Jet Set Radio's developers now work on the Yakuza series, somewhat of a "grown up" version of the same anti-establishment, compassionate worldview. The aforementioned Cibo Matto, of Jet Set Radio Future's "Birthday Cake" fame, reunited even in the early 2010s. The duo toured, released a new album, and then quietly parted ways again in 2017. Such is the fate, maybe, of anything with the chaotic energy of the late 1990s and early 2000s. We have to grow up sometime.
"I'd consider myself a square, and quite far from being 'punk,' but... this project taught me a lot about the process of putting something unique in the world, such as atmosphere and taste, and how to develop it into a game experience," says Hosokawa. "Not only in games, but also in movies, dramas, comics, and novels, how to set up a 'worldview that draws people in,' and how to sublimate that into an experience that can only be obtained through the medium of games. Even now, there's times when things go well, and then sometimes they don't, but if it wasn't for the experience I gained through JSR, I might have had a completely different job than right now."
When I ask the developers at Sega if they're interested in exploring Jet Set Radio again in the present day, they remain expectedly down, but discuss one big caveat.
"This was more than 10 years ago, but producer Kawagoe once told us, 'You guys are too old and experienced to make a new 'Jet.' If someone were to create a new 'Jet,' it's going to have to be young daredevils like you guys were back then.' And I completely agree," says Hosokawa. "I've gained enough experience that I can identify what works and how to present things... I can see the path to the end goal, whether I like it or not. If I put it negatively, because of my experience, I can only create games in 'the smart way.' This means that I wouldn't be able to convey that passion in this title that could have only been born through all the struggles I faced. That's why I'm looking forward to a new generation of creators."