Xbox Series X Will Require Proprietary Cards to Expand Hard Drive Space
If you want to have more than 1 TB of playable games on your Xbox Series X, prepare to shell out some money.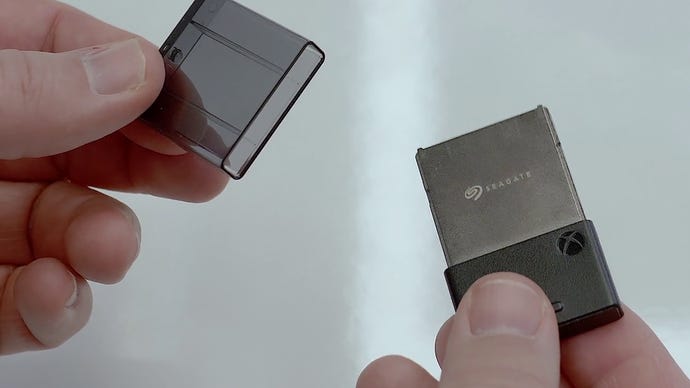 This article first appeared on USgamer, a partner publication of VG247. Some content, such as this article, has been migrated to VG247 for posterity after USgamer's closure - but it has not been edited or further vetted by the VG247 team.
You will eventually run out of space on your game console. One day, you'll need to delete games or increase your storage capacity. It's inevitable. How you handle that situation varies on the system you own. For the Nintendo Switch, it's as easy as popping in a new microSD card. For the PlayStation 4 or PS4 Pro, you just need to change the 2.5-inch hard drive in an easily-accessible hardware tray. On the Xbox One and Xbox One X though, replacing the hard drive is much harder, as it requires taking apart the system, which voids your warranty. Instead, it's best to rely on external USB hard drives to back up your games.
With the upcoming Xbox Series X, Microsoft is offering a new solution, though it'll likely be a costly one. As revealed in Digital Foundry's report, the Series X works on a system Microsoft calls the "Velocity Architecture", where the SSD and IO system works to provide Xbox Series X games additional benefits. Velocity Architecture allows game storage to become additional memory, while also saving CPU overhead and efficiency loading assets like textures. The important part is the console expects games to run off the Series X's custom 1 TB NVMe SSD.
Microsoft realizes that 1 TB might not be enough for the life of the system, so there's a proprietary slot on the back of the system for expandable storage. This slot uses custom-built NVMe SSD cartridges, that once inserted into the system work just like the speedy internal hard drive. The cartridge design also includes the necessary heatsink to protect the NVMe SSD drive from overheating. But this means you can't just plug in any hard drive, you need one from Microsoft.
The 1 TB expansion unit that our friends at Digital Foundry played with was Seagate-branded. The format is meant to be portable, meaning you should be able to pick up multiple units and swap them as needed. DigitalFoundry's hardware breakdown video even shows a plastic cover for the expansion unit when it's not in the system.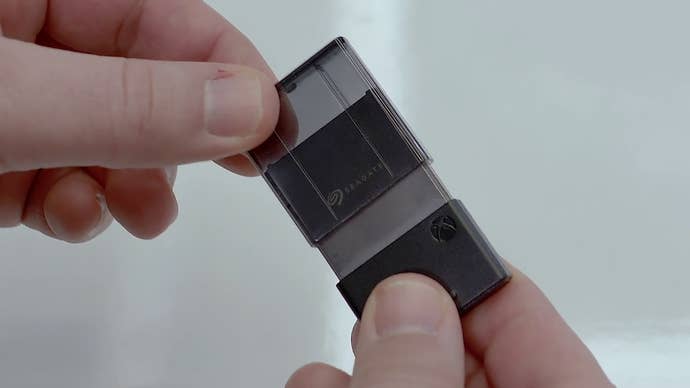 The Xbox Series X still has support for external USB 3.2 hard drives, but that's related to Microsoft's promise that all Xbox One accessories will work on the new console. Series X owners can use external USB hard drives to store and run Xbox One and Xbox Backward Compatibility titles. You will be able to store Xbox Series X games on the drives, but you won't be able to run them without transferring the game to the internal NVMe hard drive or the custom slot drives. The 1TB expansion cards will apparently be swappable between different Xbox Series X systems, so you'll be able to copy your games over to the cards and take them to a friend's console.
There's no word on the pricing for the custom 1 TB expansion cards, but they'll probably be expensive. Seagate already sells its 1 TB USB 3.0 Game Drive for Xbox One for an suggested retail price of $214.99. That's just a standard 1 TB USB 3.0 SSD drive, and the NVMe SSD needed for the Series X is more expensive. A standard Seagate 1 TB SSD costs $129.99, while the NVMe SSD costs $199.99 MSRP, though you can find it for as low as $149.99. That's a $70 premium, so I'm guessing $250 will be the asking price for the 1TB Expansion Card.
If you're willing to go with a normal external USB 3.0 hard drive, that'll be much cheaper, but you'll need to move your Series X games around if your library is hefty enough. And libraries aren't getting smaller, as assets for 4K take a lot of space. Call of Duty: Warzone, the recent standalone battle royale mode for Call of Duty: Modern Warfare, is 80-100 GB on its own. So that space will be eaten up by future titles pretty quickly.
It something to think about as you begin saving up to buy an Xbox Series X. That's assuming that the Xbox Series X actually launches this year, as the gaming industry deals with the COVID-19 coronavirus.
Lead image via Digital Foundry