Xbox controllers dominate Steam usage and ownership stats
Steam users prefer Xbox controllers more than any other brand.
When Valve released universal controller support on Steam, the company created a system that allows players to map in-game functions to any controller, regardless of whether or not the game in question supports said controller natively.
Since then, users have been able to create and share these bindings, and it allowed Valve to begin tracking controller usage, and ownership across Steam. In a new blog post, Valve shared a few interesting stats about controllers on Steam.
According to Valve's findings, over 30 million Steam users have registered at least one controller since 2015, and over half of them have more than one controller registered.
Unsurprisingly, Xbox controllers are the most popular, with around 40 million of them connected to Steam. Microsoft's peripherals dominate with 64% combined for Xbox One, and Xbox 360 controllers. Xbox 360 controllers still have the advantage, though, with over twice as many compared to Xbox One controllers.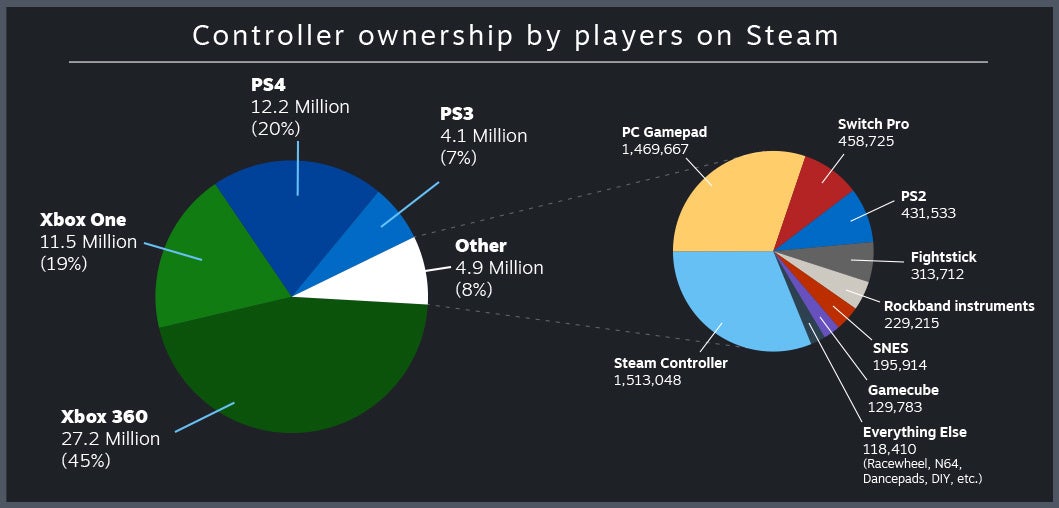 The next popular controller is the PS4's DualShock 4, with a 20% share. Over 12.2 million of these have been connected to Steam, but the lack of native support for them in games has caused their usage numbers to drop compared to other methods.
Xbox One controllers are leading the pack in engagement, thanks to their abundance and native support. Nearly 20% of players who connected an Xbox One controller to Steam have used it in the past month, compared to just 9% for PS4 - the lowest engagement stat.
Not having in-game support for PS4 controllers means button prompts will continue to be shown for Xbox controllers. Even if you get Steam to remap the controls for you, some players just don't like holding a DualShock 4 and seeing on-screen prompts for an Xbox controller.
There's more in the blog post about the Steam Controller's place, and the increased adoption of the Switch Pro Controller. Hit the link above for the full thing.