What does PlayStation look like without Jim Ryan?
Farewell Jim Ryan, we hardly knew ye. But with him living it up in Europe, what does the future of PlayStation look like now?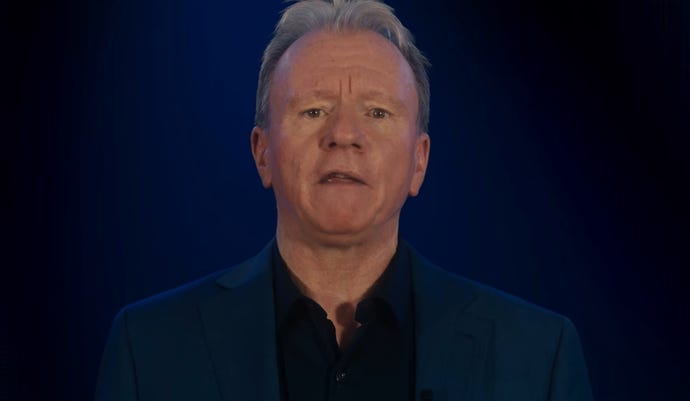 In case you missed it, Jim Ryan retired from his role as PlayStation boss late last night. He is being replaced by Hiroki Totoki who is stepping in as interim CEO of Sony Interactive Entertainment for the next few months.
The almost 30-year alumni at the company has led the charge at PlayStation throughout various important moments in the companies, which of course includes the recent launch of the PS5 back in 2020. In an official BusinessWire post, quotes from Ryan, Totoki, and Sony managing director Kenichiro Yoshida have been published alongside the news.
"Jim Ryan has been an inspirational leader throughout his entire period with us, but never more so than in overseeing the launch of PlayStation 5 in the midst of the global COVID pandemic," Yoshida writes. "That extraordinary achievement made by the entire SIE team has been steadily built on and PlayStation 5 is on track to become SIE's most successful console yet. I'm immensely grateful to Jim for all his achievements."
He continues: "Respecting Jim's decision to finish his long career at Sony leaves me with an important decision regarding his succession given the significance of the Game & Network Services business. We have discussed intensively and have determined the new management structure. We aim to achieve Sony Group's further evolution and growth through bringing even greater success to the Game & Network Services Business."
Jim Ryan marked his departure with the following statement: "After 30 years, I have made the decision to retire from SIE in March 2024. I've relished the opportunity to have a job I love in a very special company, working with great people and incredible partners. But I've found it increasingly difficult to reconcile living in Europe and working in North America. I will leave having been privileged to work on products that have touched millions of lives across the world; PlayStation will always be part of my life, and I feel more optimistic than ever about the future of SIE. I want to thank Yoshida-san for placing so much trust in me and being an incredibly sensitive and supportive leader."
Finally, new Sony Interactive Entertainment CEO Totoki commented: "I would like to express my heartfelt gratitude to Jim Ryan for his outstanding achievements and contributions over his 30-year career at Sony, including the great success of launching the PlayStation 5. The PlayStation business managed by SIE is an essential part of Sony Group's entire business portfolio. I will work with Jim and the senior management team closely to ensure our continued success and further growth. I am also looking forward to creating the exciting future of PlayStation and the game industry together with everyone at SIE and its business partners."
But who is Hiroki Totoki, and what does this mean for the future of Sony? Totoki is the President and COO of Sony Corporation, and will retain those responibilities as he moves as an interim CEO of the gaming side of the company. He's also a likely candidate for the President of the company once Yoshida departs.
Totoki has been praised as a stable lead in the company, and in his promotion to COO earlier this year, stated that continued growth was among his top priorities. It the months between now and PlayStation's new full-time boss is decided, it' safe to assume he'll be focused on keeping things steady on the same course, rather than any drastic departures from the plan.
This is some astounding news, and a major milestone in Sony's recent history. As noted by comments by Totoki and Yoshida, Jim Ryan has played a major part in the success of company's gaming branch in recent years, and has become somewhat of an industry mascot for the company for thoe invested in the business side of the industry. We wish him well in his retirement.