Watch Dogs 2 stars a hacker named Marcus accused of a crime he didn't commit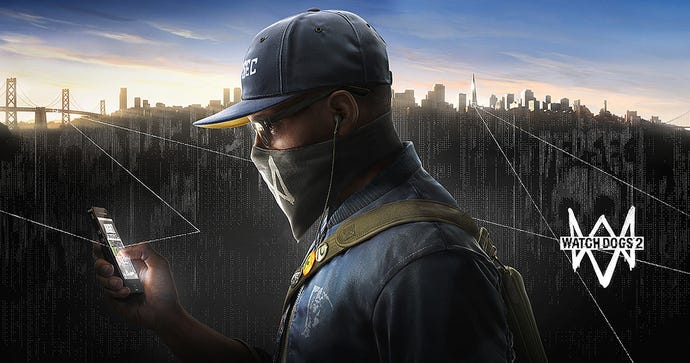 Watch Dogs 2 was officially revealed today after various leaks over the last week.
Watch Dogs 2 stars a hacker named Marcus accused of a crime he didn't commit
The game stars a new protagonist named Marcus Holloway, hacker who has "fallen victim" to the ctOS 2.0's predictive algorithms and is accused of a crime he did not commit.
San Francisco is the latest city to adopt the ctOS 2.0 technology, and Marcus is determined to take it offline for good.
As Marcus, players can hack into the city's infrastructure as well as every person with a device connected. He can take control of drones, cars, cranes, security robots, and much more. He can even create his own drones with his handy 3D printer and weapon upgrades. Marcus also carries around a taser and a cue ball attached to a length of paracord in which to knock folks out in a non-lethal manner.
Players can also choose to use either stealth hacking to complete missions without killing an enemy or go on a shooting spree.
Watch Dogs 2 features a large open world, where players can hack their way through traffic as they engage in car chases. The driving mechanic has been overhauled, so Marcus will be able to handle cars better than Aiden in in the first Watch Dogs.
Players will be able to walk along rooftops of Oakland, and infiltrate offices located in Silicon Valley. These are just two of the well-known Bay Area regions included in the game, with the third being Marin County. There are neighborhoods within each of these regions filled with the kind of people, architecture, and landmarks found in San Francisco in real-life counterparts.
The Silicon Valley area has a lot of techies, students, and tech-company campuses while the Downtown area offers more verticality with skyscrapers and construction. There's even Fisherman's Wharf with its trademark sea lions.
The missions set within this open world can be completed in any order, each with their very own storyline. These will contribute to the Marcus' follower count and bring him closer "to the game's ending."
The game will also boast "seamless online mutliplayer," which will allow players to meet up with others for some in-game co-op. Players can also take part in player versus player matches.
Multiplayer can be initiated with others via the player's friends list, without the need for menus, loading screens, or other dividers from the main experience. Players will also come across random players while just wandering the world. This is where competitive or cooperative comes into play.
Pre-orders and various editions
Ubisoft also announced several editions in addition to the standard version of the game now available for pre-order.
Deluxe Edition ($69.99): Includes the game, an exclusive sleeve, a San Francisco Map, lithographs and the Deluxe pack of digital customization items.
Gold Edition ($99.99): Includes the game, the Deluxe pack and the Season Pass.
San Francisco Edition: Comes in a collector's box, includes the game, extra digital content: The Deluxe pack and Zodiac killer mission, the Marcus Figurine, SF-themed laptop stickers, lithographs, and a San Francisco Map.
Wrench Junior Robot Collector's Pack and The DedSec Collector's Case: The return of DedSec Collector's Case contains the Gold Edition and DedSec themed memorabilia including among other collector items, the DedSec art Marcus figurine, Marcus' scarf and cap replica and an exclusive 64 page artbook. These are available exclusively on the Uplay shop.
Players who pre-order any edition get an extra mission named Zodiac Killer: a copycat of the Zodiac Killer is murdering people and taunting the police with coded messages. Marcus will have to decrypt the codes and hunt down the killer to complete the mission and get an additional exclusive outfit.
Watch Dogs 2 will be available worldwide on November 15 for PC and Xbox One.
You can check out the cinematic trailer for the game which leaked earlier this morning below.
We expect to hear more about the title at E3 2016 next week during Ubisoft's press conference.
Be sure to check out our E3 2016 hub for all the news, videos, screenshots, interviews and much more, live and direct for this year's show.