Ubisoft confident shoppers will like its Kinect offerings this holiday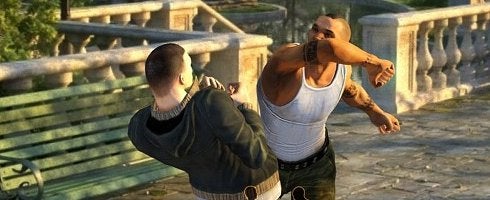 Ubisoft showed off four of its Kinect games at an event in San Francisco yesterday, and it's hoping each one creates a buzz with shoppers this holiday season.
Each title fits a different genre which Ubisoft said "are the most natural games for a control system like Kinect":
While Child of Eden won't be out until next year, Ubisoft hopes enough people will have bought Kinect by then to give it a try, as controller-free technology is something Ubisoft has been working on for quite some time.
As a matter of fact, it worked with 3D camera technology before Microsoft announced its license for PrimeSense's 3D-sensing technology back in March, and even met with the Israel-based company back in 2007 during GDC.
According to Tony Key, senior vice president of sales and marketing at Ubisoft, Kinect is part of a vision Ubisoft has had for a while, and while it's still focusing on bringing titles to Wii and Move, its experience with Kinect technology makes the firm more "advanced than the competition".
"The Kinect system is a clear opportunity for the industry -- it's a chance to do something fresh and new," said Key. "We all know the industry could use that. For Ubisoft, we've been interested in this 3D technology for a long time. We've always had this vision that you could be controller-free in video games. Everything has kind of pointed this way: movies, TV, virtual-reality situation. This is the first step, I think, towards that.
"Put yourself in the game and you become the player in the game. I think that's cool and I think we're just touching the tip of the iceberg with that.
"We like the Move, we had two launch titles on Move -- I don't know how many third-party publishers had more than two. So the fact is: we are supporting the Move system; but the Kinect system is something we've been working on for so much longer. Ubisoft, as a company, is of course very interested in the Move. A lot of the same mechanics occur that are on the Wii. We were there on the Wii, and a lot of the reason we were there is because we had dev kits early. We believed in it early. We got behind it early.
"And the same thing happened with the 3D technology -- it wasn't Kinect that got us into 3D technology, we were already doing it. So Kinect came along and we felt like we were just a year ahead of all of the competition, and we were already working on this stuff.
"So that wasn't the case with the Move, we weren't ahead. We'll be coming with plenty of stuff on the Move, but Kinect, for us, is a huge opportunity because we think we're more advanced than the competition."
Despite the focus on Kinect, Ubisoft is hopeful it along with Move will keep folks clamoring into stores during the holidays - preferably to buy its games, we reckon.
Via Joystiq, VentureBeat.