There's nothing in EA's financials to comfort you if you're worried about loot crates and the future of single-player games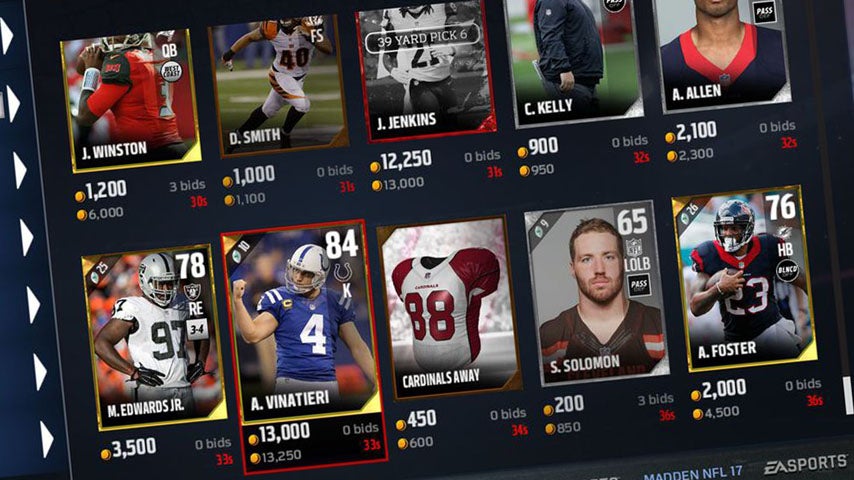 Digital is increasingly important to EA, and games as service are a central component of its success.
EA has released its Q2 FY2018 financials and there's little to surprise in the quarter ending September 30, AKA the Sports Quarter, AKA The One Where There's Rarely Any Interesting News In The Financials.
The publisher made a point of underlining its $689 million in digital net revenue, up from $566 million in the same quarter last year. That's a very significant slice of the $959 million total it made over the quarter, itself a jump on on the $898 million of one year ago.
Providing highlights, EA said digital bookings for the past 12 months are up 26% year-on-year to $3.24 billion.
Madden Ultimate Team saw 25% more players than in the same quarter last year, while FIFA Mobile grew to 113 million unique players.
"We saw a notable shift to digital in our sports titles and remarkable growth in Ultimate Team," CFO Blake Jorgensen said.
"Our sports titles have once again shown their value in delivering a stable and dependable performance. This quarter demonstrates how they can drive our business and offers a window into how our games will evolve over the months and years to come."
Beyond sports, Battlefield 1 now clocks in at 23.54 million players globally, and The Sims 4 is looking at 40% more monthly active players year-on-year.
EA CEO Andrew Wilson noted "new EA SPORTS titles, top-performing mobile games, and expanding esports competitions" as key factors in EA's growth this quarter, and made a point of underlining EA's preparedness for the ongoing "digital transformation" of the games industry.
The executive said investors can expect "more stunning new titles, thriving event-driven live services including competitive gaming, and continuing innovation for our players on all platforms."
In short, digital and games as service is paying off hugely for EA and it plans to continue pushing these areas.
The recent closure of Visceral and digital "pivot" of its Star Wars game, combined with the enormous success of service games, has brought on a fresh wave of anxiety regarding the future of single-player, story-driven experiences.
Before you clutch your pearls, do check out reports of real problems with Visceral's Star Wars title, which don't make EA look great but paint a more nuanced picture of a very expensive team with a hugely ambitious plan and fundamental difficulties delivering on it.
On the other hand, former BioWare staffer Manveer Heir had some pretty damning things to say about EA's design philosophy while chatting with Waypoint (Eurogamer has some key quotes if you're not the podcast type), which may help explain the underwhelming Mass Effect: Andromeda.
It's an anxious time to be a Dragon Age fan, isn't it? Especially given the cliffhanger ending of Trespasser. Fingers crossed BioWare's core team wants to keep delivering those big single-player visions and makes a good case for it.