The Witcher 3: On Thin Ice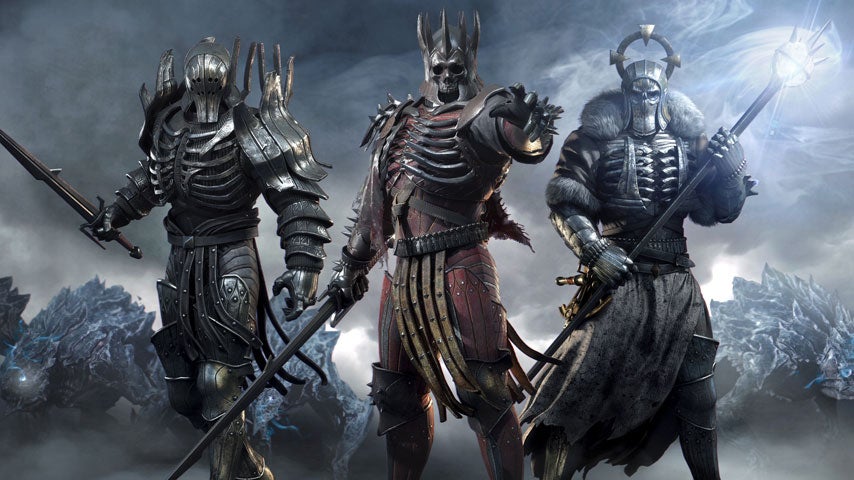 On Thin Ice has you face off against one of the most formidable generals of the Wild Hunt.
The Witcher 3: On Thin Ice
I know I say this every couple of quests but this really is it: youe last chance to go do sidequests and faff about and whatever before the final mission sequence begins. You'll get one more prompt, and then you'll be committed.
Having completed Veni Vidi Vigo, The Sunstone, The Child of the Elder Blood and Skjall's Grave (if unlocked) you can return to Avallac'h on the boat at Kaer Trolde Harbour to turn in Battle Preparations and begin On Thin Ice.
In dialogue with Avallac'h you can opt to travel to Undvik, committing to the final few missions, or say you'll meet him there. If you haven't made a back up save or might want to go do more quests, agree to meet him there, and travel independently to Undvik when you're ready. That was your last chance. You're in this for good now.
Meet the team on Undvik and deal with Ciri and Avallac'h's squabbles. Your primary love interest – if you have one – will meet to talk about your future.
You'll now have an opportunity for last minute preparations before you tell Avallac'h you're ready to go – take it. Potions, oils, bombs, gear: set it up. You'll be fighting Huntsmen and Hounds, so Elementa Oil and Hanged Man's Venom are handy, as is anything that boosts Igni.
When you get through all the cutscenes, you'll be playing as Based Ciri. Never mind the Energy meter; just Charge and Blink through your foes. They keep respawning, so don't linger; head to your waypoint as soon as a path is clear. Which it will be. Very, very soon.
The real challenge here is Caranthir, Avallac'h's one-time ward, who awaits you at the end of this path.
Boss battle: Caranthir - Ciri
Ciri is so powerful by now that Caranthir doesn't front much, despite his ranged magic attacks. The early stage is just a matter of dodging and slashing while watching for his teleport, which can put him behind you. It's no threat if you keep moving, and Charge works really well.
In the second stage he gets a bit nastier, teleporting just out of range constantly. Sprint or Charge at him to close the gap rapidly.
When you have him about halfway beaten, you'll see a series of cutscenes and control will switch to Geralt.
Boss battle: Caranthir - Geralt
Caranthir is now considerably more dangerous; he summons Ice Elementals, fires a barrage of five bolts of light at once, which slow you if they hit, and speeds up his regular casting attack. Always take down Elementals as soon as they appear, as he'll keep bringing them in.
Using Igni to melt Caranthir's ice armour just before attacking is a big help here, and you're better off using heavy attacks backed up with Thunderbolt, as he won't hang around and let you hammer away for long.
After the battle you'll end up underwater. Hold Circle/B to surface rapidly; don't worry about direction, as long as you're not caught on anything, as a cutscene kicks in before you get there.
In the next scene, rush forward into the battle. Close the portal ahead with Yrden or a Demeratium bomb and push on; these guys will continue to respawn. Push on the meet Hjalmar (if present) on a burning ship, then press on, dodging through several more skirmishes, to climb the Skellige longship that crashed into the Nalfgar. Here you will finally battle Eredin.
The Witcher 3 final boss battle: Eredin
Here he is: the big bad. Spam potions - whatever you think will help you survive and hit hard.
This is a battle of attrition; be conservative, be cautious, be defensive, and content yourself with chipping away at Eredin's health bit by tiny bit rather than attempting to flatten him: he hits harder than anything you have faced.
Eredin is a consummate swordsman, with much longer attack combos than you're used to. He can parry any frontal attack with ease, and is immune to many Signs. He teleports around the place, and every time he does so, his ice armour gets thicker; you need to roll rather than dodge if you see him do this, as the range of the subsequent attack is quite impressive.
Your best bet is to parry his blows and wait out the lengthy combo, looking for an opening to strike with a light attack. If Eredin raises his sword above his head, or goes to backhand or kick, dodge away; you can't block those attacks. Yrden can be a big help here as it slows him considerably and he can't block it.
Use Igni to melt his armour; if you have the alternate version which can be channelled continuously, use it to hold him still while you spam potions and food.
Part way through the battle Eeredin will teleport you both to a new arena. Here, he uses spells. He has a series of telekinetic blows – one, then three, then five. Just get behind him to avoid these, and smack him in the back of the head while you're at it. It's much harder to avoid the last set of shockwaves if you are at a distance.
After every teleport, he can summon a rain of ice shards. It's easiest to dodge these if you watch for the "shadows" of incoming missiles and evade them.
Eredin will also cast an area of effect spell at your feet. Dodge away immediately. If you are slowed by this attack, try to hit Eredin with a heavy attack to cancel the spell.
In general: keep moving, always back away from your assault before he counterattacks, and use Quen to minimise damage taken. A well timed Samum bomb can give you a good opening; combine with Thunderbolt for best results.
At the end of the battle Eredin will flee through a portal. Follow him ASAP, dodging the ice shards, and finish him off.
You did it! The quest has finished. We automatically begin Tedd Deireadh, The Final Age, which is the very last quest. Gosh!
Onwards to Tedd Deireadh, The Final Age, or back to The Witcher 3: Act Three.
Back to The Witcher 3 guide and walkthrough.