The Witcher 3: An Eye for an Eye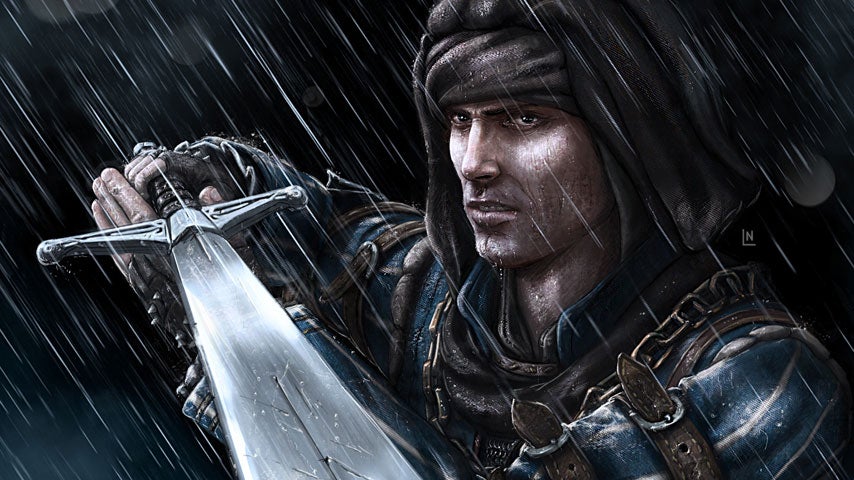 Temerian guerrilla leader Vernon Roche requires your help.
The Witcher 3: An Eye for an Eye
An Eye for An Eye becomes available once you have completed Get Junior and made contact with Vernon Roche, either following a lead granted in the main storyline or by wandering into his cave in search of a game of Gwent. It's also part of the Brothers in Arms: Novigrad questline.
Roche, whom you may remember from The Witcher 2: Assassins of Kings, tells you he has a problem - his trusted second in command, Ves, has stormed off on a mission of revenge. Agree to help him out.
Put on your best soldier killing equipment (Hanged Man's Venom is a help) and meet Roche by Hanged Man's Tree in Velen. If he's not there, and you have the quest A Deadly Plot active, go meet with Dijkstra at Passiflora to get Roche to go back to the waypoint. You do not need to complete A Deadly Plot to return Roche to his position - just have the initial meeting.
Roche spots a ruckus down below. Charge down and start killing Nilfgaardian soldiers, focusing on those attacking Ves first. Clear them all out while she's alive to succeed in your goal.
After the battle you can opt to support Roche's decision to let the leader go, or back up Ves in her desire to kill him. There appear to be no consequences to your decision, besides NPC feelings.
In either case, completing this quest means Roche and Ves will be available later in the game.
Back to Brothers in Arms: Novigrad, or back to The Witcher 3: Novigrad secondary quests.
Back to The Witcher 3 guide and walkthrough.