HTC, Valve partner for Vive VR headset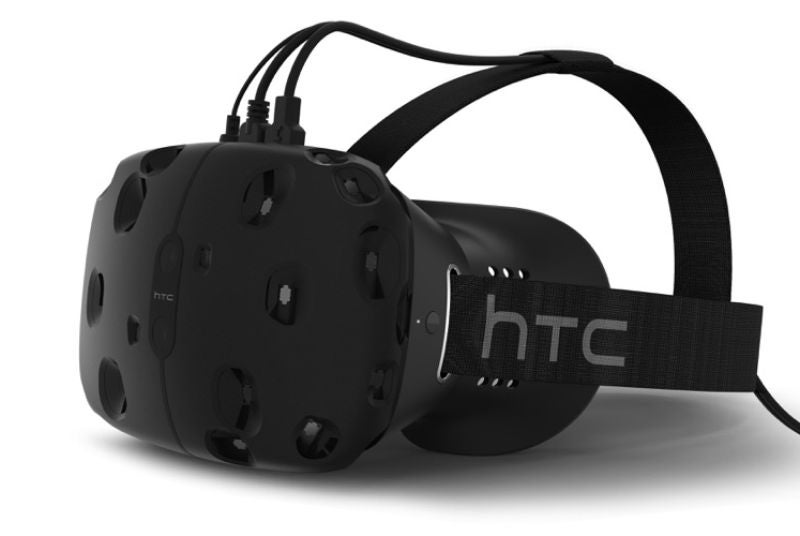 The first SteamVR announce is a headset a manufactured by HTC, the Taiwanese mobile company revealed over the weekend.
Valve told us last week it planned to unveil virtual reality hardware at GDC, calling it "SteamVR" at the time. Now HTC has pre-empted Valve by revealing Vive, a headset developed thanks to a collaboration between the two companies.
According to The Verge, the headset will launch this year, with developers getting their hands on it this quarter, and it will indeed be on show at GDC.
The developer model of the headset boasts two 1200x1800 90 FPS displays, which HTC says will eliminate jitter, and a jack to plug in your own headphones.
It tracks movement by a combination of gyrosensor, accelerometer, and laser position sensor, apparently to an accuracy of 1/10th of a degree. Optionally, it can be coupled with a "a pair of Steam VR base stations" to track your physical location in spaces of up to 15 feet by 15 feet.
HTC has created a pair of ergonomic controllers with motion tracking to go with the headset, which it says are designed to work with a variety of experiences - not just games. It name dropped Google and Lionsgate as partners.
HTC said the headset is the result of a "strategic partnership" between Valve and itself, but it's worth noting that Valve itself hasn't made any comment yet - it's entirely possible Valve has partnered with multiple manufacturers to produce a range of SteamVR devices, as with its Steam Machine scheme. Although for the sake of VR's future, one hopes not; Steam Machines have so far failed to live up to their early promise.
Anyway, learn more on the HC Re Vive website or check out the trailer below. More details will come out of GDC this week.