Details revealed for Rainbow Six Siege's new Wind Bastion attacker, Nomad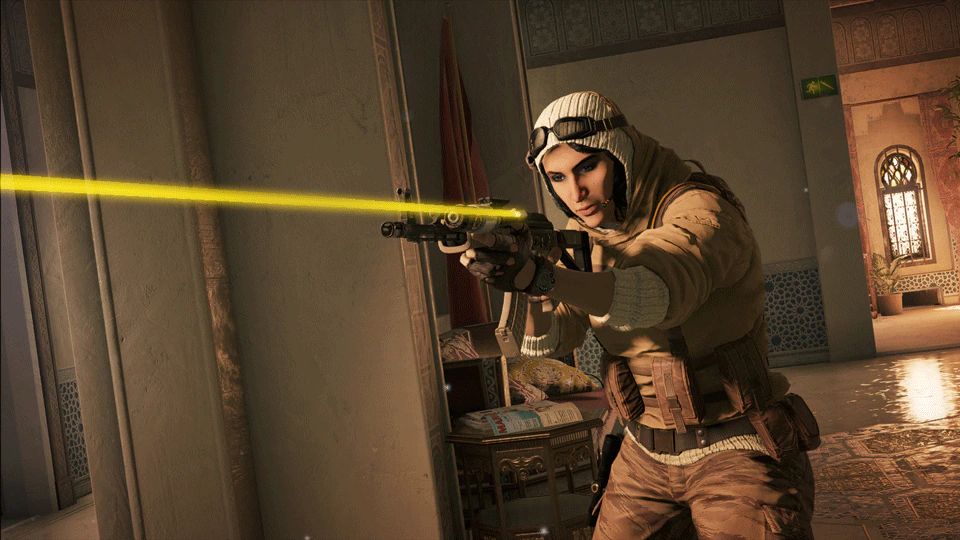 Rainbow Six Siege's Operation Wind Bastion includes two new Moroccan operators and the attacker has been revealed.
Kaid was revealed last week, and today, Ubisoft provided information on Nomad, the attacker, coming with Rainbow Six Siege's new Wind Bastion update.
Nomad is a "two-speed, two-armor Operator" who uses AK74 or AR X-200 assault rifles and the AirJab launcher. Airjabs are proximity-triggered air-blast grenades which push opposing Operators back and knock them to the ground.
The proximity trigger provided an opportunity to use it as a trap or to knock Defenders out of cover. Those caught in the blast radius are unable to shoo for a few seconds while waiting to recover.
While it doesn't dole out damage, the Airjab it provides an opportunity to hit enemies while down. That said, Nomad and her teammates will also be knocked back if caught in the blast radius.
Operators who are thrown back into a soft wall will break completely through it. When this happens, it opens up new lines of sight in the map.
Ubisoft said on its blog Nomad is a "particularly strong pick against Clash," due to Airjabs; however, Jager's ADS can neutralize her Airjabs if caught along their trajectory.
Alongside Nomad and Kaid, Operation Wind Bastion will include a new, free map for all players. The new map, Fortress, is modeled after Moroccan Kasbah architecture, and functions as a military training facility.
The map features two interior floors with two objective sites per mode on each. Players are able to rappel to the rooftop from nearly all sides, and Attackers only can use the towers to access the second floor.
Players who own the Year 3 Pass will have immediate access to Nomad and Kaid when Wind Bastion launches on PC, PS4, and Xbox One.
All other players can unlock them one week later.