"The pipeline of games that we have coming is more than we've ever had at any time in our history" - Xbox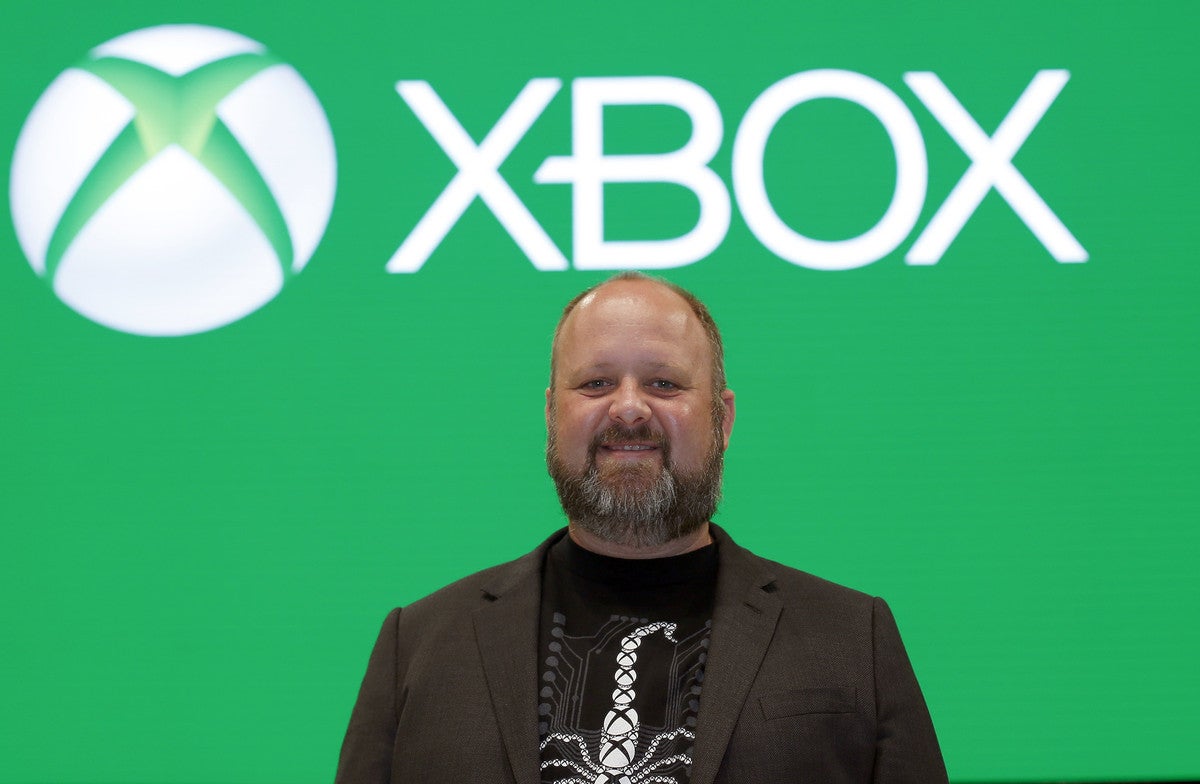 When Microsoft pulled back the curtain on Xbox One, the focus was immediately in the wrong place. Television. Sports. It felt like video games were an afterthought.
Fast forward to the end of the generation and it looks like Xbox is making the right steps to ensure this mistake isn't made again when it launches its next console, currently codenamed Scarlett. Aggressive and smart studio acquisitions have put Xbox in position to dominate in its first-party offerings.
At X019, a celebration of all things Xbox, we got a chance to speak to Aaron Greenberg, Microsoft's GM of games marketing, and we asked if he felt that the console giant came into the industry with the wrong goals.
"We're always listening to fan feedback, and fans earlier in the generation said, 'We really want backward compatibility. That's the number one thing we want.'," he explained. "So we tried to technically solve that. We've also heard that about games. 'We want more games, we want more first-party games.' We've doubled the number of studios over the last year now, to fifteen first-party studios. And I can tell you from working with those teams, the pipeline of games that we have coming is more than we've ever had at any time in our history.
"This spring we'll have more games coming from first-party. We've been sitting down with the studios, just trying to plan our portfolio. Even just this spring, we have so many coming out, to make sure we don't launch games on top of each other, it's becoming a challenge. We have so many games. So it's a good problem to have, I guess. But I think the pipeline and the amount of content that's coming will definitely delight gamers as we move into 2020."
While you might be tallying up how many studios Xbox now has to try to work out how many games are coming, that doesn't quite paint an accurate picture. There's probably more than you think, with most studios juggling multiple projects.
"We've definitely listened to the feedback that people want us to have more first-party games, more first-party content, and I can't think of any company, at least for video games, that doubled their internal studios within a year's time," Greenberg said. "I think we're definitely listening and taking action on that.
"The exciting thing is that each of these teams, they have multiple creative teams inside their studios, in most cases. Obsidian, as an example, has The Outer Worlds team, and now they have Grounded, and they have other stuff that's in the works we haven't talked about. We talked about Ninja Theory, or the teams at Double Fine. There's a team working on Psychonauts 2, but there's teams working on other things too. inXile has other things that you don't know about. And in time we'll share more of those, but we have more games in our pipeline than we've ever had for first-party, and I think that's going to be exciting for our fans, whether they're on console, on PC, on Game Pass. However they choose to play Xbox games, we're trying to bring them as much content as possible."
Xbox plans to empower its studios to create varied, experiences that don't always fit into what you might expect from the console. While there's the odd outlier such as Sea of Thieves, the Xbox brand is synonymous with cars and guns, where Sony's stable is much more varied, offering up stranger titles like Dreams and Death Stranding. This is going to change.
"We want to give the greatest creative minds in the world the opportunity to go realise their missions," Greenberg told me. "Even on existing products - take something like Wasteland 3. Brian Fargo, the first time I met with him, he said, 'Listen, we crowdfunded Wasteland 3. It's a game that we can only make to a certain point, based on what we have. But now we're a part of Microsoft, we'd love a little bit more time and some more resources, so we can do-' You know, he had a list of things that he wanted to do. He just couldn't do it within his current budget. And so it's great to be able to say, 'Yes, great, let's take a little more time.' The game's still coming out in May, which is great. And they're going to add a lot more depth, you're just going to get a lot more immersion, just a lot more quality. It's great to be able to see them do that.
"On the other hand, yeah. There's teams that are going to have really unique, creative ideas, and we want to support that as well. Dontnod came to us with the idea around Tell Me Why. You know, it was really ground-breaking in many ways, the type of story that they want to tell with that game - the first openly transgender playable character in a video game. But there's also a lot of responsibility that comes with making a game like that. We worked really closely with GLAAD, we made sure that the character was voiced by a transgender man.
"Those are things that I think add to the diversity and the creativity of what we can bring from internal studios. It's great to be able to work with partners like Dontnod on that, but it's also great to be able to have something like Game Pass where they don't feel the pressure of trying to go pre-sell, pre-promote, and then build an audience for a product. They can actually have an audience instantly when they launch their first chapter in the Game Pass and let people experience that story, which is something that hasn't existed in the past for us."