Overwatch Retribution skins for Mei, Hanzo, Doomfist, Winston teased ahead of today's event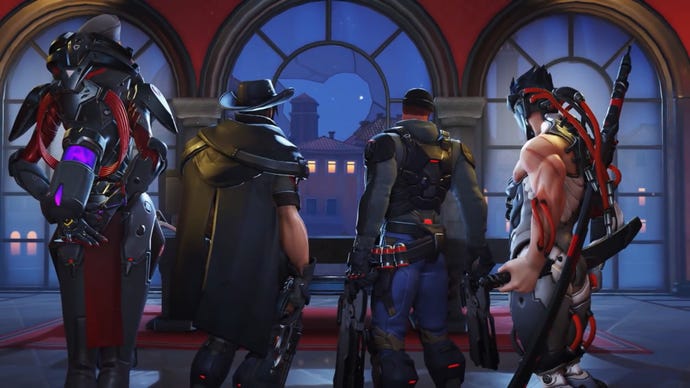 Overwatch's Retribution event kicks off today, and you can bet there'll be more to look forward to than the new mission.
I am talking about skins, of course, the one thing Overwatch players can't get enough of. Being about a Blackwatch mission, the Retribution event will be bring with it several themed skins for our heroes.
Not all of them, but a few fan favourites like Mei, Doomfist, and Winston. Sombra, Moira, and Hanzo can also be seen donning their all-black Blackwatch outfits.
Over the last few days, Blizzard has been slowly teasing these heroes' Legendary skins. The best one has to be PajaMei, though, which dresses everyone's favourite Chinese scientist in pyjamas for maximum comfort.
Overwatch Retribution will be available April 10 - April 30. In addition to the new PvE mission and skins, last year's Uprising chapter and all associated skins will too be available during this year's iteration.
See the lot below.
Overwatch Archives file located…
Subject identified: PAJAMEI

File content available for download in t-minus: 2 days pic.twitter.com/B7WosaoUHh

— Overwatch (@PlayOverwatch) April 8, 2018
Overwatch Archives file located…
Subject identified: SCION HANZO

File content available for download in t-minus: 4 days pic.twitter.com/1xDLqatVwF

— Overwatch (@PlayOverwatch) April 7, 2018
Overwatch Archives file located…
Subject identified: TALON DOOMFIST

File content available for download in t-minus: 3 days pic.twitter.com/L5t38Zrfgc

— Overwatch (@PlayOverwatch) April 7, 2018
Overwatch Archives file located…
Subject identified: SPECIMEN 28 WINSTON

File content available for download in t-minus: 1 day pic.twitter.com/6dNXwQDu6J

— Overwatch (@PlayOverwatch) April 10, 2018
Overwatch Archives file located…
Subject identified: TALON SOMBRA

File content available for download in t-minus: 3 days pic.twitter.com/U89YTmKWvl

— Overwatch (@PlayOverwatch) April 7, 2018
Overwatch Archives file located…
Subject identified: BLACKWATCH MOIRA

File content available for download in t-minus: 5 days pic.twitter.com/CWbiuNW2LJ

— Overwatch (@PlayOverwatch) April 5, 2018