New Tekken 7 character won't be coming the US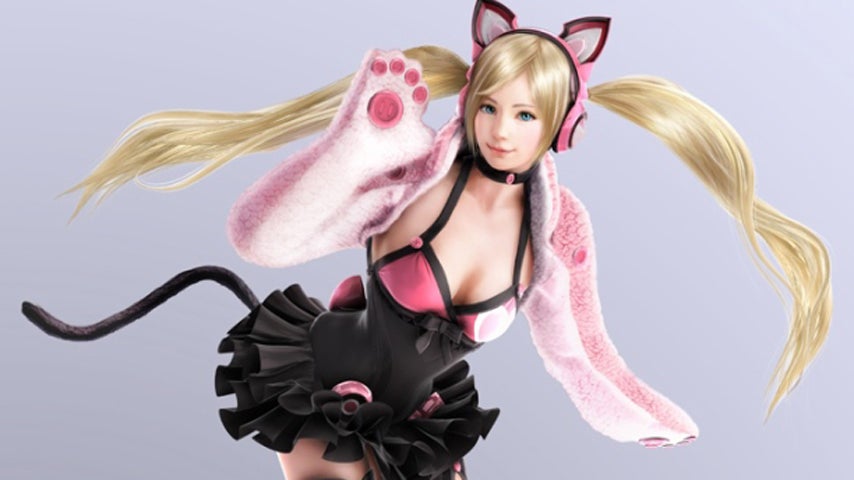 Tekken 7's newest character, Lucky Chloe, is exclusive to Japan, East Asia and Europe.
New Tekken 7 character Lucky Chloe was introduced during a recent series anniversary livestream. Here's a video of the new character in action, captured from the presentation:
The character hasn't been publicised outside the stream, apparently because she is exclusive to Japan and East Asia. We learned this from series creator Katsuhiro Harada, replying on Twitter to fans.
This is where things get kind of weird. You see, a fan linked Harada to a NeoGAF thread criticising the character. Many Tekken fans in the thread expressed their dislike of the character, describing her as annoying and silly. Others got in touch with Harada directly on Twitter, and requested the ability to block online matches with characters like her.
Harada did not react well. In a series of lengthy tweets, he repeatedly pointed out thet Lucky Chloe is just one of a number of new characters, and proceeded to imply that US gaming fans are only interested in one kind of character: big beefsteak men.
"By the way, Are you Western only bulletin board? Hello small world. I'll make a muscular and skinhead character for you," he said.
"Calm down and don't worry. That character are East Asia and Europe 'exclusive'. And I'll say again. We've more new characters in TK7. She is JUST one of them."
When some fans reacted with confusion to the news that the character would be a regonal exclusive, Harada replied:
"Because you don't need that character right? It's simple thing. And I'll say 'Don't worry' again. I'll release another character for you guys.
"I said we've more new characters. Example: Looks well-muscled, skin-head, very powerful attack (I don't like this idea but if you need)."
Harada seems absolutely serious about this, too.
I'm always serious. If you don't need = I don't release them. If you need = I'll release. That's all. RT @jdevilb I hope you are not serious

— Katsuhiro Harada (@Harada_TEKKEN) December 8, 2014
When one fan said they'd be happy to see Lucky Chloe come west, Harada's reply was a frustrated "So why?", presumably referring to the criticism on NeoGAF.
So why? RT @_devastator_ I'm american and Lucky Chloe is A-OK. Please inlcude her for my reigon.

— Katsuhiro Harada (@Harada_TEKKEN) December 8, 2014
What makes all this so frustrating is that western fans certainly aren't a homogenous bunch, and many would welcome a "cute"-type character to Tekken 7. After all, the franchise has in the past featured an actual panda, a farting dinosaur, and various other pretty ridiculous things. Heck, if you let yourself thing about it for too long, the whole concept starts to feel a bit ridiculous, even as your teenage heart continues to beat worshipfully over how "cool" Yoshimitsu or Jun are.
It rankles that Bandai Namco should make territory exclusive characters based on its idea of what a market wants rather than its creators' desires, and that "what a market wants" equates to what a bunch of cynical NeoGAF members think about a young, energetic female character appearing in their video game. This industry, people: it's a weird one, and unfortunately it's often the case that one demographic gets the focus-tested casting vote on what the rest of us get to experience. Endless space marines for all!
Tekken 7 has not yet been given a console release date. At present, we know only that it will hit Japanese arcades in early 2015.
This article has been updated to correct an error; Lucky Chloe is also coming to Europe. TwitLonger links: 1, 2