Mass Effect: Andromeda survey spills some plot details, reveals colonialism story
The upcoming Mass Effect could feature heavy colonialism themes.
Although we still know next to nothing about the story and general themes of Mass Effect: Andromeda, the prospect of it being set in an entirely new galaxy with a new hero is incredibly exciting.
Today, screenshots of a survey EA is sending out to users made their online. The survey, uncovered by NeoGAF, explains what it calls "a possible future" for the series.
The first question gives a brief synopsis of the game, before asking the respondent whether or not they'd be interested in playing that game. This synopsis contains a decent bit of info that sheds more light on the game's story.
According to the survey, the human race is fighting to establish a new home in the galaxy, but they're being opposed by an indigenous race, bent on stopping them. It describes Andromeda as having a "planet-dense, seamless open-world", where your character will lead a group of military-trained explores and have "deep" progression and customisation systems.
Publisher surveys usually end up referencing actual information, as a way of finding out how to best target audiences in marketing. With that said, it's best to take the content with a grain of salt until BioWare officially reveals more details.
Find all the slides below: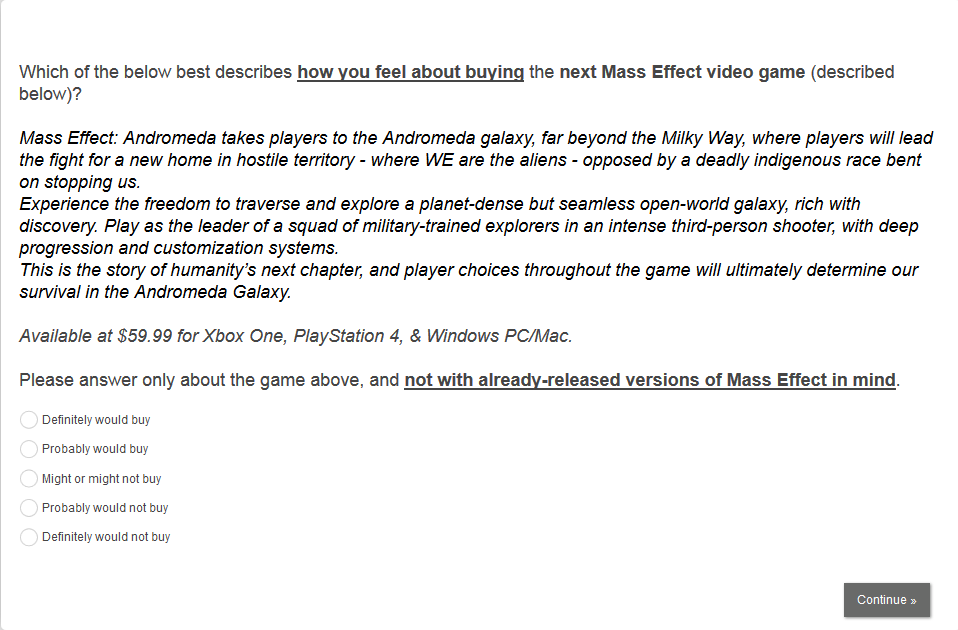 Mass Effect: Andromeda is expected to release in early 2017. An E3 reveal is more than likely.