In Dishonored: Death of the Outsider, Billie's arm is made of the Void and her powers aren't like those we've seen before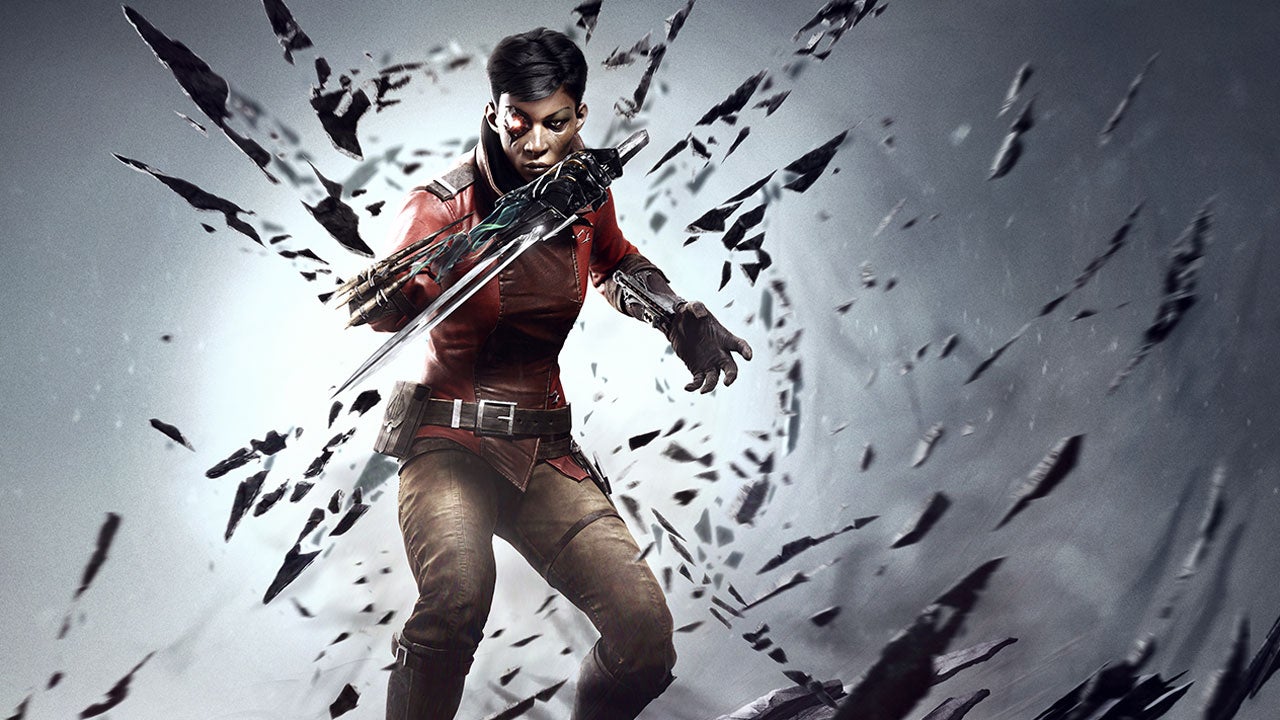 Dishonored: Death of the Outsider has some hot stuff for lore nerds. Let's squee over this together.
Dishonored: Death of the Outsider is probably going to receive a review score of -1400 out of ten here at VG247 if it ends the way the title suggests, but until we know for sure we can enjoy the idea of a new Dishonored adventure.
The expansion stars Billie Lurke, who served as Daud's second in command in DLC for the first Dishonored. She also appeared in Dishonored 2, although we're probably still too close to discuss that - spoilers, you know.
We had questions about how Death of the Outsider fits in with the Dishonored canon chronologically, and now we have answers. Speaking to IGN, Arkane boss Harvey Smith hinted that Billie's powers relate to the events of Dishonored 2, which left her "in one state and in another at the same time, which causes kind of a distortion around her". This concept was first hinted at in the Dishonored comics.
This, then, solves another little mystery: the source of Billie's supernatural-seeming powers. Unlike other Dishonored protagonists, Blllie has not been given the Mark of the Outsider, which granted Daud, Corvo and Emily supernatural abilities.
Billie's movement power is called Displace. Like Emily's Far Reach, it's a twist on Corvo's original, iconic Blink ability; all three powers allow the wielder to move rapidly between disconnected points in space near instantaneously. (A new game plus mode will allow you to play through Death of the Outsider with Corvo and Emily's abilities, by the way.)
Billie's Displace is unique in that players don't have to target and then either use or cancel it before they can pop another power. Instead, you can drop a Displace marker somewhere and wander off to do as you please - teleporting back to the marker when you want to. We see this in the Dishonored: Death of the Outsider E3 2017 trailer when Billie places a marker on the floor, waits for a target to pass it, then teleports behind them.
Billie has other powers, too, and they aren't all related to her inconstant existence in linear time: her false eye is an artefact called Eye of the Dead God (which dead god?) and her artificial arm is made up of pieces of the Void - and the knife used to sacrifice the boy who became the Outsider.
All this is starting to explain how it is that Billie could possibly kill the Outsider, a being of pretty amazing powers. Still, we've already met one Dishonored character who thought they could get rid of him - and maybe came close, if the Outsider's own comments are to be trusted.
I'm still really mad at the idea of killing the Outsider, AKA my imaginary husband, but I also feel maybe we've been building up to this all along. We know the Outsider is just the latest in a series of avatars of the Void. It's not entirely clear that he enjoys his life. We know he didn't choose his role. We know he's been doing it for 4,000 years and gets bored. Maybe he even orchestrated Daud's rebellion?
Dishonored: Death of the Outsider releases in September for PC, PS4 and Xbox One, so we have a fair while to contemplate this burning questions. Arkane also has time to implement a "Outsider doesn't die and maybe meets a nice friend who makes him happy" ending, too. Just a suggestion.