How Erica Lindbeck Gave Jessie Rasberry a New Voice in Final Fantasy 7 Remake
We catch up with the voice actress who not only gave Jessie a voice, but helped make her a new fan favorite in the Final Fantasy 7 community.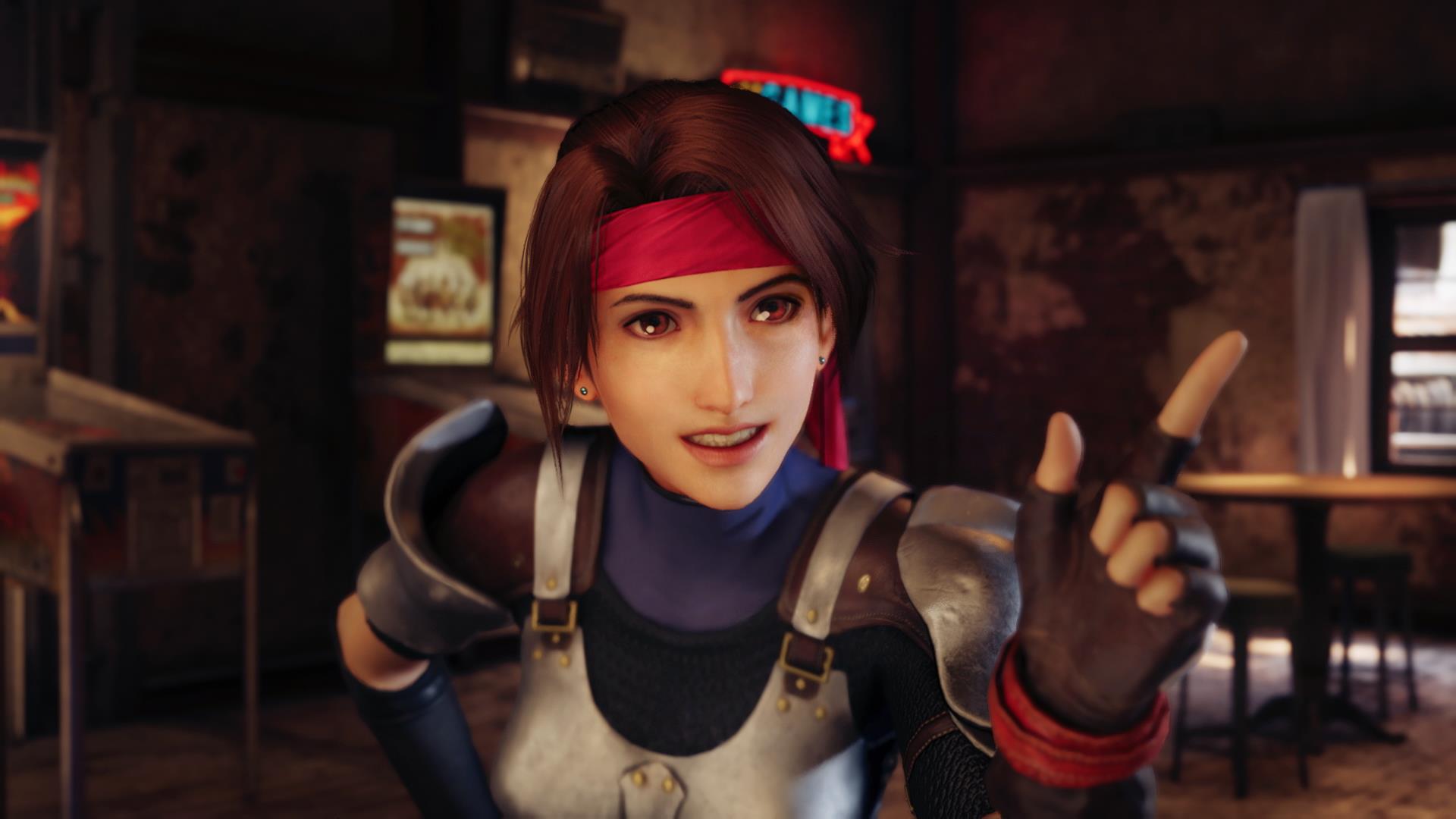 This article first appeared on USgamer, a partner publication of VG247. Some content, such as this article, has been migrated to VG247 for posterity after USgamer's closure - but it has not been edited or further vetted by the VG247 team.
Spoiler Warning: This story contains spoilers for both Final Fantasy 7 Remake and the original Final Fantasy 7.
"You passed the test!" says a cheeky, yet flirtatious Jessie Rasberry, before leaning over a still moving motorcycle and placing a kiss on Cloud's cheek.
This is one of many memorable encounters with Avalanche, a group of eco-resistance freedom fighters trying to prevent megacorporation Shinra from draining the planet's lifestream. For anyone that has played Final Fantasy 7, the name Jessie barely leaves a footnote through the sprawling 40-ish hour adventure. Her expansion in the remake is a welcome change, offering long-term fans the chance to be reintroduced to an initially forgettable side-character.
Jessie's anything but forgettable in Final Fantasy 7 Remake. Second time around, Jessie immediately establishes a good rapport with the main cast, and leaves a lasting impression via endearing writing that grounds the character in a way that many video game characters can only dream of. Likewise, the remake marks the inception of Jessie's voice—originated by Erica Lindbeck.
Finding Jessie's Voice
"I remember getting a phone call from my agent saying I booked it," Lindbeck says. "I was so excited. It was one of the first big games I'd ever booked but we didn't really know what it was, because we knew about the remake trailer with Cloud in Midgar but we just didn't know what it could be. [...] At the time, I was really just starting out and it was huge for me."
Since starting in the profession in 2014, Lindbeck has built up a wide catalogue of performances, with a rise in prominence through bigger titles as of late. She played the beguiling Black Cat (Felicia Hardy) in Marvel's Spider-Man. She voiced the fascinating Futaba Sakura in Persona 5, as well as the cool and collected Cassie Cage in Mortal Kombat 11.
Ironically, a lot of these parts converged at a similar time for Lindbeck, who signed onto the Final Fantasy project five years ago. She says the initial audition was quite sparse, "It was only a few lines," she says. "I booked the role quite a while ago, with Square doing the trailer for the PlayStation Experience (PSX 2015) and Jessie ended up having the first English lines in the first English trailer, which was super cool."
Never having actually played any Final Fantasy games, Lindbeck became "weirdly obsessed with the lore" after watching Advent Children, the animated movie that succeeds the game. Following that, she researched prequel Crisis Core.
"I never had a PSP, so I went and watched all of the cutscenes via YouTube-and I cried," she says. "The story really drew me in. I actually didn't know a lot about Jessie having never played the original Final Fantasy 7, which I have now played a bit of with Briana White [the voice actress of Aerith]. It's such a prolific franchise that even people that don't play video games have heard of Final Fantasy. I knew about Avalanche and who Barret was, but Biggs, Wedge, and Jessie were a little bit of mystery to me."
Final Fantasy 7 in particular is a special entry in the series. It's a game that set in motion a generation of RPG lovers, so a classic of this magnitude needed to be handled with care. This can be daunting for an actor, and was something Lindbeck had to consider beforehand.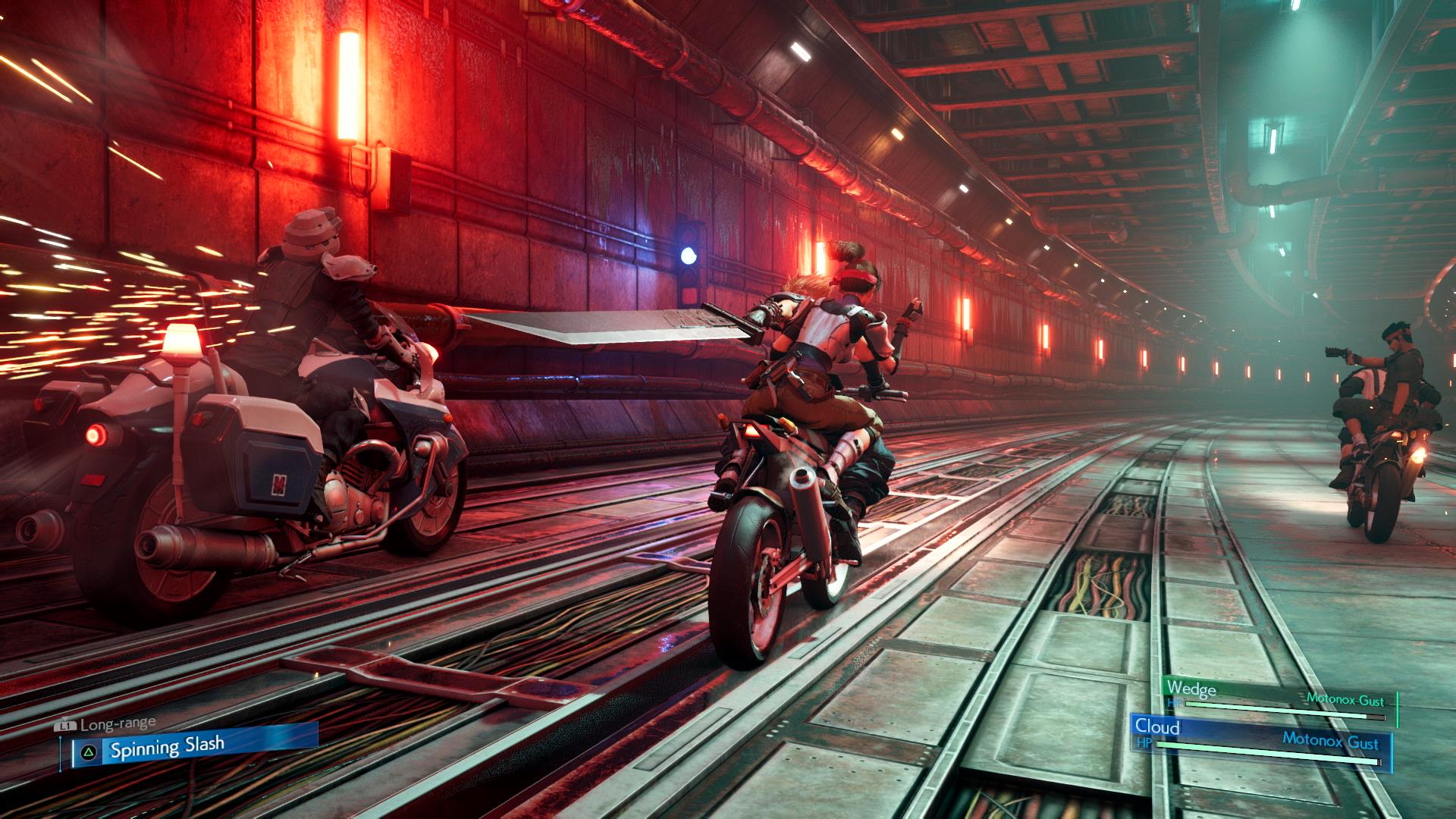 "I was very nervous," she says. "It was nice to be originating a character without a voice given before, so there wasn't anyone to compare me to. But, yes of course I was really nervous—especially because they heavily expanded Jessie's character in this iteration and it was kind of a dream."
In the original outing, Jessie plays a much more minor role, never leaving Midgar. With the remake set entirely within the steel city, the writers had an opportunity to help bring out her down to earth nature. Undoubtedly, a big part of this was down to the voice.
"[V]oice-wise, Jessie wasn't that difficult for me to find," says Lindbeck, "but personality-wise it was hard. She could be super big, over the top, and broad, and I didn't want her to come off that way. I wanted her to have heart, even though she can be a bit pompous sometimes—which I love about her because I can be as well.
"Also, Jessie is really thirsty and I am too, so perfect casting," she laughs.
Chapter 4, "Mad Dash," focuses entirely on Jessie as she experiences a rollercoaster of emotions. Beginning with an exciting motorcycle chase where she acts as a "backwarmer" for Cloud, we then meet her parents and get to understand the circumstances that led her to Avalanche—the Mako poisoning of her father.
"I wanted people to love her. Something I really try to do with every character, whether it's a triple-A video game, a little JRPG or whatever, is to keep them grounded and find the heart." This is never made more apparent than the revelation of Jessie quitting her dream job as the Princess at the Golden Saucer for the sake of her ill and distressed parents. It's a hugely important trait for Lindbeck that drew her to the role.
Square Enix premiered the debut trailer at E3 2015, finally confirming the much-desired remake's existence. It wasn't until four years later when her casting, and the whole cast of Final Fantasy 7 Remake, was confirmed by Square Enix at the same Los Angeles event in 2019.
"Is this real?" she recounts co-star Briana White yelling in excitement, with both relative voice acting newcomers never experiencing anything like this prior. Ultimately, it became an iconic trailer in the 25-year history of the trade show. Lindbeck still recalls the "stunning" visuals and unexpected response to Jessie: "It's actually so funny," she says. "There were some people when that trailer came out who were like 'I thought Jessie was a dude,' because of course they're just blocks in the original."
However, it wasn't until PAX East ahead of the April launch that the project was given its "sense of immediacy," says Lindbeck. "They treated us like royalty," she adds, when referring to the thousands of devoted fans who traveled from all across the country for a glimpse. The whole event presented the voice actress with a new perspective on just what a game like this means to people: "[W]hen you are face-to-face with fans and they're crying telling you how much it means to them, it's a whole other thing."
One of the biggest debates among the Final Fantasy community that has raged since the game's inception, is who is better? Aerith or Tifa? Now, after all this time, a third contender entered the mix.
"I think Jessie is a really good foil to Aerith and Tifa," declares Lindbeck. "I feel like there is very much room for her in the fandom because she's very different from both of them. She is super in your face and unabashedly goes after what she wants but in a nice, playful way. I relate to Jessie a lot."
The Tragedy of Jessie
Having transitioned from nothing but a background character to a genuine rival for Cloud's affection (and the audience's), the thing that separates Jessie from the others are the tragedies that she endures. Some of her missteps haunt her until the very end, her insecurities engulfing her.
"She's not Aerith, she's not Tifa, or part of the original 'best girls,'" says Lindbeck. "She's not the best fighter, or ends up with the guy at the end. She tries really hard. There's something really tragic about that for me."
This behavior stems from Jessie's belief that she was responsible for the deaths of many following the destruction of the first Mako Reactor in Chapter 1. When in reality, the city's increased ruins were a result of Shinra's attempts to villainize Avalanche.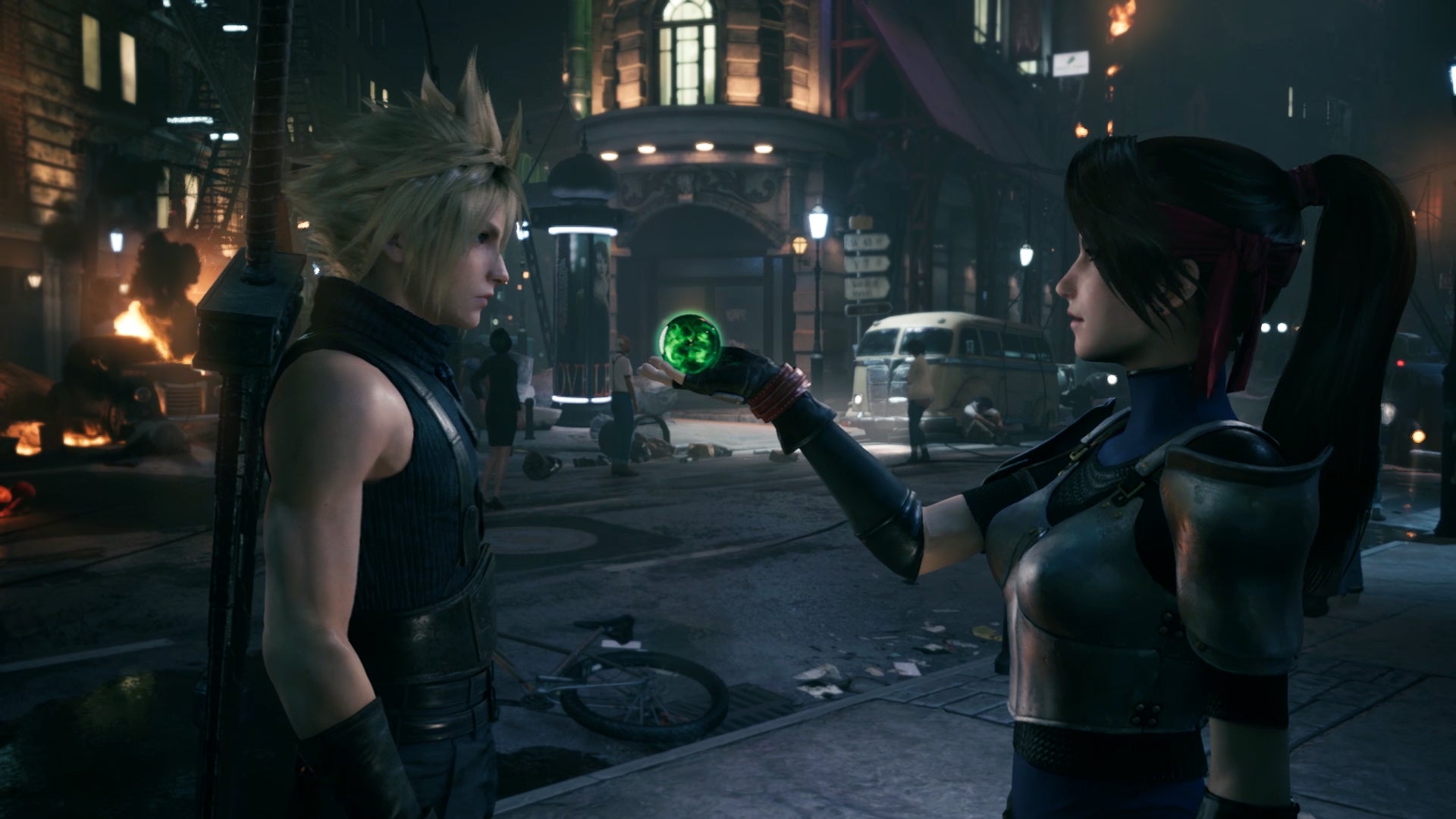 Just as in the original, Jessie seemingly dies during the fall of Sector 7. In Final Fantasy 7 Remake, her "death" is much more crushing due to the time we now spend with her in-game, and her general positive attitude. Jessie's deja vu death is something Lindbeck was aware of—a consequence she discovered during her initial research surrounding Crisis Core and Advent Children.
"There's almost something worse about having to relive it in greater detail knowing what happens. Even in her death, she's still trying to be positive," she says. "It felt really appropriate and the writing was great. We took our time with it. I remember when we finished and I excused myself to the bathroom for a minute and I cried a little bit. It's not like she got all 'woe is me' at the end, which I don't think she ever would. She really stayed in character. [...] I remember when Jessie says: 'Oh no... Tifa's crying. Did I say something wrong?' She doesn't understand as she's so out of it. It's awful, really awful."
Still, there may be hope yet, as fellow Avalanche member Biggs survives and the fate of Wedge is currently unknown—a major change from the original. Furthermore, with the overarching theme for the remake centered on defying destiny and changing the events of what transpired in the original, it's possible that Jessie could return.
"It is what it is," says Lindbeck. "I can't march into Square's offices and go 'bring her back!' I think if everybody was brought back when they die their deaths wouldn't feel as permanent or as impactful. [...] It sucks but I do think they did her death scene a lot of justice."
Only Square Enix knows the future of Jessie Rasberry. Whether she wakes opposite Biggs—as teased by her glove on the nightstand—appears onstage at the Gold Saucer, or even joins as a party member, Lindbeck is embracing the positive response. "There are so many dominoes that need to fall appropriately in order for something like this to happen, so I'm just enjoying it while it lasts," she says.
Taking that positivity forward, Lindbeck will next be heard as the voice of Alyson Ronan, one of two twins that star in Tell Me Why, the upcoming release from Dontnod Entertainment. It's a completely different role from the happy-go-lucky technician, but one she looks to honor in the same way by trying to "keep them human."
And that truly is the strongest accomplishment of Jessie Rasberry, that in her transition from minor to major character, is that she feels heartbreakingly real.