GRIP: Combat Racing will leave Steam Early Access in November
GRIP: Combat Racing is leaving Steam Early Access this fall.
The spiritual successor to Rollcage, GRIP: Combat Racing, has a release date set for PC, PlayStation 4, Switch, and Xbox One.
Developed by Caged Element, the project was launched on Kickstarter in 2016 before the team decided to move it over to Steam instead.
GRIP: Combat Racing features 22 tracks across a variety of foreign worlds where players will drive one of 15 armored cars. To best opponents, nine weapons along with power-ups can be used for an advantage. The weapons can target other vehicles and the destructible environments.
The vehicles in-game can reach speeds of over 767 mph for intense racing matches on or offline. The game also supports split-screen and tournaments.
Below is a list of gameplay features, the minimum and recommended PC specs, and what's changed with version 1.2.5.
Features
Intense Racing: Hit speeds of up to 1000 kmph, driving on floors, ceilings and walls. GRIP's car designs allow for driving on both sides, so flipping the car no longer means game over.
Awesome Pick-ups: Use an array of power-ups and weapons to get the edge on your opponents. Ranging from missiles and guns to shields and turbos, we plan to have a wide array of exciting pick-ups to use.
Exotic Planets: Race on a variety of planets, from hostile icy worlds to alien jungle to sprawling non-terrestrial cities. Use destruction as a tool to win (not yet implemented*), crashing your surroundings down on your opponents, or lose your tail by heading through an alternate track route.
Badass Rides: Choose from a roster of armoured cars, manufactured by different companies from around the galaxy. Each car has different specs - some swift and agile, others brutish and heavily armoured. There's a killer car for every taste.
Bangin' Tunes: Race to a thumping soundtrack from a variety of artists. Drum n Bass is our main kick.
Current version (v1.2.5)
8 vehicles (3 manufacturers), with paint job, rim and tire customization. Another car coming soon.
6 Game modes: Classic Race, Ultimate Race (overall points), Elimination, Time Trial, Arena (Deathmatch) & Carkour (similar to scramble mode in RCS2)
10 Racetracks, 3 Arenas, 15 Carkour courses. (Some levels are still WIP)
5 Weapons (Scorpion, Raptor, Ironfist, Hydra, Assassin). Another weapon next update.
4 Power-ups (Aegis, Firestorm, EMP, Ramraider)
2 Vehicle abilities (Launch, Boost)
12 Ingame music tracks (mostly Drum n Bass, but also trance and techno)
Play single player (against AI), split-screen with a friend or online versus players all over the world.
NOTE: Gamepad navigation in menus coming soon.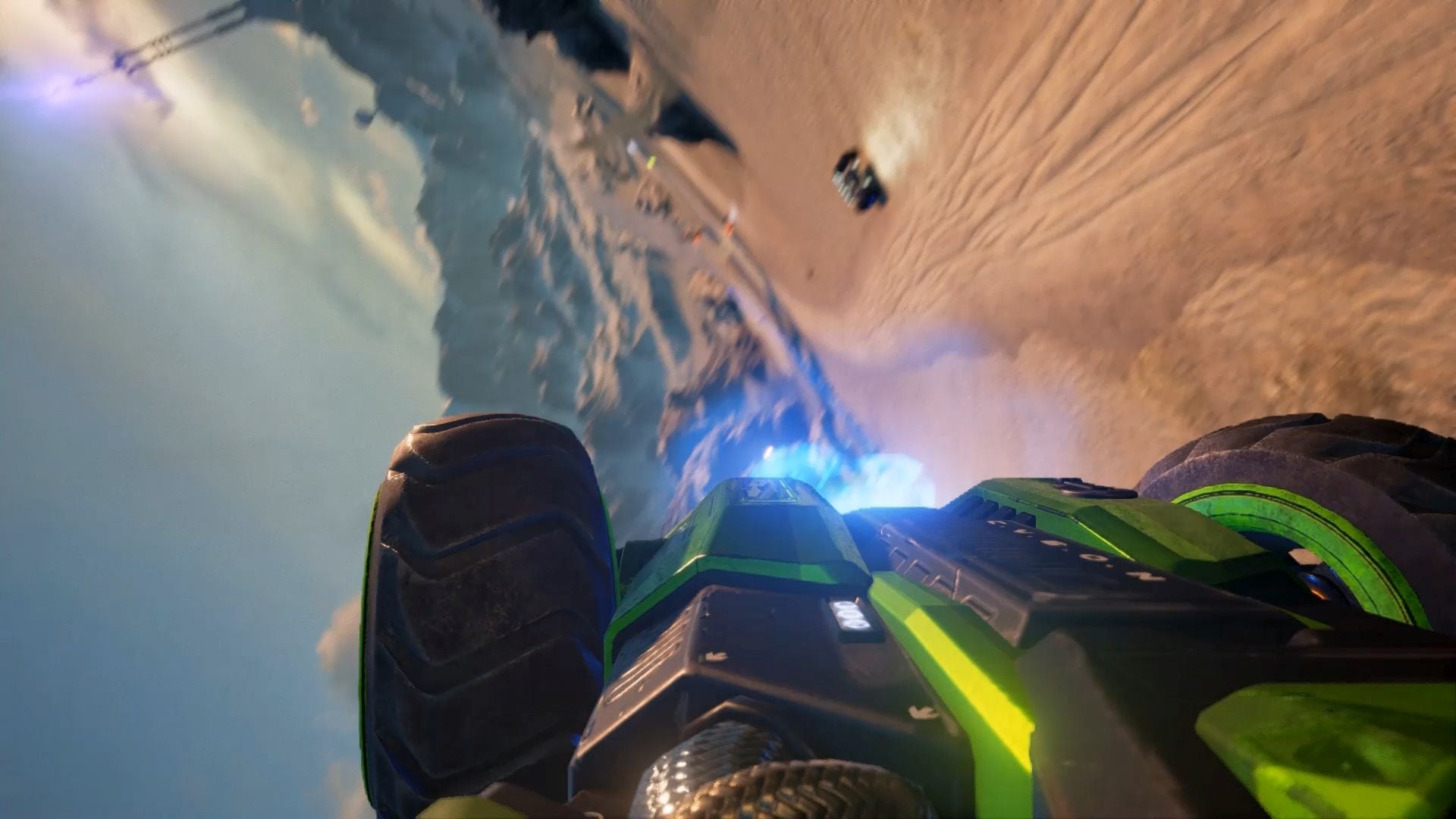 PC Specs
Minimum
OS: Windows 7 64 bit
Processor: Intel Core i3-3220 or AMD FX-6300
Memory: 4 GB RAM
Graphics: Geforce 560 or Radeon 6850
DirectX: Version 11
Storage: 8 GB available space
Additional Notes: Microsoft Xbox Controller for Windows (or equivalent) is recommended.
Recommended
OS: Windows 7 64 bit or newer
Processor: Intel Core i5-3570K or AMD FX-8320
Memory: 8 GB RAM
Graphics: Nvidia 970 or Radeon 380
DirectX: Version 11
Storage: 8 GB available space
Additional Notes: Microsoft Xbox Controller for Windows (or equivalent) is recommended.
GRIP: Combat Racing releases November 6 for PC, PS4, Switch, and Xbox One.