Grab a code for Mythical Steam Pokemon Volcanion for Pokemon ORAS at GameStop this October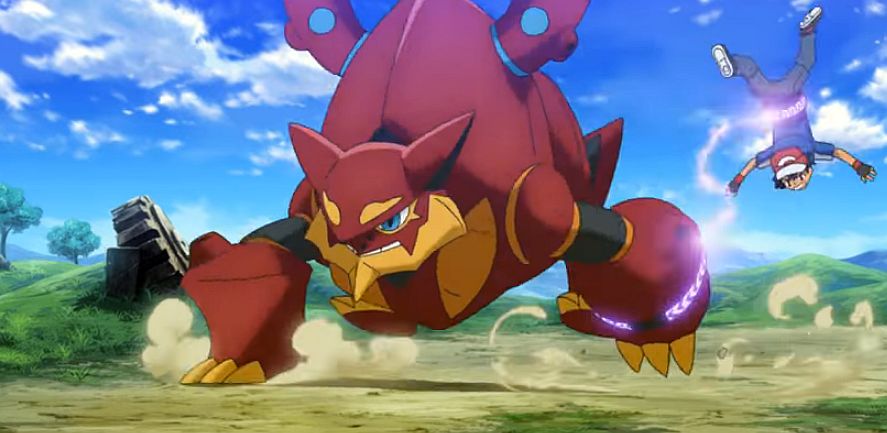 The Mythical Steam Pokemon Volcanion will be distributed by GameStop store in the US this October in celebration of the latest Pokemon movie.
Participating stores will hand out code cards for the Mythical Pokemon to be used in Pokrmon Omega Ruby, Alpha Sapphire as well as Pokemon X & Y.
And don't forget, you can pick up Mythical Pokemon Keldeo October 1-24 through the Nintendo Network. So, that's two extra Pokemon for you that month.
Volcanion is the first Fire and Water-type Pokemon, is level 70 and features four powerful moves.
Pokemon the Movie: Volcanion and the Mechanical Marvel will debut in some North American and European markets. The new trailer is above.
Volcanion meets Ash meets when it crashes down from the sky. He doesn't trust mankind, as it always betrays his kind, but a mysteriously force has bound the Pokemon and Ash together.
The creature pulls Ash along on its "rescue mission" to a city of cogs and gears, where a "corrupt minister has stolen the ultimate invention" - the Artificial Pokemon Magearna. Created 500 years ago, the minister plans to use its power to take control of the mechanical kingdom.
Trading Card Game players can also pick Volcanion up in the newest expansion, Pokemon TCG: XY—Steam Siege from today. The expansion introduced more than 115 new cards to collect and play, including Pokemon with the BREAK Evolution mechanic like the new Xerneas BREAK and Yveltal BREAK, as well as Yanmega BREAK, Talonflame BREAK, Pyroar BREAK, Clawitzer BREAK, and Hydreigon BREAK.
Pokemon the Movie: Volcanion and the Mechanical Marvel, previously released in Japan, will hit select theaters later this year.