Gamescom 2014 show report: ultras never die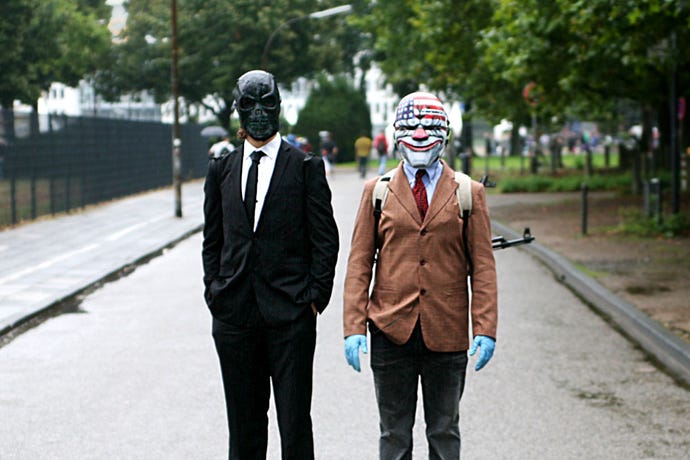 Gamescom 2014 was a busy show. Pat condenses the week.
Mosquitoes bit my knees. Scratch through my jeans over a conversation about the media, how it doesn't work anymore unless you're in entertainment and then only if you have scale everyone's getting fired. The editor nods from behind a foot-high beer hijabi berates a man on wet cobbles. Pay separately. I rub my eyes and push my glasses back onto the top of my head.
I f**king hate websites, I say.
My name's Patrick Garratt.
I recognise that.
I was supposed to speak at GDCE yesterday. On a panel. I made a mistake. I only arrived yesterday evening. Robin Williams.
Oh, it's you. A hurricane couldn't move his hair. His New York agency never responds sucks back on his cheeks. Yes, I heard your name used a lot yesterday. Red streamers well from the tear in his throat pumping squid tentacles protest from the bath's reddening surface.
Yes, well. Do you have the password for internet access?
This time he has a gift for me and prints my pass without seeing a business card or passport. I thank him so much a smile with eyes and teeth. Nothing says gamescom so much as masturbating alone in a hotel room German television set.
She's having a second breakfast fisting room. The fisters and the fistees. A boy in a cage.
Do you think it'll do well?
I'm not sure I want to answer that question here. She smirks into a black tea.
I'm just walking around with you. Are you going to do some work?
This is for gamescom. This is GDCE.
Can I register for GDCE?
It's quite expensive, I'm afraid.
I'm press.
You're press.
Yes.
Then you're at the wrong window. You need to go over there.
I'm going to tell you all the secrets. I've already told him it's a Gaza-free zone. Currywurst in the shadow of the Dom but traveller dogs eat ice cream. We have our big reveal at seven. I've come back from holiday going to meet my family again once it's over. A strawberry doughnut with a green heart.
That's the thing about boats, I say. You can't get off whenever you like.
Cologne taxis, blanched yellow frustrated, thunder towards the rising sun.
Like seagulls on a landfill tearing plastic bags apart. Triple hotdog and onions ketchup circling the table praying to the tray of endlessly refilling baps. I'm chairing a panel in there later I'd like to see it. Bloodborne stood out pierced eyes drift middle distance. What else? What do you think about that? It isn't in the best interest of the players.
White hair houndstooth. Metal cube skids on the black floor. I'm glad that happened. Wrinkled giant, pudding and chips and a cup of tea the Welsh smoker. Ten million. He's so sharp. Chocolate triangles and espresso. Cheese bread and egg glistening pastries so large you only buy half. I don't have enough t-shirts no fear on the back no wonder they're eight euro. No need to ask cosplayers Assassin's Creed on the platform cardboard throwing knives.
We'll see you at our booth?
No doubt.
F**king monkey struggling to get the apple juice straw into his mouth. I'm not your type. Slot FIFA. Need to move Halo.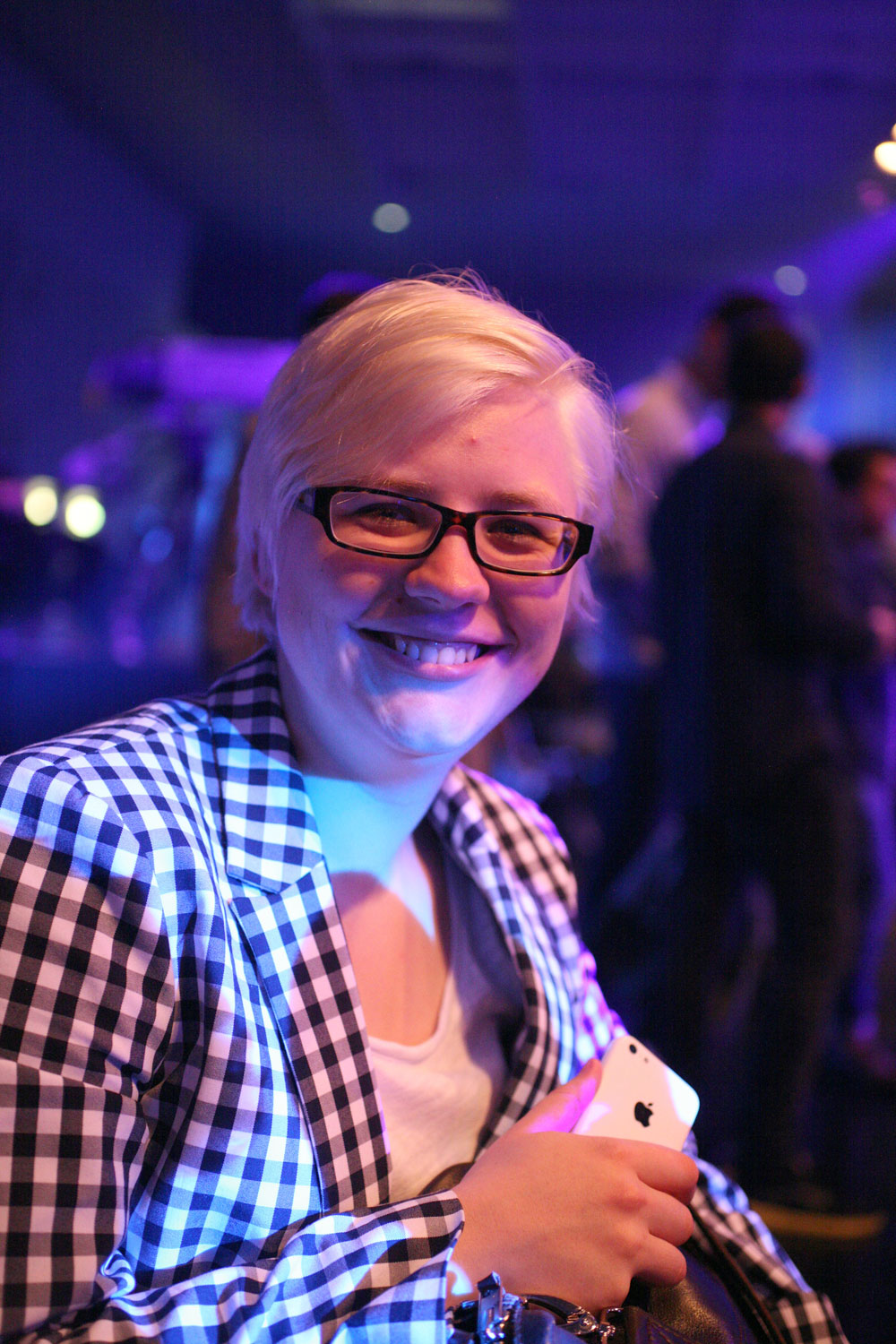 I always believed the interview would start at ten fifty but before the show she sent me an email saying it was ten twenty so that's when I arrive. She sends me another email at ten nineteen asking me if I'm fine for the ten fifty, and I say I am. Driver fingers the dented edge. The Media Molecule team a snake nest of iOS wires and as many coloured wrist-bands as possible green leopard leggings dazed overwork. Rex pushes screens into a yellow drawstring bag and glasses onto the bridge of his nose. Siobhan's Thinkpad frayed with orange post-it gold weight earrings and pale blinking lack of sleep.
Two years ago. Pork knuckle.
Susan smiles and crosses her legs.
Take a seat, she says. I'm from Central.
Cartilage appendages creep from his skull, which shows dirty through splits in smoking green skin. He thrashes, barely able to keep himself on the leather seat thanks to excretions of a thick viscous liquid reminiscent of mushroom distillation. He spits a tooth, smashing sopping hands so hard onto the desk that he loses a finger. It snaps off at the knuckle, sliding to rest beside a hotel-branded water glass and what is ostensibly my seat. His single eyeball swivels in its socket, dropping popped veins on his cheek. His shoulders shake as he whimpers.
There's been some kind of mistake, I say.
Susan pushes permed hair behind her ear and shuts an eye in question.
Begin, he screams.
I set my recorder and sit. Are you well? You don't seem to be very well.
He vomits on the table and pulls at this chest with one hand plays with chunks of sick with the other wails palm on heart. Susan writes notes on a lined pad great discussion point please he howls please blood jets onto the cream carpet no spoilers please I'll have to check that Julia will help you will see the bottom of the pits of all the hells amazing visuals, bare bones sliding up my inner thigh please.
I'd like to thank you for your time, sir.
You're very welcome.
Of all the people I didn't want to be late for.
I know where we can get free food and drink.
Do you want to get a coffee?
Ein kleinen.
These updates will be rolling out towards the end of this year but I'm not sure of the specific packaging. Punching the surface Windows 8 they're chocolates, actually. We'll believe you stream. I've done my fair share of moaning here although it appears it's coming back next year. I really like the live stuff, actually. You're glowing. I think there's a fear element there, that it's an admission of failure green. I don't agree with you at all. Shall we arrange to do something later? Sure. Did you see the demo this morning? I didn't. Did you manage to play the game on the show-floor? I didn't, but I'll certainly try. Disgust, terror and horror. We would say we're mainstream we have a fear machine. Disgust. I wouldn't say we were an extreme product but you can work these elements together in the right stick menu to create new bolts for the crossbow. Good to see you. LinkedIn's trying to congratulate me on a work anniversary muscle car and I think we all understand the notion of winning at this point. We have to do it, Patrick. Two doubles and a Redbull. What you're saying is that you should support us if you like the content and I wouldn't talk about the concept of removing advertising at all.
Sunset Overdrive is an open world shooter it is mature it is set in a post-apocalyptic world but maybe the kind of post-apocalyptic world you're not used to seeing er the end times do not have be grey they do not have to suck you can have the awesomepocalypse which is what we have in Sunset Overdrive you are an inhabitant of Sunset City the year is 2027 Fizzco is the dominant corporation in the city it has released an energy drink called Overcharge Delirium XT it has rushed the drink through the approval process and at Horror Night that is the moment that the drink is released at a launch party with massive unintended consequences so the citizens that drink it at the launch party turned into mutants the apocalypse has begun in Sunset City you must survive alongside other survivors in the world you get to be who you want to be your previous lifestyle as a comic-book-reading video game junkie actually pays off and that is why it's your personal awesomepocalypse we're going to meet another faction who are experiencing the end of times in their own way they are called Troop Bushido there's a group of adult adventure scouts who are holed-up inside the Japanese Heritage Museum and they have adopted Bushido code James will introduce you to them more formally.
Art direction. Iconic beard.
Same-sex relationships power technology long time. Baffled. I'm thinking of going to Amsterdam this weekend. I haven't been before by train. You'll have a great time lipstick peeling at the back. This game means a lot to me.
Games that matter or f**k off.
Passed the Pat test.
You've been delayed. His smile falters.
It's been a good thing. Double pass. New particle system. A new renderer. Ice snow rain puddles windy monkey.
Were you in the session this morning?
I have to warn you I'm hardly a Dragon Age aficionado.
That's fine, he says.
I was nearly a Lamborghini and I still don't have a Ferrari.
You have to work and you don't have a Ferrari. Life isn't fair.
We have to ask.
A little boy with glass eyes was good until he opened his mouth. The heart in the tree was Welsh. They need to chill the f**k out on the British regional accents, although I don't see why.
How did you find this place?
It was open.
You're never far from a match.
Green rollerskates. Juicy dreams. Dom spaceship. I'm separated. Nevada. One casino. Is it too strong? Empty the jug taxes on the bar sexy motherf**ker. Sweet or sour? Pink. Out. I am man, yeah. Where are you? Even then we lost eighty percent of our staff the games media at the moment is very hard. One game supposed to build a business on that? Want a sausage? Mustard yeah doesn't fit into your plan. Now we get to the meat. I mean, I play every day in my personal time. At work I play on Xbox One and PC but at home I play on Xbox One. Deg tunnel extend.
I'm going to be here for a couple of hours at least. Every time they call I assume one of them's dead.
Mate mate mate Cheggers slithers past, powered by s**t golf ball eyes streaming p**s he won't look.
Buckets of popcorn and Winstons. It'll do you good to stand in a queue. Press. Presse. It's not possible butterfly back. Touring plan. I'm not even sure what it means anymore. All I need is capture and no one will give it to me. Nothing really. Just going to clear up my appointments and go home. Write a feature. Centre-right but I don't agree with any of them. Put a duvet over your head when enough I know it sounds stupid lapel mic. I don't have a match use the end of your shoelace. You can flick it in the river if anything happens although it is decriminalised in Germany up to five grams. There's no tobacco in that. The old fella raises his eyebrows water smiles. Yellow lights came second, and the difference between myself and the winner was ridiculous. Raindrops replace any golden sheen. The service is great here pot in the dark bridge leads into the Hauptbahnhof crawl German blue rinse I'm English. I'm English. Welcome back. She looks at the floor. Larry struts past in a pink gingham shirt.
Chestnut bob cheekbone frame. To hold her arm. To make a life. Rhododendrons fill pineapple t-shirts. A brown leather handbag leaks roses as it circles the stair. Ultras never die.