Free Realms beats 3 million users in 7 weeks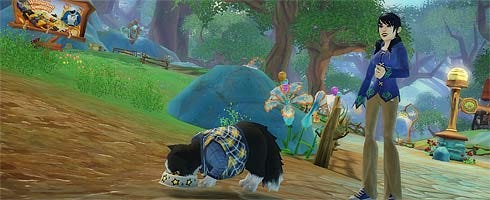 Hold on to your hat, granddad. SOE said this morning that teen MMO Free Realms has punched through the 3 million player mark in under seven weeks.
The publisher claimed 2 million players a month after ship.
The title released on April 28. All usage signs are pointing to a mega-hit.
The game's a micro-transaction-based affair, with the basic game being free to play.
Press release below.
FREE REALMSTM CELEBRATES THREE MILLION PLAYER MARK IN LESS THAN 7 WEEKS AFTER LAUNCH
"3M Pet Party Pack" Granted to All Three Million Players
SAN DIEGO, CALIF. – June 12, 2009 – Sony Online Entertainment LLC (SOE) today announced that more than three million unique users have registered for Free Realms™ (www.FreeRealms.com), the free-to-play, family-friendly online video game that launched on April 28, 2009. Recently awarded recognition by Guinness World Records for conducting the first concert to take place simultaneously in the real world and a virtual space during E3 in Los Angeles last week, Free Realms continues to redefine the scope and pace of online games.
"SOE worked diligently over the past four years to ensure that Free Realms would take the online space by storm," said John Smedley, president of Sony Online Entertainment. "We are pleased to be able to provide such a vast, in-depth and, most importantly, fun world to an average of 500,000 new gamers per week."
To celebrate the rapidly growing community of players, SOE will grant its first three million Free Realms registrants the "3M Pet Party Pack," filled with goodies for use with their virtual pets, both cats and dogs. In Free Realms, players are free to do or be anything, including donning the job of pet trainer to raise a pet! From the in-game Marketplace, players can choose from more than 20 different types of playful dogs and cats to train, feed, groom and dress up. Players have until Friday June 19, 2009 (11:59 PM PDT) to redeem the "3M Pet Party Pack".
Free Realms also features 14 other fun jobs to master, as well as the Free Realms Trading Card Game: a full-featured trading card game, playable both digitally within the Free Realms online game and offline via physical card decks sold wherever you buy trading cards.
To support the initial release and launch of Free Realms, nearly one million Station Cash™ game cards were made available across five major retail chains. Free Realms players can pop into select retailers to purchase Station Cash cards, which are used to redeem Station Cash and buy virtual goodies or upgrade to a Membership status in the game.
Free Realms is rated E10+ for Everyone 10 and up with content descriptors of Crude Humor and Fantasy Violence. To play Free Realms, visit: http://www.FreeRealms.com.