F1 2010 out in September for PS3, 360, PC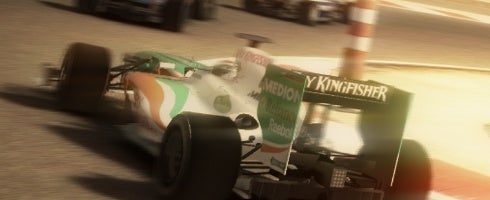 Codemasters has just formally unveiled F1 2010 for PS3, 360 and Games for Windows, along with a September release date.
The game is the first HD Formula One game to appear since F1: Championship Edition for PS3 back in 2007.
It'll be built around the upcoming 2010 season that kicks off in Bahrain this weekend, including the all new South Korean GP and the return of seven time world-champion, Mercedes driver Michael Schumacher.
As well as that, it'll have all the driver changes to other teams from last season, like Ferrari new boy Fernando Alonso and the back-to-back world championship winning duo at McLaren, Jenson Button and Lewis Hamilton.
The first screenshots were also released of the game as well, which you can find below with the PR.
F1 2010TM heralds a new generation of high definition FORMULA ONETM games from Codemasters®
Wednesday 10th March/... A new generation of FORMULA ONE games will come to high definition consoles and PC later this year as Codemasters® today announced that F1 2010 will be released this September for Xbox 360® video game and entertainment system from Microsoft®, PlayStation®3 computer entertainment system and PC Games For Windows®.
As the official game of the 2010 FIA FORMULA ONE WORLD CHAMPIONSHIP™, F1 2010 will include all of the official teams, drivers and circuits from the coming season. F1 2010 will feature the return of seven times FORMULA 1 Drivers' World Champion Michael Schumacher, the introduction of several new teams, and the brand new Korean International Circuit that will host the 2010 FORMULA 1 KOREAN GRAND PRIX.
The September launch will see F1 2010 become the first official FORMULA ONE game to appear for Xbox 360 and marks the return of FORMULA ONE to PC after an eight year absence. The arrival of the HD editions of FORMULA ONE follows Codemasters' extremely successful launch of F1 2009 for Wii and PSP, which became a top five best seller throughout the past holiday period.
In F1 2010 gamers will take on the full, expanded grid in a variety of game modes including GRAND PRIX, Championship, Time Trial and an extensive, innovative Career mode. F1 2010 will also feature a highly advanced damage model, fully dynamic weather system and extensive competitive multiplayer options.
In production at Codemasters Studios Birmingham, F1 2010 is being developed using the EGO Game Technology Platform, Codemasters' proprietary tech that powered the critically acclaimed, million-plus selling Colin McRae: DiRT 2 and Race Driver: GRID. The award-winning technology has been further developed to accurately recreate the unique aerodynamics and handling of 200MPH+ FORMULA ONE cars. The tech combined with Codemasters' unprecedented access to FORMULA ONE teams and drivers will ensure that F1 2010 delivers the most authentic FORMULA ONE racing experience yet. F1 2010 will be released September 2010 for Xbox 360, PlayStation 3 and Games for Windows.
• ENDS •