ESRB gets superfreaky with LIPS: I (Heart) the 80s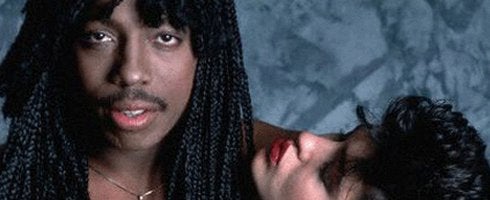 Looks like the ESRB has outed a new LIPS game called LIPS: I (Heart) the 80s.
Reading over the rating description, one can almost guess what some of the songs are.
This is a karaoke music game in which players sing along with music videos of various styles and genres from the 1980s. Players score points by matching the pitch and duration of notes displayed on the screen.Music videos include depictions of men and women in revealing outfits performing provocative choreography; for example, women in negligees, black bras, panties dancing inside a classroom; large amounts of exposed cleavage, some grinding dance moves; and background images of storefronts/signs reading "25 cent Peepshows," "Live Sex Theatre," and "Topless Girls Dancing."

Some videos depict people smoking cigarettes and drinking alcohol (beer, champagne, ale, etc.). A video depicts two claymation-style armies wielding swords, striking each other, losing limbs in battle; another video briefly shows a woman with a pistol shooting a man.Song lyrics may contain references to sexuality (e.g., "Ménage à trios," "She's a very kinky girl," "I really love to taste her," and "You don't have to sell your body to the night").
So negligees in a classroom has to be Centerfold by J. Giles Band; the menage a trios reference has to be The Crue's Girls Girls Girls; of course Superfreak is a given with the other lyrics up there; and Roxanne by the Police is a no-brainer with the "selling your body" reference.
The one we are trying to figure out is the peepshow and topless dancing one - could be the Motley Crue song mentioned above - or Madonna's Open Your Heart video where she worked as a peepshow gal.
Either way, most 80s videos were chock full of writhing, suggestive dancing and ample cleavage so it could be anything really.