EGX Rezzed 2019: here's VG247's top games from the show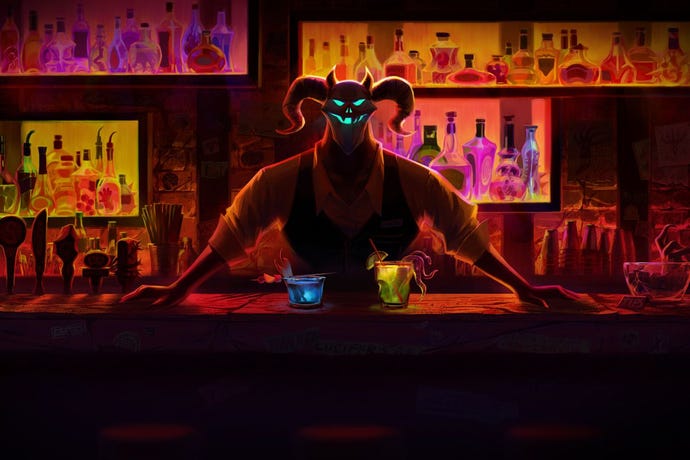 Another year, another EGX Rezzed - and this year's most indie-friendly gaming show didn't disappoint. Here's some of VG247's favourite things from the show.
EGX is always a refreshingly intimate show. There's less PR BS going on - it's developers showcasing games that vary greatly - some so early that they don't even have final names, others mere weeks from release. What they often have in common is that each is something special and unique - something outside the realm of the titles you get from typical gaming publishers.
Between enjoying the social side of Rezzed, panels and the like, VG247 of course took some time out to play some cool-looking titles at the show. While by no means an exhaustive list, we wanted to point out a couple of the team's favourite spots from the show - and you'll find that below. It's fair to say that everything on this list is well worth keeping an eye on later this year - and it's just the tip of the iceberg of what was at the show.
Afterparty
Afterparty is the latest title from the developers of Oxenfree, and it's a slick-looking adventure game with a boozy, curse-laced narrative that had VG247's collective attention well before we played it at Rezzed. It just looks cool.
The demo on show at Rezzed gave a little taste of the razor-sharp sense of style used to deliver its interesting narrative - and it also gives you the chance to play beer pong with demons, which we're very much in for. Drinking certain beverages can essentially give you buffs by opening up new, drunken dialogue options - because of course it does. Afterparty is drenched in this atmosphere, though one also gets the impression that it'll go beyond just being an appealing demonstration of over-the-top, teenaged edginess - it seems like there'll be more lurking beneath the surface.
- Alex Donaldson
Katana Zero
Sometimes an elevator pitch alone can sell you on a game. Here's that pitch for Katana Zero: how about a 2D side-scrolling sword-based game with puzzling action combat and a thrumming eighties-inspired soundtrack? Yeah, okay. I'm in, obviously.
What I mean by puzzling action combat is that similar to Hotline Miami, you're be able to take a step back and consider what enemies are in front of you. You plan an optimal route into an area to tear enemies in half. Everything is a one-hit kill, so you're encouraged to very carefully plan ahead, and when it goes wrong you'll rewind time to find a better path. All the while there's that soundtrack, too, which is just brilliant. This one is out in just ten days for PC, Mac and Switch - and one short little demo has me utterly convinced I need to check out the full thing. Just look at the trailer above if you need convincing too, because god damn.
Little Friends: Dogs and Cats
Little Friends: Dogs and Cats is a spiritual successor to the beloved Nintendogs series for the Nintendo Switch - but it's not coming from Nintendo. Developed by Imagineer, you can choose from a variety of customisable cats and dogs that you can play with, train and - best of all - dress up in sweet little outfits.
Many cat owners will know the struggle of trying to brush your furry friend, never mind put clothes on them. It was a lot of fun creating a digital version of my cat, Steve, that I could dress up, complete with some cool shades.
If you're looking for a relaxing and enjoyable game, or want to introduce a little one to gaming, Little Friends fits the bill perfectly. Little Friends: Dogs and Cats is due out quite soon - on May 28.
- Lauren Aitken
Untitled Goose Game
Back in February Untitled Goose Game was delayed to later this year, but the game still managed to show up at Rezzed on a Nintendo Switch indie stand. It's a title that has caught attention pretty much every time there's been a new trailer - and it's with good reason, given that it just looks incredibly stupid; albeit in the best possible way.
Scratch past the surface and it becomes clear that in a manner of speaking this is a puzzle game under the hood. You're dropped into a little sandbox of an area as a goose - the goose - and can roam around and interact with the environment. Different elements of the sandbox interact with each other, and you can use that to complete objectives. You might want to ruin the day of the poor groundskeeper who looks after the garden, for instance. Generally speaking your set of objectives on each area appear to amount to using these interactive things to be a complete asshole, and it's both satisfying and hilarious.
- Alex Donaldson
Nanotale
I'm a sucker for a typing game. I can honestly credit much of my typing abilities to this day to the Typing of the Dead, the PC and Dreamcast game Sega made that was basically an official mod of House of the Dead 2. Nanotale is one of the most gorgeous typing games I've ever seen, with a beautiful art style and arresting, brilliant music.
The developers have actually tackled this genre before in Epistory, but something about Nanotale: Typing Chronicles particularly grabbed me. It's essentially a classic dungeon crawling RPG, but instead of clicking your way to victory you defeat mobs by typing out first individual characters, then a few, then larger words to cast spells and defeat them. Being a RPG, there's also consideration around what spells you cast and mana management - so it's more than just frantically hammering words into your keyboard. It's a curious little title I'm keen to try out more extensively.
- Alex Donaldson
Can Androids Pray
CAN ANDROIDS PRAY featured at Rezzed as part of the Leftfield collection, a gathering of indie games that are usually super early and often without a publisher. Developed by Xalavier Nelson Jr and Natalie Clayton, it's still in early development and played much like a visual novel, focusing on the conversation between two disembodied voices as they debate on the existence of God and Higher power.
You can choose to react sarcastically or with a more spiritual mindset as you work through what is effectively a suicide pact with your friend, though it's not discernible whether you or they are a human or a mech. The soundtrack captures the trepidation and tension between the two characters, culminating in an eerie silence as you meet your maker. It's definitely one to watch over the next year.
- Lauren Aitken