Echo of the Wilds is 2D survival experience, putting you in a forest filled with ghosts - trailer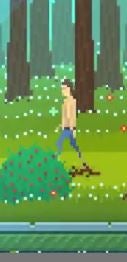 Echo of the Wilds is the new 2D survival game from Caiysware that's out now, and is also accepting votes on Steam Greenlight. It's got retro visuals and a wonderful art style, coupled with a plot that focuses on ghosts inhabiting a grand forest.
You can buy Echo of the Wilds here at $4.99-$6.99 depending on your buying option.
Check it out and let us know what you think.
Via Joystiq.