Why I can't be arsed with MOBAs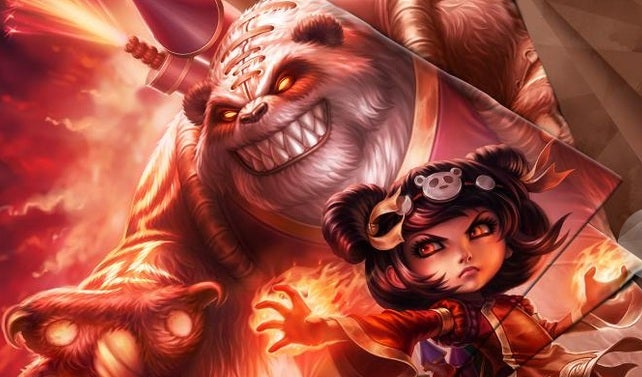 MOBAs like League of Legends are massively popular, and thanks to the dawn of eSports, they draw huge numbers of people into the fold. So why can't a fantasy fan like Stephany Nunneley be arsed to play one?
"I liken it to apes going on killing sprees for fun; hanging out at respawn points just to gank a player waiting for their health to regenerate."
While games like League of Legends and Valve's Dota 2 helped bring MOBAs into the gaming spotlight, you can blame or commend Blizzard for ushering in the genre as far back as 1998 with StarCraft. The strategy game's editing tool StarEdit gave regular Joes the ability to create custom maps which led to a modder creating Aeon of Strife.
Now, 16 years later, MOBAs are being churned out left and right by indie, browser-based and triple-A developers. MMO players who relished in PvP now have a genre outside of a subscription plan to bask in an unrelenting PvP battle system with other players. Their own arena to fight, humiliate and scream in glory when victorious.
Despite the popularity of the genre and the fact online friends are constantly badgering me to play one with them, I can't be arsed. Here's why.
I don't like large-scale PvP
I've played PvP in MMOs, and I hate it. I absolutely loathe it. For one thing, there is generally never fair play involved. I liken it to apes going on killing sprees for fun; hanging out at respawn points just to gank a player waiting for their health to regenerate. If you think this doesn't happen, you're wrong. I've had it happen to me numerous times, and while many MMOs have put code in place - or however they do it - to stop such keyboard smashing situations, it left a horrible taste in my mouth.
I suck at it
I have no problem admitting this. I honestly suck at it. While I can handle myself rather well mano-a-mano, I don't do well in situations where groups are trying to wipe out another massive group of players. Granted, MOBA team sizes are much smaller than teams in MMO PvP, and it could be that I have been grouped with people who don't have the slightest clue what they are doing or how to organize themselves. While that may be the case, I would probably still suck balls at it if a seasoned vet was leading the group. I just can't hang.
It's full of assholes
Other than the reason I pointed out in my first entry, we've all heard of cases or seen videos where players just have a complete meltdown and start screaming obscenities at their own teammates. It's like Xbox Live on steroids with its users shooting up 400mg of testosterone daily instead of the recommended every two weeks. I just can't be bothered playing with a bunch of assholes barraging each other with insults and virtual threats of anal rape. I deal with enough fuckwittage in real life as it stands.
They're too overwhelming
I have a hard enough time playing games which need endless macros assigned, or numerous F1-F12 key presses to pull off combos or hits. I like simplicity, and while there are a few out there which are more user friendly, it's just too much work trying to perform ranged, AoE, and bash attacks at the same time. It makes my brain hurt. Give me something more streamlined and then we'll talk. Then again, maybe not.
Unless you're already playing it's completely pointless
MOBAs can be beyond intimidating to newcomers. There are too many seasoned veterans around who have no desire to help bring newbs into the fold. Many of these games also contain a steep learning curve, which can frustrate players who wish to try their hand. Turbine and Blizzard seem to have the right idea with Infinite Crisis and Heroes of the Storm, respectively, as both are aimed at bringing new players in slowly and into an environment where assholery is not tolerated. I've played Infinite Crisis. It's fun, user friendly, and not too terribly busy, and I suspect HotS will be somewhat similar. Valve has also done a rather great job of curbing toxicity as well with Dota 2.
There's too much going on
Have you seen some of the battle videos? There's so much going on it would give even a normal person an epileptic fit just trying to keep up with all the spellcasting, particle effects and explosions. It makes my head hurt. I'd get five minutes into it and my brain would force a hard reset, shutting my body down in the process until I am a drooling, vacant pile of limbs on the floor. I just can't handle constants: there has to be a bit of lull someplace. I guess I'm just not "hardcore" enough.
No one over the age of 30 gives a fuck
Seriously. Unless they are single, have loads of time on their hands, and don't have to deal with responsibilities in real life, people don't give a toss. Between work, being a "good wifey-poo", car payments, stressing over bills, taking care of a clowder of cats, two dogs and the occasional stray which finds me no matter where I go, I just don't have the time. I rarely have time enough to play regular games or my beloved MMOs as it stands. I can't remember what a social life is, my Mom thinks I am dead half the time, and I haven't seen my brothers in ages. I am sure there are many in my age group who just can't find the time to get into MOBAs despite the fact arena fights last no more than 30 minutes, tops. There are always exceptions to the rule, but the majority of players are males between the ages of 20-25 with the ages of 16-20 rising. What 30-something wants to play with a massive group of people 10 or 20 years younger than them unless they are a habitual masochist?
Flame me all you want, but I just can't be bothered with MOBAs. If you play them and enjoy them, I commend you for it and I sincerely hope you derive enjoyment out of it. That's why video games are so awesome: there is something for everyone out there, but this particular genre is not for me, and I'm okay with it.