Destiny: Crucible, Iron Banner, ammo, Exotic changes coming next week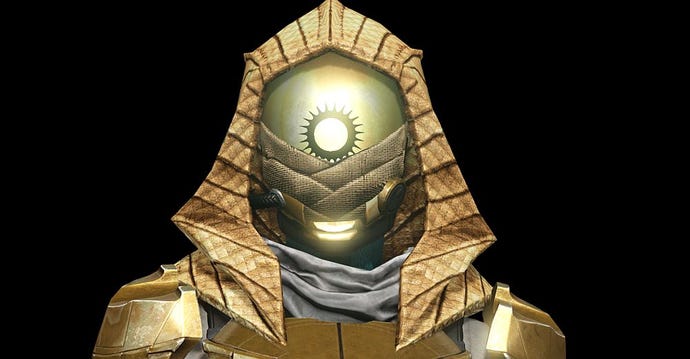 Bungie hosted its final livestream today detailing the April update for Destiny: The Taken King, promising it will become a "more rewarding game" come next week.
Today's preview of next week's update will be followed by a recap on the Bungie website tomorrow, and the patch notes will drop on April 12 during the game's downtime.
Two of the main gameplay talking points today were changes to Trials of Osiris and Crucible. Balance changes coming to Exotics were also touched upon, with a heavy focus on Sniper rifles.
Resurrection changes, Special and Heavy ammo economies changes, rewards across Crucible, and revive changes coming across the board were outlined.
Bungie said its main goal when it comes to balancing PvP and PvE is so the player's Guardian is the same everywhere they go in the game. This allow the player to keep the same toolset and behave the same in each area for "reliability, consistency, and to maintain muscle memory."
Warlock changes were also touched upon, and we will give you a rundown on those in a separate post.
Revive Changes
With the release of the Trials of Osiris revamp on April 15, two seconds have been added to revive timer. This means when you go down in a round, it will take seven seconds instead of five seconds for a teammate to revive you. Should you die a second time, it will take 14 seconds to be revived, and the third time 21 seconds, and so on.
"We want to make it risk vs rewards to resurrection,"said Bungie. " Overshields are less powerful and distance will be taken into account, so players will need to be closer when reviving. It will also take players longer to revive."
Rewards and Drops
In Iron Banner, Bungie has removed Legendary Engrams in lieu of Iron Banner-specific drops. The team wanted to make it "about the Rank 3 and Rank 5 packages." There will be guaranteed Artifact and Ghost drops starting at 320 with Rank 3 packages. Rank 5 packages will contain 335 Light drops.
There will be ways for players to get a 335 drop outside of Iron Banner. If players take part in Trials of Osiris weekly, they can acquire a 335 drop. There will even be a Treasure chest on Mercury with 335 armor and weapons.
Bounties will drop up to 330 Light, but the Legendary stream has been increased across the board. Those who visit Shaxx weekly will be given "something to which" in order to acquire a 335 reward.
Crucible rewards and weekly Sterling treasure boxes coming from Activities will be another way to acquire a 335 drop. Those who participate in once Crucible match will be handed a Sterling box.
New Iron Banner armor drops, Too Idle and Too Ready were also teased during the stream. Bungie sent over a set of screenshots for those, and you can take a look at each piece below.
Ammo changes
Special ammo will now come in much later during matches. It will spawn three minutes in via crates and then respawn again two minutes later. This means less Special ammo in the match so players will need to choose their weapon wisely.
Should a player swap away from their sidearm, they will lose the Special ammo and will need to find more. Heavy Special ammo has been reduced across board in Elimination as well as the entire game, and Special rate drops are now higher in PvE than in PvP.
Changes to Heavy have also been applied to make it feel the same no matter "where you go in the Crucible." It will only spawn at the five minute mark - and it never comes back. In Elimination or Trials of Osiris, the first team to reach three wins will see a Heavy show up and then after that it won't come back.
Projectiles will do a better job tracking, and while they will still stick, with certain weapons such as the new Exotic Dreg's Promise, players will need to actually take aim. There isn't auto-lock with the weapon, so no shooting from the hip and expecting the projectile to stick where you want it.
It was noted that Firebolt grenades used by the Warlock subclass Sunsinger will remain unchanged for the time being.
Arsenal Changes and Balancing
As we mentioned in the opening of the report, Sniper Rifles have been given more attention than most weapons.
Folks engaged in PvP will notice using them as medium ranged tools will no longer work the same. The goal was always for these rifles to be used as long range weapons, so the zoom distance on the scopes have been pushed out a bit to shake up the sight lines and make close range use more clumsy.
That being said, with the range increase, players will notice more accuracy. Two frames of zoom time have been added, so it is slightly slower by two frames. Snap Shot now grants a 20% increase to zoom times instead of 30%. There is also less stability, but if the player takes their time to aim, there won't bee much of a difference noticed. Take your time, as quick kills will result in harder realignment.
Players will notice Auto Rifles which have a high-rate of fire have had their damage reduced "a tiny bit," and Pulse Rifles will have a lower rate of fire - but the base damage has gone up.
Hand Cannons have had their ammo inventory increased. Players in PvP games, for instance, using Last Word tend to run out of ammo. With the April update, players will have significant more ammo which means so less time spent looking for more. This applies to PvE as well
Fusion Rifles have been given a blanket stability increase across the board. Now, as projectiles leave the barrel, there will be less kick.
Exotic Changes
Changes to Exotics are coming to the game, and while some will remain the same Year One offerings already available, some of the more popular weapons have been given some much needed attention.
For instance, the MIDA Multi-Tool Exotic is the most popular weapon in PvP when when compared to other combat sandbox options. Bungie has removed high caliber rounds from the gun, other than that, the weapon still plays and feels the same.
Suros Regime will still contain the spinning up option but it will now kick in later after four shots. Those who chose the Focus perk option will notice a range buff, and the range boosted value can be maxed out.
Her Memory, which is the new Queen's Assault Rifle will have a lower rate of fire, but it acts like a "baby Suros," which means players should be pleased with its inclusion.
Hawkmoon now has increased range and general accuracy is better, and the only change made to Qullim's Terminus was the ability to hold less bullets.
Damage doled out by The Last Word was been taken down when using The Last Word Perk. It is still a three shot killing machine with aim assist, so the weapon is still a viable option to choose from in your arsenal.
Telesto now sports smarter projectiles. Before, they were not recognizing player factions and would vanish when friends ran into a player's line of fire. Now, the projectiles attach to aims which means your teammate will blow up. They won't die, though.
Spare Change has had its damage turned up slightly and is more consistent when making a two-burst headshot. This will kill a targeted Guardian depending on their stats; therefore, players are encouraged to aim for the head when using this weapon.
The Doctrine of Passing will now put out less damage, but if you get a bead, you are still able to melt the other player rather quickly. When out of range or trying to engage multiple targets, it will become a less dominate weapon, but still effective.
Thorn is still Year One weapon and has had its dot damage minimized. Each pulse will do minimum in PvP and duration no longer does four but six pulses and has a less intense shot. Bungie said it is trying to preserve the same feeling when using the weapon, while making it "suck less" when another player uses it on you.
Icebreaker is also still a Year One weapon, but the team has addressed the issue where players could charge Special ammo and then swap to another weapon to let the Special persist. Apparently, some players using Special in Icebreaker were intentionally jumping off a ledge and dying in order to respawn with the Special ammo intact. Not anymore. Now players will lose the ammo if they die - so don't do it on purpose. Its Exotic behavior remains the same, though.
Thousand Yard Stare, which the teams said is the most equipped Special weapon has had a "couple bullets" removed from its inventory. Other than that, nothing has changed and other than the sniper changes made across the board being applied.
That's the basics from the livestream, other than the aforementioned Warlock changes, which we will add in here once we re-watch that part of the stream.
If you missed the full reports from the previous Destiny April update livestreams, you're in luck. The first Destiny stream covered the new Strikes, Prison of Elders, and new Activities. The second Destiny stream hosted last week covered new emotes, gear, rewards and other niceties. Just hit the links.
Of course, you can also look over our all-in-one Destiny April update post here, which will be updated with the information you see in here, soon.