Call of Duty: Advanced Warfare images, story, pre-orders detailed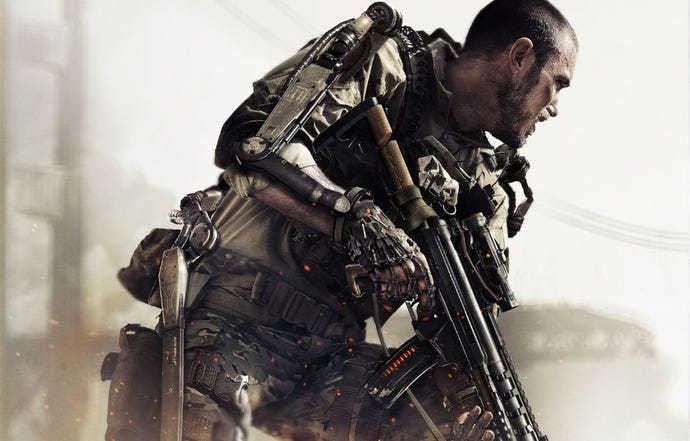 Call of Duty: Advanced Warfare story details, screenshots and pre-order bonuses have been announced by Activision so you can prepare yourself for "the Next Generation Advanced Soldier."
The Sledgehammer Games-developed Advanced Warfare is the first game created with three-year development cycle in the series, according to the firm, and features all-new, exoskeleton gameplay mechanics touting a "new vision" for the franchise.
"We've made several key decisions with an eye towards creative excellence on Call of Duty: Advanced Warfare," said Activision CEO Eric Hirshberg. "We've really approached this game differently. This is our first three-year development cycle. It's our first time with Sledgehammer Games at the creative helm. And we're shaking up the formula in several ways.
"New core gameplay mechanics with the exoskeleton suit. A riveting new story. An iconic new character played by one of the world's best actors in Kevin Spacey. We're having a lot of fun making this game, and we think the world is going to have even more fun playing it."
The storyline in Call of Duty: Advanced Warfare is ripped-from-the-headlines-of-tomorrow, during the year 2054. Players will don the fatigues of an advanced soldier for a private military corporation. This corporation has the power to rescue humanity from a "devastated world struggling to rebuild after a global attack on its military and infrastructure."
Using exoskeleton abilities and high-tech gear, players are part of a "highly-trained, specialized unit" committed to restoring order.
"It's been a lot of fun working with the team to bring Jonathan Irons to life," said Kevin Spacey who plays the main villain and head of the Atlas Corporation in the shooter. "The technology is truly remarkable and unlike anything I've done before. I'm excited to see where this goes."
Here's a breakdown of the game's features thus far:
An Advanced World:
Call of Duty: Advanced Warfare takes place in a plausible future in which technological progress and today's military practices have converged with powerful consequences.
In this carefully researched and crafted vision of the future, Private Military Corporations (PMCs) have become the dominant armed forces for countless nations outsourcing their military needs, redrawing borders and rewriting the rules of war.
And Jonathan Irons, the founder and president of the world's largest PMC - Atlas Corporation - is at the center of it all.
An Advanced Soldier:
Powerful exoskeletons evolve every aspect of a soldier's battle readiness, enabling combatants to deploy with an advanced lethality and eliminating the need for specialization.
The introduction of this gameplay mechanic delivers enhanced player movement and verticality through boost jumps and grappling, covert cloaking abilities, and biomechanics that provide unparalleled strength, awareness, endurance, and speed.
With the advent of the exoskeleton and newly advanced armor and weaponry, every soldier commands tactical freedom in any terrain unlike ever before, fundamentally changing the way gamers play Call of Duty across all modes.
An Advanced Arsenal:
Harnessing the power of next-gen platforms, Call of Duty: Advanced Warfare brings players into the battlegrounds of the future by boasting a new hi-tech, advanced arsenal and ability set, arming players with all-new equipment, technology, perks, and vehicles like hoverbikes and highly specialized drones.
Players can also choose between standard ammunition and an all-new class of directed-energy weaponry that enables totally new gameplay dynamics.
And with exoskeletons delivering a massive force multiplier and unprecedented tactical freedom, Call of Duty: Advanced Warfare evolves every firefight.
Starting today, those who pre-order Call of Duty: Advanced Warfare at retail will receive various bonuses depending on retailer.
GameStop is offering a personalization pack for those who order early, which can be used in Call of Duty: Ghosts and Black Ops 2 now. If you trade in any games or accessories towards the pre-order, PowerUp Rewards Pro Members will also be handed 40% extra in-store credit. You can have a look at what the personalization pack contains in the video below.
"Power Changes Everything" on November 4 for PC, PlayStation 3, PS4, Xbox 360 and Xbox One. As per usual, all add-on content will be released first on Xbox consoles.