Blair Witch is the creepy evolution of Layers of Fear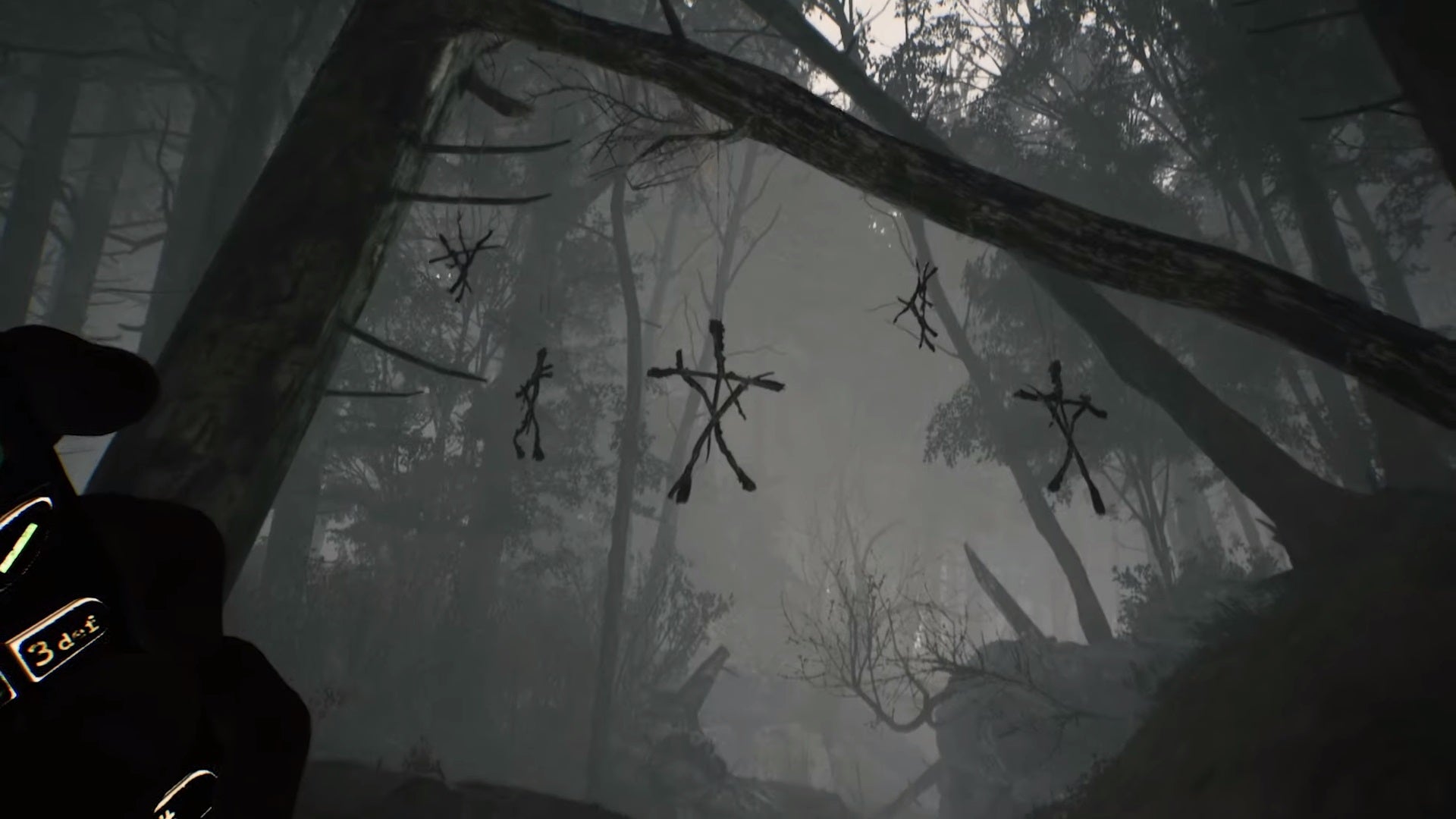 I should have listened to the dog.
Separated from the main search party in the labyrinthine forests of Maryland, my canine companion, Bullet, is barking at nothing on the side of the path.
I call him to heel and think nothing of it, pressing on further up the trail as the dappled light begins to dim.
The silly mutt won't drop it, so I turn around and call out again. It's just a tree.
It's not just a tree.
The best parts of Bloober Team's breakout game, Layers of Fear, were when your environment changed right under your nose - teasing you with a way forward when you turned your back. In Blair Witch though, you're less likely to spot an exit after a double take than a seven-foot wicker nightmare, shaped like the franchise's unmistakable five-pointed totem logo, peeping at you from behind the trunk of a tree.
"The hell is that," you'll say as you squint into the middle distance. You'll get your answer when the creature starts to rustle and lurch dryly through the undergrowth towards you with unnatural speed.
Luckily, you have a weapon against the twiggy forces of villainy: a flickering flashlight. Like in Alan Wake, monsters don't like being directly exposed to a lightsource, and this fight plays out like a mortifying hidden object game as I frantically scan to keep track of the creature as it darts from tree to tree.
"We still want to develop ourselves and grow and reach new heights," Maciej Glomb, developer at Bloober Team, says. "With every game we try to add some new stuff, to not make, like some people said with Layers of Fear, a walking simulator.
"That's what we did in [Bloober Team's follow-up to Layers of Fear] Observer, where we added new mechanics. And that's what we've done here with the dog, with encounters, with the camcorder. We tried to expand the gameplay so people are drawn to our horror games not only for the story, which we always focus the most on, but also the gameplay mechanics."
This mechanical expansion touches on Blair Witch's storytelling as well. Set in 1996, you play as ex-cop, Ellis, and join the search for a child that's gone missing in the woods. The story progresses linearly through play as you'd expect, but also through items in Ellis' inventory, and optional phone calls you can make as you explore the environment with your toolkit of a torch, camcorder, and Bullet the dog.
While these inclusions certainly add to the game, in the short demo sections I played their implementation wasn't completely perfect.
Bullet is cute, a very good boy, and a massive part of the moment-to-moment gameplay. Not only does he alert you to danger and sniff out important items, but how you treat him affects his behaviour and eventually influences which of the multiple endings you'll see.
His company is also vital to keeping you grounded throughout your nightmare. He's vulnerable without you there to protect him, and the further you wander alone the more the paranoia of isolation begins to set it - your breath quickening as the atmosphere becomes dark and claustrophobic.
When he's close by you can pet and reprimand Bullet via a radial command menu, as well as telling him to stay, seek out something useful, or stick close to your feet. The area you can issue a command in is finicky though, so you end up chasing him around like the old Fenton meme trying to stand in the right spot.
It's a niggle that pops up frequently because you're constantly interacting with your dog, but to be fair one that's also easy to adapt your playstyle and get used to.
The camcorder on the other hand is deployed more sparingly, and has multiple uses. While it can be wielded Outlast-style to see in the dark, it also has the paranormal ability to affect the environment around you.
Fast-forwarding and rewinding through tapes you scavenge alters the world to match what's happening in the video, which can be used to solve locked door puzzles and unblock dead ends.
It's a fun evolution of the mind-bending twists that were so prevalent in Layers of Fear, only you're in control. But it's also a mechanic that's easy to fumble through without fully grasping.
In the scenario I played through, Bullet and I stumbled onto a seemingly abandoned lumber yard in a forest clearing - the dark, creaking corners of the moss-covered buildings full of ominously sharp and rusted machinery. The only way through was behind a chain-link fence sealed with a combination lock.
After rifling through the spooky cabin's drawers I found a red labelled videotape showing a man being chased by an unseen thing into the adjacent hut on the other side of the yard. Following the video's cue, I crouched under the boards blocking the hut's door - which was now open thanks to the reality-bending video - and found the lock combination hidden in another set of drawers.
At least I think that's what happened. It was kind of hard to track exactly what effect, if any, the video was having on the surroundings, and I feel like I muddled through the situation more by luck than judgement.
A hallmark of the best psychological horror games is always a feeling of bewilderment and powerlessness in the given situation, so giving the player a companion and tools like the torch and camcorder might seem counterproductive. But the only thing you can rely on with your equipment is that it's totally unreliable.
An early section of the demo saw me trudging through tunnels beneath the knotted roots of a giant dead tree. As I stepped deeper my torch lost its battle to illuminate the supernatural surroundings and flickered into nothing. The camcorder's night-vision didn't fare much better, its screen darkening into a useless blot before long.
It's moments like these that stood out, as the tension rose masterfully waiting for something to go wrong, not wanting to take another step.
"We want players to feel this dread, this horrifying feeling, but not always scare them," Glomb explains. "Because it tends to become repetitive quickly if you use jump scares too much.
"When I think about it, the Witch's house [in Blair Witch] is Layers of Fear compacted really heavily into one hour of gameplay, for example. Then the part in the forest, the longer part, corresponds heavily with what we did in Observer. Where we tried to scare people not with jump scares, but with atmosphere, with lighting, and music."
The atmosphere and environments in Blair Witch are Bloober Team at their frightening best, from the unsettling ambience of the forest, to the subtle suspense of the musical cues, to the brilliant lighting and visuals.
One section started in an ethereally lit swamp, the air thick and oppressive with an otherworldly green haze that hung above the water-logged ground. While a later part in the Witch's house was the archetypal haunted house - a dark and dilapidated ruin groaning with the threat of unseen horrors.
While Bloober Team has obviously put a lot of effort into expanding the mechanics of its games, that new variety makes what they do best - story-driven, atmospheric horror - even more impactful. And it's this that looks like it's going to make Blair Witch worth playing.
Blair Witch is due out on August 30 on PC and Xbox One.