A Fix Is Coming to Split Jedi Academy's PC and Console Players Back Up
Aspyr says a "remedy for this loophole is now in the works" and will come out soon.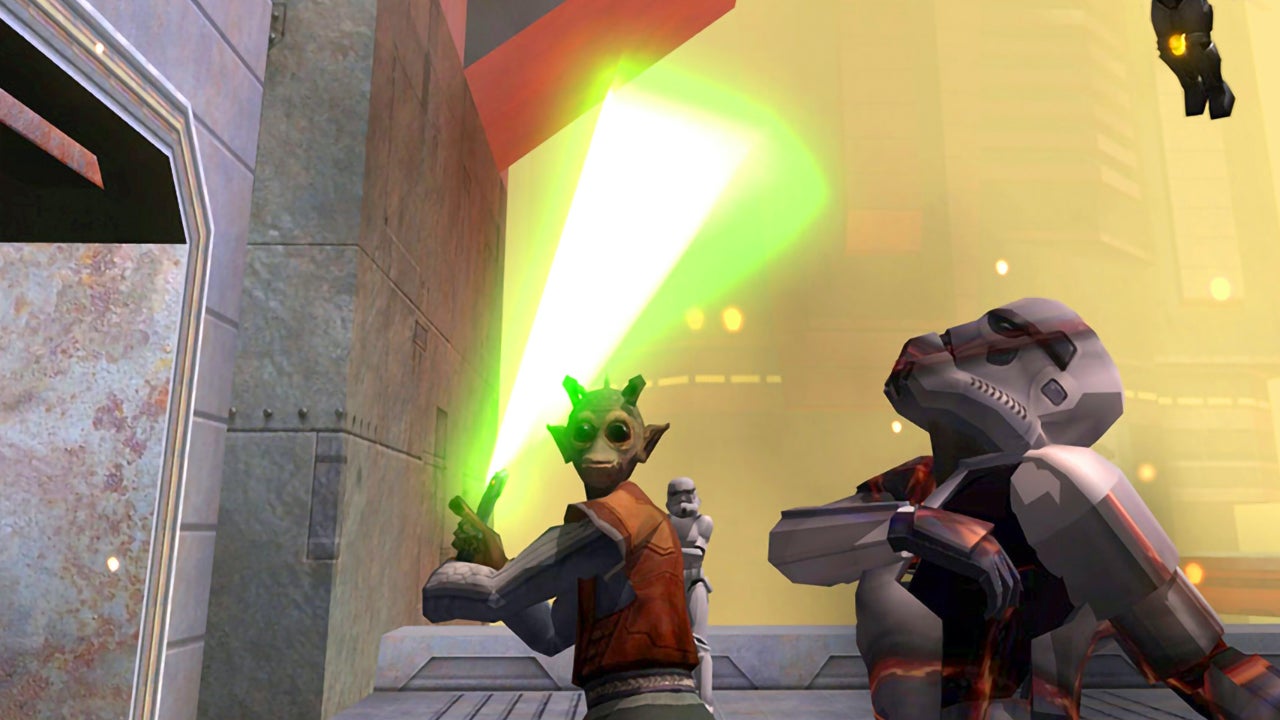 This article first appeared on USgamer, a partner publication of VG247. Some content, such as this article, has been migrated to VG247 for posterity after USgamer's closure - but it has not been edited or further vetted by the VG247 team.
Though plenty of multiplayer Star Wars games have followed it, the franchise still hasn't had more focused multiplayer lightsaber combat than Jedi Knight: Jedi Academy's. Enthusiasm for new PS4 and Switch ports was high as a result, but since its release console players have found that cross-play with PC is actually enabled by default, resulting in unfair matches between new players and PC veterans. Now, Aspyr says a fix is in development.
PC Gamer reported on the strange, seemingly unintended crossplay functionality this past weekend. PS4 and Switch servers don't show up in the menus for Jedi Academy players on PC, but players are free to plug in the unlisted IP address of console matchmaking servers and have at it. Some PC players seem to be intentionally trolling console servers, but even in an otherwise fair match, mouse and keyboard offer greater precision in Jedi Academy than most Switch or PS4 players could hope to match.
USgamer reached out to Asypr to ask why the cross-play functionality wasn't advertised and to inquire about a remedy for console players. Asypr provided the same statement to USG as it did to PC Gamer:
We're absolutely thrilled and appreciative of the support that our fan community has given last week's launch of Star Wars™ Jedi Knight: Jedi Academy on PS4 and Nintendo Switch. We are aware of the current bug that allows multiplayer cross play between PC and console. As with every game we work on, we are fully committed to delivering great gaming experiences for players, which includes a fair playing field for all. A remedy for this loophole is now in the works and will be available soon.
It remains to be seen whether Asypr plans to simply disable all cross-play outright, fix the console matchmaking to exclude PC players, or add in other multiplayer filtering functionality for Switch and PS4 players.
Like many other games built on derivatives of the Quake 3 engine, Jedi Academy birthed a vibrant modding scene. That, combined with the engine's distinct movement (exploits and all) gave way to "surf" maps and other abstractions from Academy's core gameplay. Not only are console players currently unable to access this fan-made content, but the PC players who've had close to two decades to dial in those movement quirks have an undeniable advantage in regular multiplayer.
jedi academy players on console: *matchmaking only, no lobbies, cant play with friends online*jedi academy players on PC: pic.twitter.com/bBKLA1uKrr

— Stickman Sham (@StickmanSham) March 27, 2020
Unfairness aside, the apparent ease of letting the Switch and PS4 matchmake with PC in a game from 2003 speaks to how in 2020, a lack of cross-play has less to do with the technological differences between platforms and more to do with whether or not the platform holders allow for it. Designing for enjoyable cross-play, of course, is another matter.
The new console ports of Star Wars: Jedi Knight: Jedi Academy are available for $19.99 on Switch and PS4. Its predecessor, Jedi Knight 2: Jedi Outcast, is also available on both systems for $9.99—though the Jedi Outcast ports lack the original's multiplayer component.