Red Dead Online Frontier Pursuits Moonshiner Update – New Missions, Weapons, Items and more
Get rich'n'boozy in Red Dead Online's big new Frontier Pursuits: Moonshiners update.
"Peddle white lightning as a black-market bootlegger in Moonshiners, the latest Frontier Pursuit available now in Red Dead Online," Rockstar's Red Dead Online announcement reads. The new content update Moonshiners brings more role-specific story missions, items, and skills to acquire as you run a moonshining business from a new property, complete with a customisable underground bar to serve as a front for the bootlegging activities.
Joining the existing roles of trader, bounty hunter and collector, the Moonshiners update has you teaming up with an infamous distiller to set up your own illegal shinin' business and run it out of the new shack property.
To start the new content, just get to at least rank 5 as a trader, or complete one trader sell mission. "Cripps will get you connected with Maggie Fike at Emerald Ranch, an old hand in the bootlegging business that will help you get your fledging operation rolling," the instructions say.
You'll then get set up with a property before using the basement to create the juice and upstairs as a front business, all of which has upgradeable features like a bar, space for a band and additional upgrades for the moonshining equipment.
The new role also comes with a specialist progression path, which unlocks bespoke apparel, accessories, equipment upgrades and weapons. In particular, the flammable moonshine jug, a new unique design for the sawed-off-shotgun, and new horse breeds.
The Outlaw Pass also returns with an expanded 100 ranks of new rewards including clothing, accessories, Role XP boosts during the club membership period and up to 40 gold bars. The pass entitles you to select perks as you accumulate XP up until March 10th, 2020
You'll also receive a variety of Offers and Rewards – a new feature found from the benefits page in the game's pause menu. Here will display your collection of gifts, discounts, and promotions that can be applied to a range of goods – rewards include gold bars, refills on trader and moonshiner business supplies, as well as other items like clothing. Offers include discounts that update each week.
Other features and inclusions in the new update include bandoliers, corsets, a new Navy Revolver, the ability to quick select a fire-arm, rebalances of certain ability cards, accessibility improvements for fishing and tweaks to horse stamina.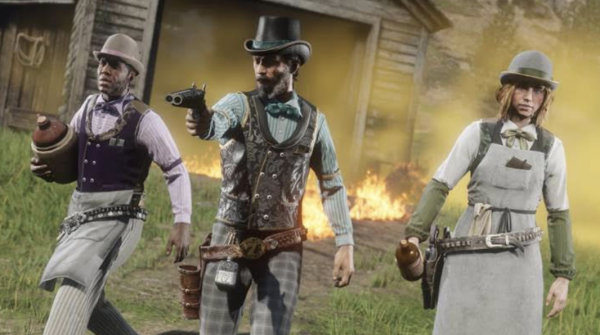 Twitch prime members can also get a free upgrade for their Moonshine business if you link your Social Club account to Twitch prime and claim benefits here. You'll also get the Collector's Bag for free, if you have yet to pursue the path of a Collector. If you become a Twitch Prime subscriber on or after December 13th, you'll be able to purchase both of these for free within 72 hours of signing up.