Wolfenstein 2: The New Colossus season pass includes 3 new characters in 3 different story episodes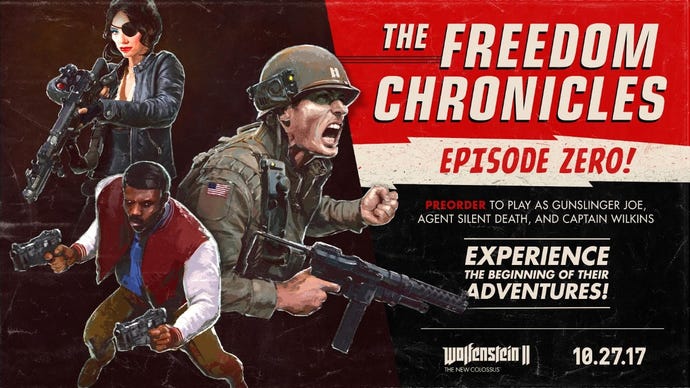 Bethesda and Machine Games have detailed the season pass for Wolfenstein 2: The New Colossus.
The pass includes access to three story episodes, each starring a new hero with unique characteristics and backstory. Titled the Freedom Chronicles, the pack is priced $25/£18.
The first episode, named the Adventures of Gunslinger Joe, has former quarterback Joseph Stallion fighting the Nazi oppression in the ruins of Chicago and in space.
The Diaries of Agent Silent Death tells the story of Jessica Valiant, a former OSS (Office of Strategic Services) agent who infiltrates Nazi bunkers in California to learn the truth about Operation San Andreas.
Finally, the Amazing Deeds of Captain Wilkins stars the eponymous US Captain on a quest to dismantle Operation Black Sun in Nazi-controlled Alaska.
As a bonus, Episode Zero of the Freedom Chronicles will be available for anyone who pre-orders Wolfenstein 2: The New Colossus. Episode Zero features an opening mission that introduces the three heroes. It's also included in the season pass.
This looks like a nice break from the typical weapon and items DLCs. Though we haven't played any of these stories, we're pretty excited about what we recently played of the main game.
The release dates for all of these add-ons have yet to be announced. Wolfenstein 2: The New Colossus itself is out October 27 on PC, PS4, and Xbox One.