The Artist Who Led Movie Sonic's Redesign Has a Long History With the Hedgehog
Tyson Hesse is no stranger to these blue quills and red kicks.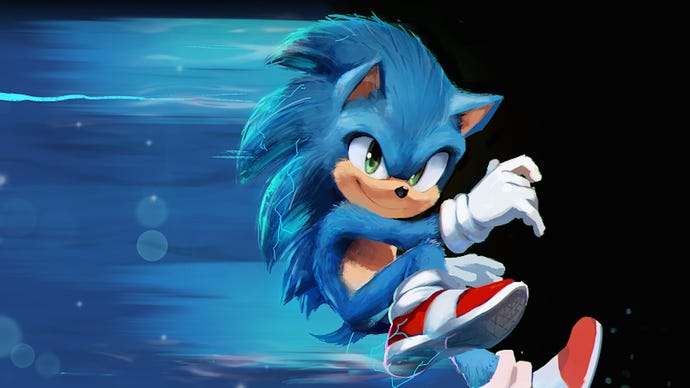 This article first appeared on USgamer, a partner publication of VG247. Some content, such as this article, has been migrated to VG247 for posterity after USgamer's closure - but it has not been edited or further vetted by the VG247 team.
The internet went hog wild (pun absolutely intended) when the initial trailer for the Sonic the Hedgehog movie dropped earlier this year. After fans picked apart absolutely everything about the movie's design for Sonic, from his oddly lithe proportions to his disturbingly human teeth, the movie got delayed to next year. The new Sonic design unveiled today is, shockingly, much better—but if we'd known who was working on it, there'd be little reason for surprise.
Artist and director Tyson Hesse announced via Twitter that he was called upon to lead the redesign effort for the movie's version of Sonic. If you're not familiar with Hesse but love Sonic, you've almost certainly seen his work: Hesse has worked on Sonic games, animated shorts, and comics over the last decade.
Honored to have been brought in to lead the design on the new Movie Sonic. Working with Jeff and the modelers, riggers, texture/fur artists and animators in LA, London, and Vancouver was a thrill I'll never forget. #SonicMovie pic.twitter.com/HhcVIxAhXB

— Tyson Hesse (@tyson_hesse) November 12, 2019
Hesse was behind the excellent pre-order trailer for Sonic Mania in 2017. Last year, it was followed up with a wonderful series of animated shorts called Sonic Mania Adventures, which was released by Sega last year.
A few months after director Jeff Fowler and Paramount Pictures announced that the Sonic movie was being delayed several months to rework Sonic's design, executive producer Tim Miller promised that "fans [would] be pleased" with the result. Judging by the over 1,000 replies Hesse received on Twitter within an hour of revealing he had a hand in the redesign, it seems like Miller held up his promise.
Hesse and the movie's team of effects artists even managed to arrive at a design that still ditches the iconic "one eye, two pupils" face without sacrificing Sonic's (dare I say necessary) cartooniness. You'll be able to see this new-and-improved Sonic on the silver screen come February 14, 2020.
If you're actually mourning the loss of the old movie design, just remember that it's been immortalized with terrifying Halloween masks that'll probably take decades to decompose.