The 15 Best Overwatch Skins
After two years of Overwatch, we figured it was about time to rank the game's best skins.

This article first appeared on USgamer, a partner publication of VG247. Some content, such as this article, has been migrated to VG247 for posterity after USgamer's closure - but it has not been edited or further vetted by the VG247 team.
Since the dawn of Overwatch, the promise of content has followed it. Overwatch skins, sprays, characters, maps, victory poses, and everything in between has been released (largely for free) since its launch on May 22, 2015. Sometimes in the base game, sometimes trickled in over time, but mostly in the context of limited time events.
The skins always come back though. Once a year rolls around and a specific event returns, the skins of yesteryear return too with their special loot boxes trailing behind them. And Overwatch is arguably nothing without its skins—it's what the fandom adores and craves more than anything else. (When they're not getting mad about meta changes, at least.)
The Best Overwatch Skins
In honor of Overwatch's second anniversary, even though it feels like the team-based shooter has been kicking around for a lot longer, we put our skulls together to think of the 15 best Overwatch skins to grace the heroes of Blizzard's game over the past 24 months. Our choices, ranked of course, you can find below.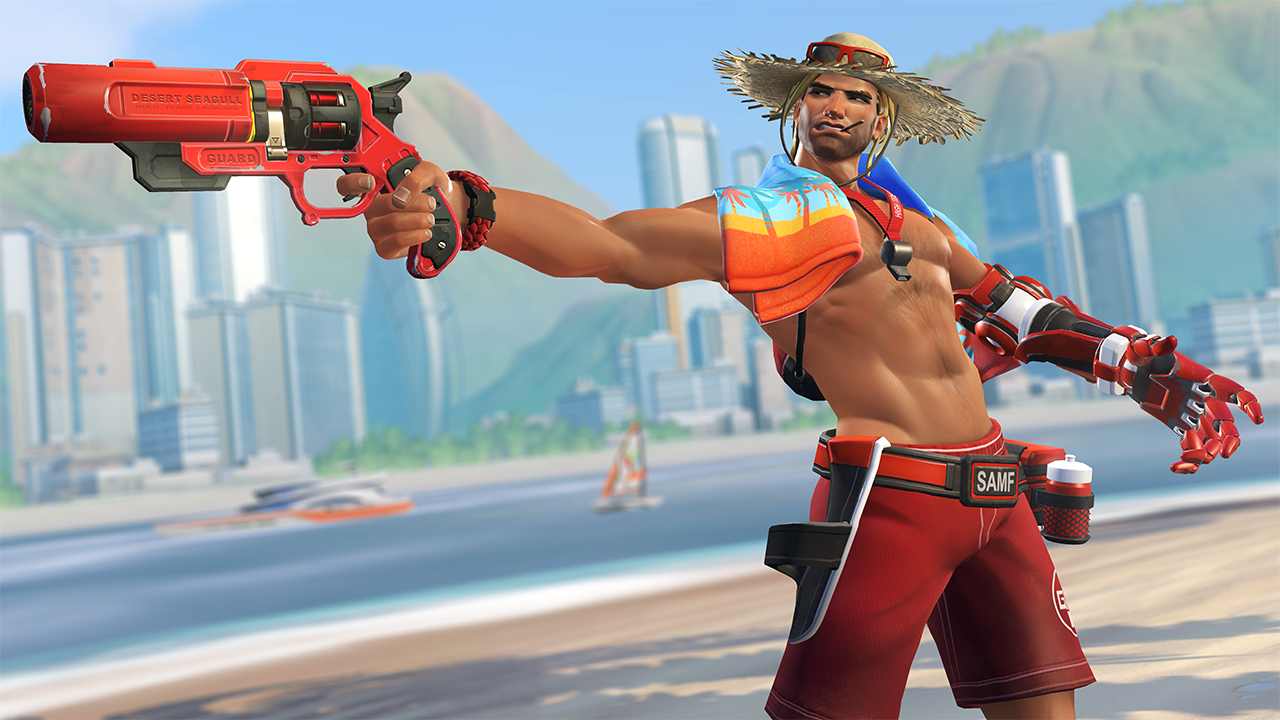 15. Lifeguard McCree
Introduced: Summer Games 2017
Kicking off our list of the best 15 Overwatch skins is Lifeguard McCree, because just when you think the cybernetic cowboy couldn't be any more obnoxious, he changed careers and became a lifeguard. We're not entirely convinced that McCree would make a suitable lifeguard given that his number one hobby is shooting things, but he's certainly got the rippling abs to rescue anyone from the sea. —Hirun Cryer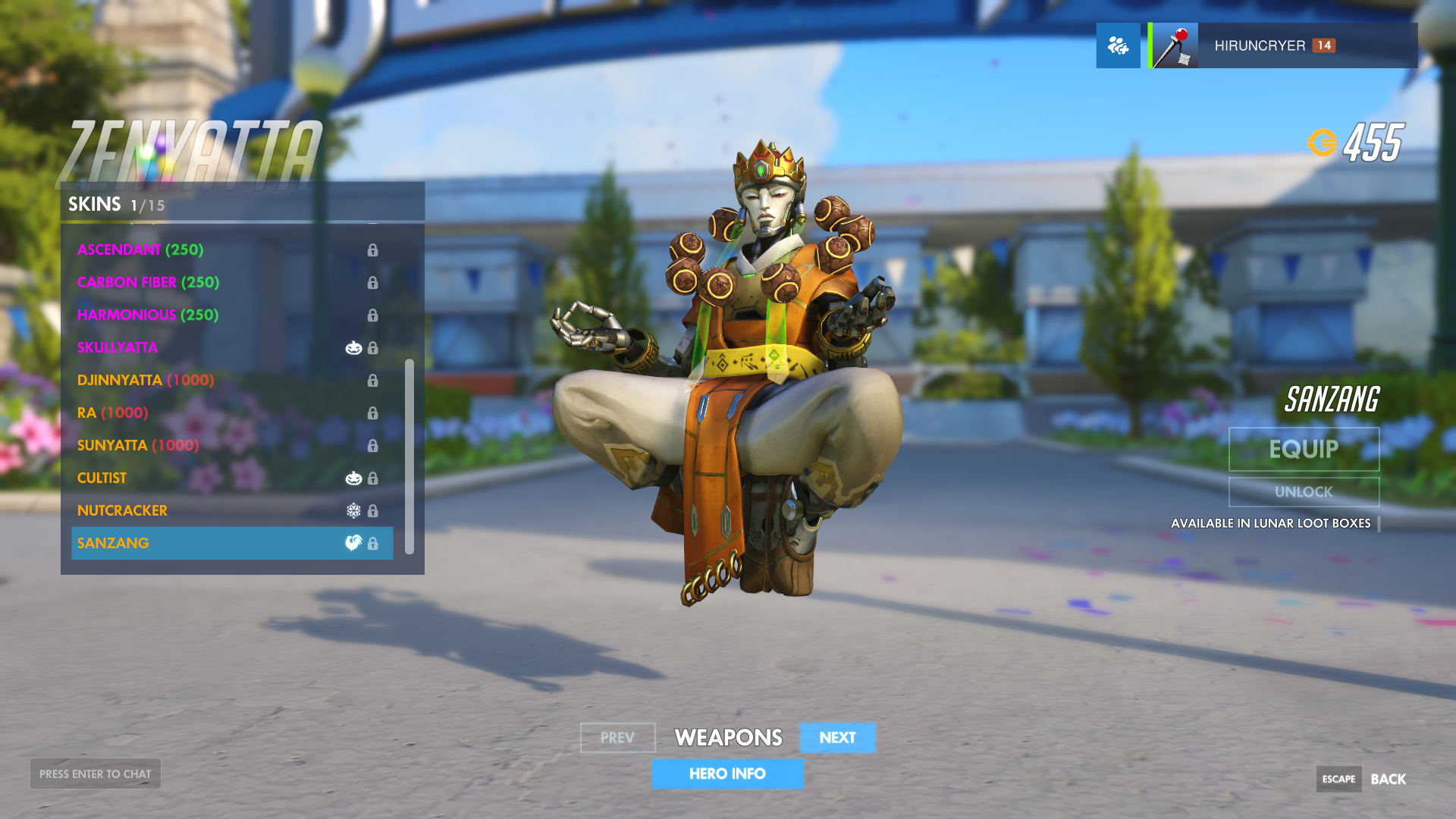 14. Sanzang Zenyatta
Introduced: Lunar New Year 2017
The Lunar New Year event has offered some of the most consistently great skins of any of the Overwatch events, and 2017's debut of it was no exception. For the Year of the Rooster, Blizzard revealed special skins that were themed after the famous 16th century Chinese novel Journey to the West. Of the novel's four central characters, Zenyatta got the best literary-inspired skin of the bunch: the Sanzang, named after the Buddhist from the novel Tang Sanzang. For some reason, fans relegate this skin to just being "hot Zenyatta," ignoring the rich cultural inspiration. Oh well, I guess. —Caty McCarthy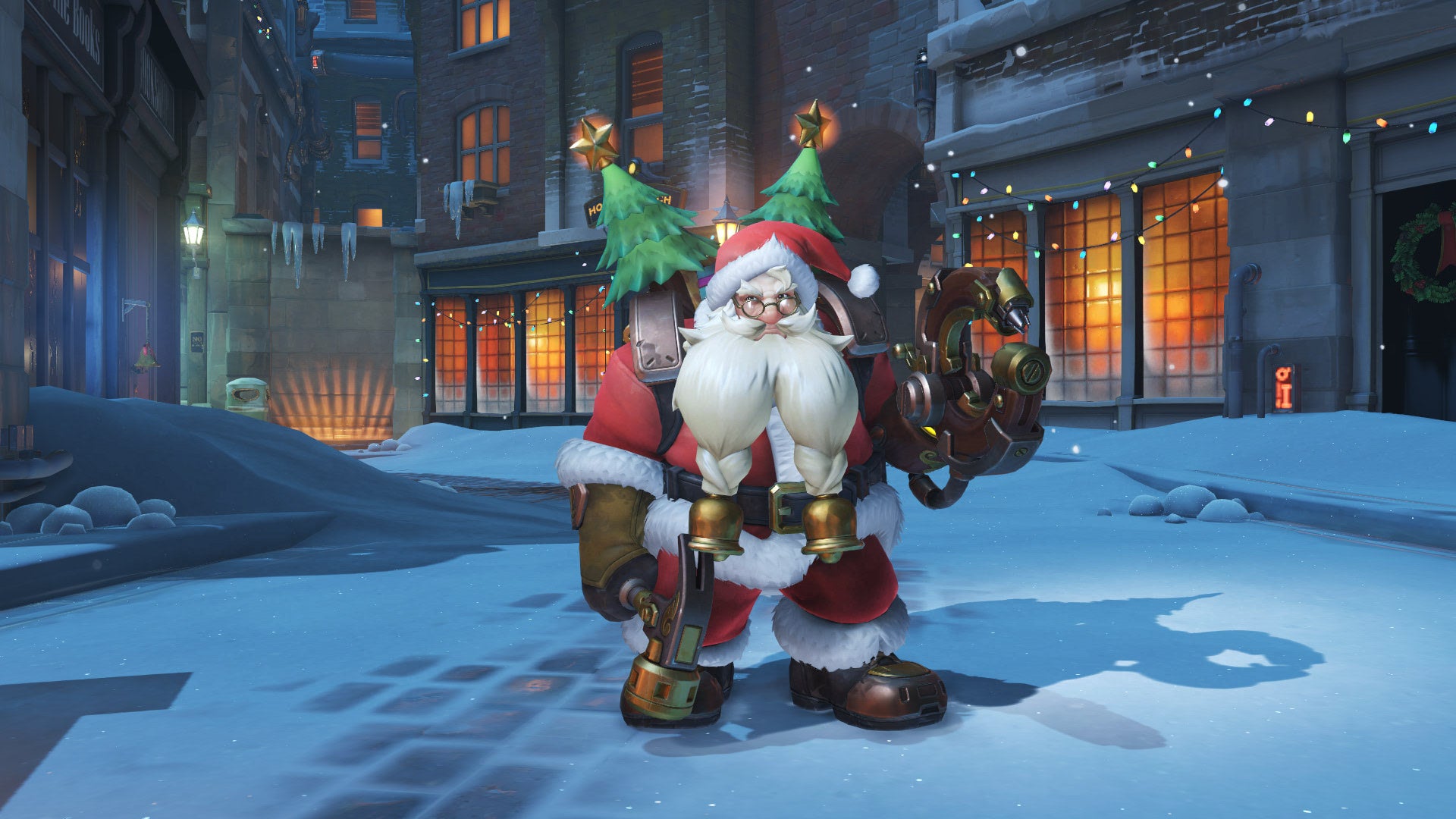 13. Santaclad Torbjorn
Introduced: Winter Wonderland 2016
When I look at the roster of Overwatch's 27 heroes, Torbjorn's the first one I'd assume would make a great Santa Clause. Thanks to his Winter Wonderland skin, which first debuted in 2016, that dream has come alive. When I march my Santaclad Torbjorn onto the field with his bedazzled turret to match, it's never too late for some Winter cheer. It can be Christmas in July, October, April, whenever. It doesn't matter, because it's just that good of a look for the long bearded hero. —Caty McCarthy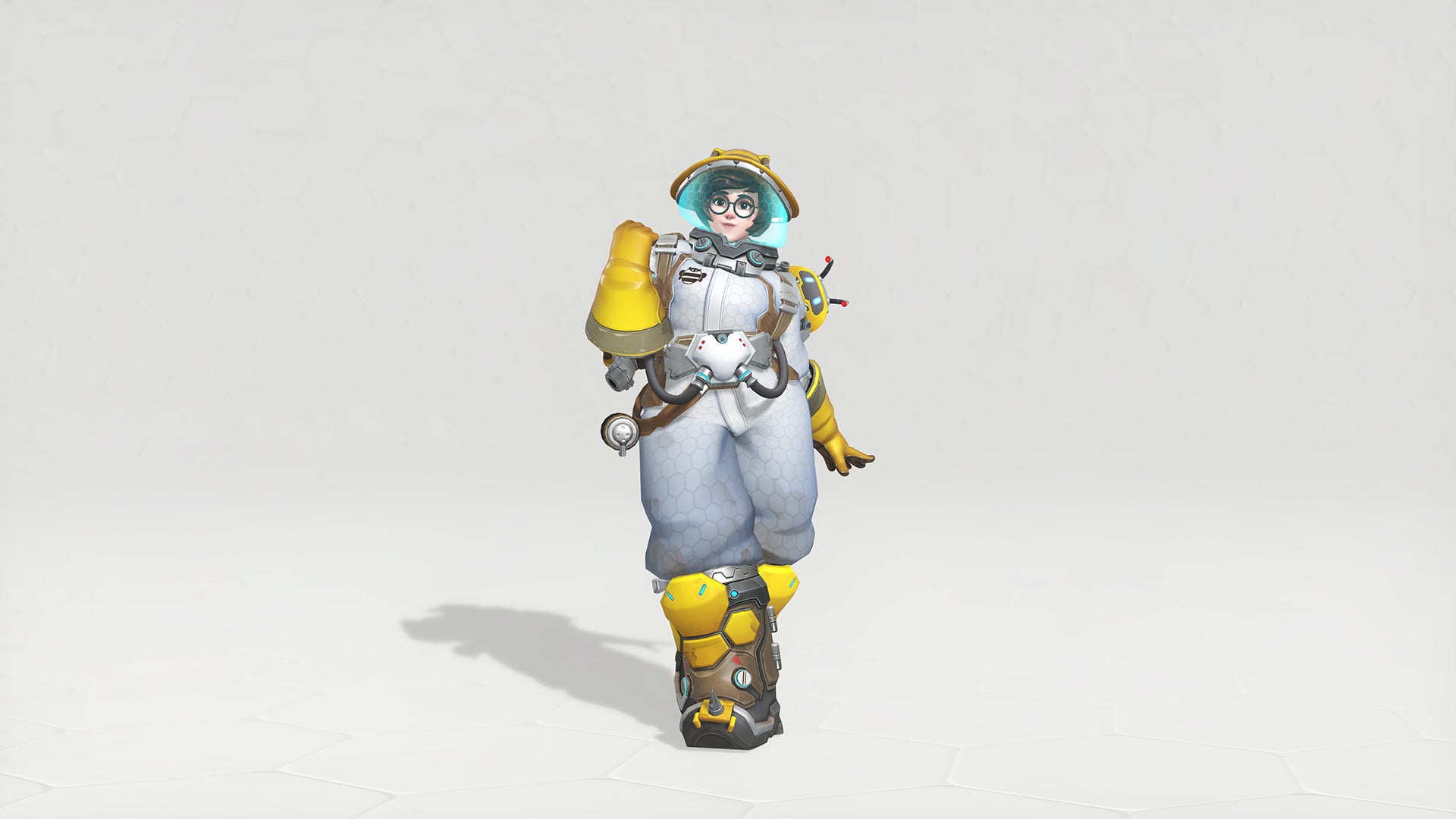 12. Beekeeper Mei
Introduced: Anniversary 2017
Personally, I have an insane fear of bees, but I know that deep down they're good for the planet. That's why the Beekeeper Mei skin is so good: it's Mei saving the world, one bee at a time. As a scientist in her non-Overwatch life, Mei's used to doing world-saving research. Her Beekeeper skin is adorable, keeping in line with the snow-ready nature of her default skin. We just hope there aren't some rogue bees in that suit, stinging her or something. —Caty McCarthy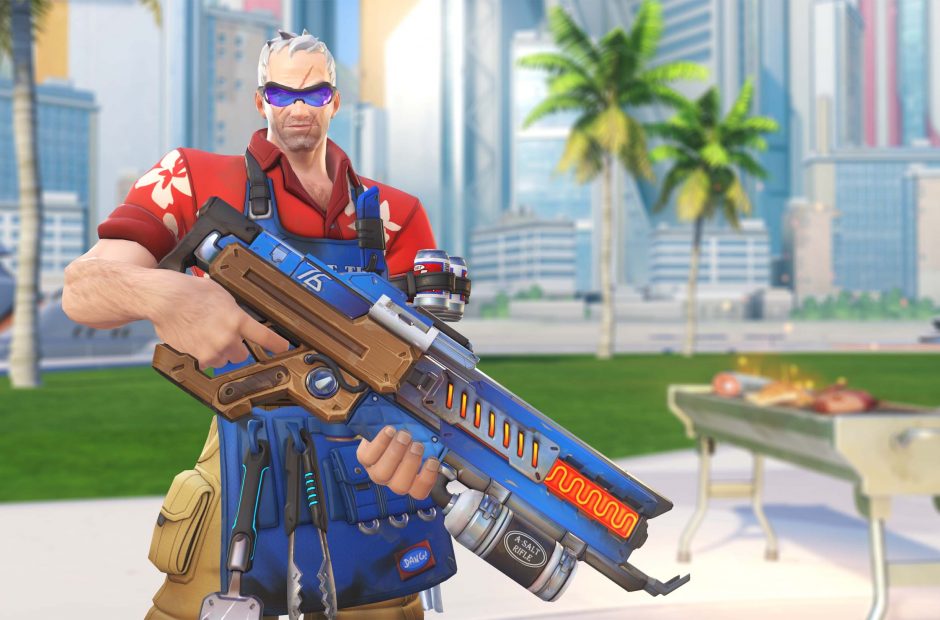 11. Grillmaster: 76
Introduced: Summer Games 2017
Overwatch has some really dumb memes going around the community, none more so than Soldier: 76 taking on the moniker of "dad." I'm not really sure if Blizzard knew they were playing into the whole 'Dad: 76' meme with the addition of the Grillmaster: 76 skin back in the Summer Games event for Overwatch, but it definitely didn't dissuade the community from sticking the title of Dad on Soldier: 76. For a character that's serious 100 percent of the time, it's actually pretty nice and refreshing to get such a dumb skin for Soldier: 76, even if it did breathe new life into the cursed meme. —Hirun Cryer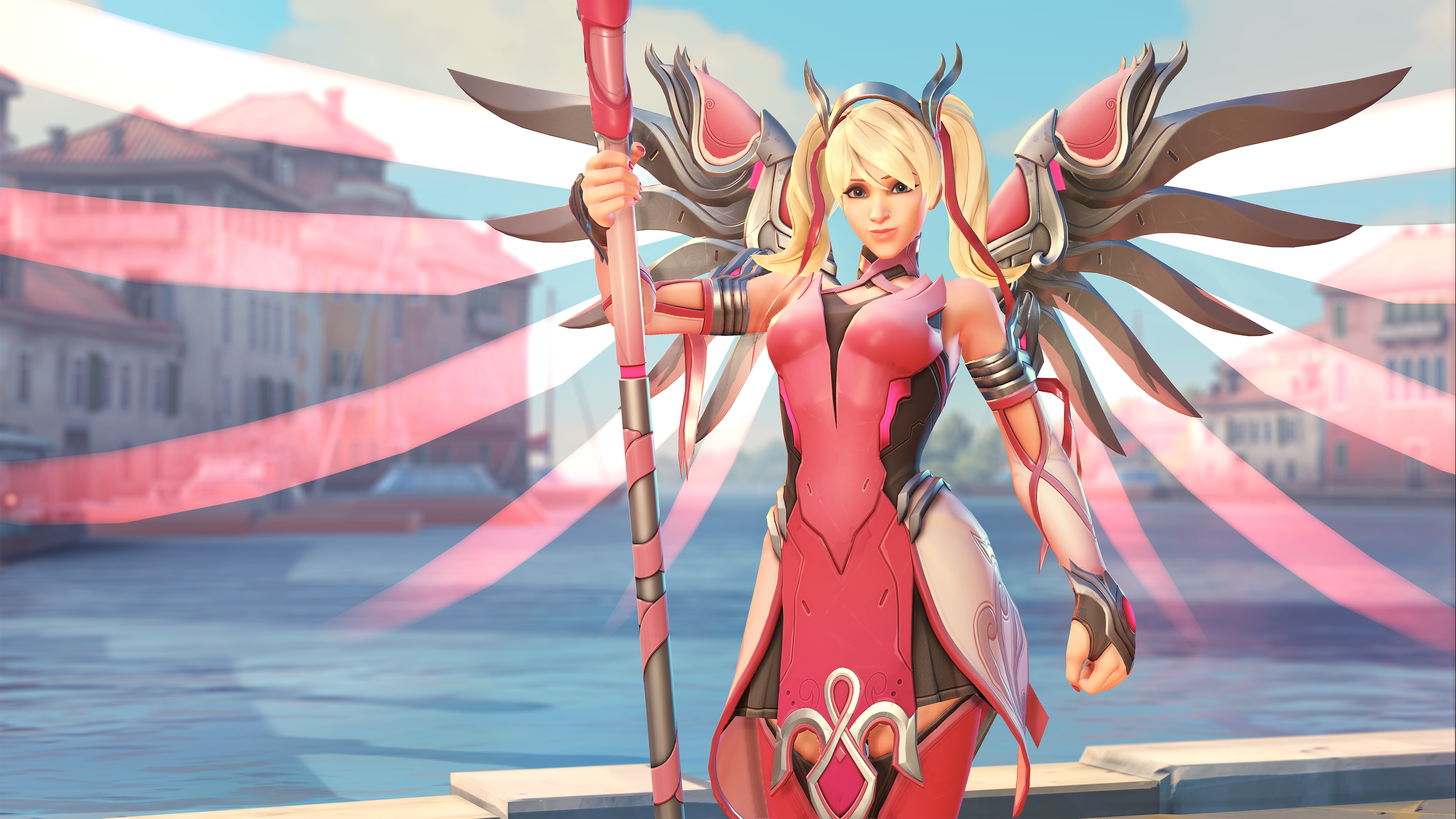 10. Pink Mercy
Introduced: BCRF Charity 2018
Controversially for a long time, Blizzard hasn't allowed the vast majority of skins to be bought with real-world money. The best you can do is buy a bunch of loot boxes and either hope for the skin you want, or bank on having enough in-game gold to shell for the flashy outfit. This year though, Blizzard slightly changed its tune regarding the matter. For Overwatch League-themed skins, with color palettes based on teams in the competitive scene, users can buy the skins for about $5 each. For the month of May, the Pink Mercy skin was on sale for a limited time for charity. It was a steep price—$15—but all the proceeds went on to benefit the Breast Cancer Research Foundation. Blizzard ended up raising over $10 million in turn. Wearing Pink Mercy won't just be aiding your allies, but helps bring support to a great cause on the battlefield too. —Caty McCarthy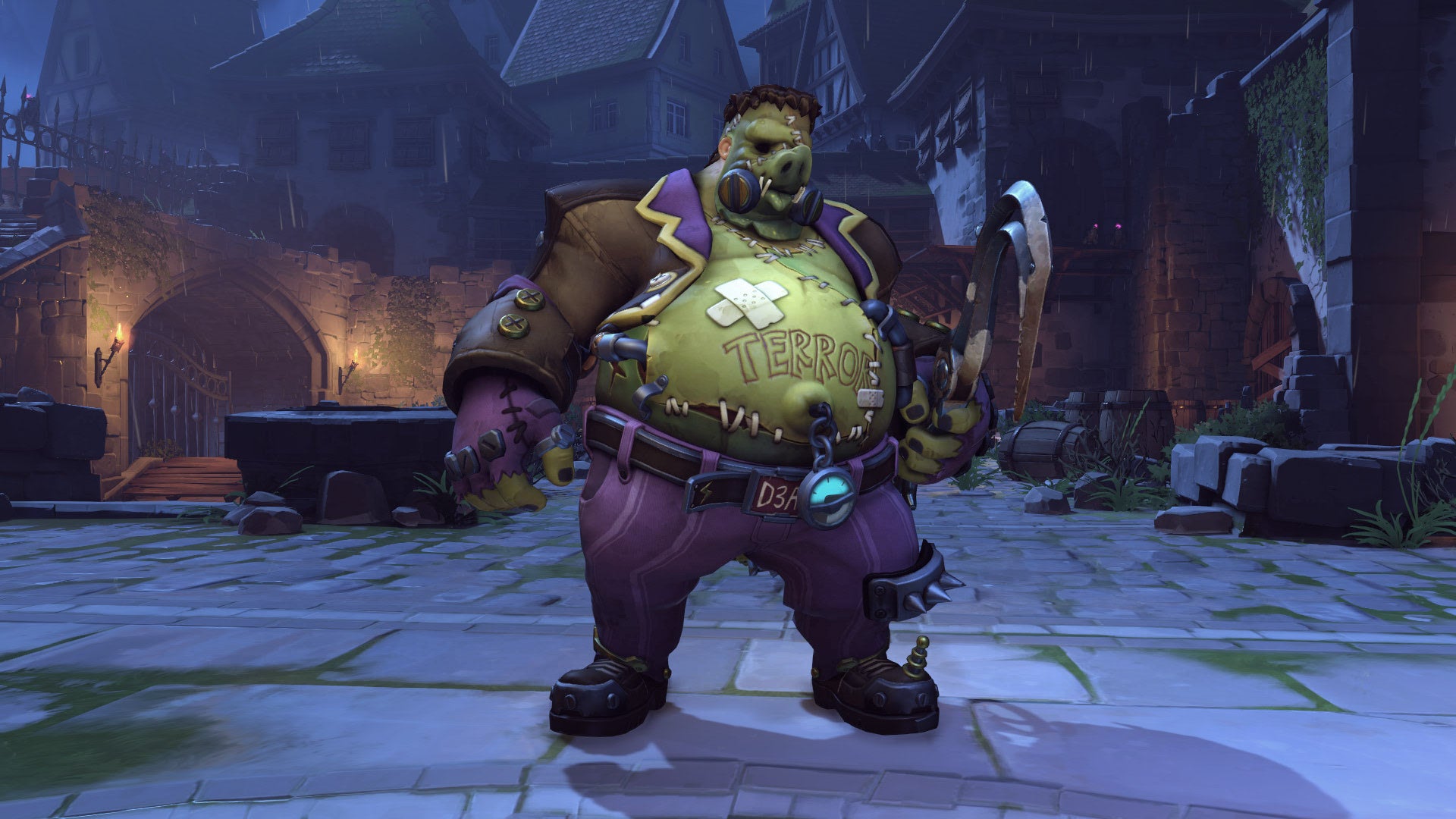 9. Junkenstein's Monster Roadhog
Introduced: Halloween Terror 2016
Ranking in the top portion of overall Overwatch skins (let alone skins that are just plain stupid) is the magnificent pairing of Roadhog and Frankenstein's/Junkenstein's monster. The Junkenstein's Monster skin for Roadhog is so excellent because it makes one of the more intimidating characters just slightly more adorable. Pairing Roadhog and Junkrat together as partners is amazing for the community (and the fanfiction), and Blizzard taking both characters and transplanting them into the role of scientist and mutant creation is fantastic. Roadhog's Halloween Terror skin is one of the more memorable Overwatch skins, and Blizzard definitely likes making their towering beast of a character look weirdly cute. Special mention has to go Roadhog's Rudolph skin—another great example of Blizzard making a character more likeable post-launch. —Hirun Cryer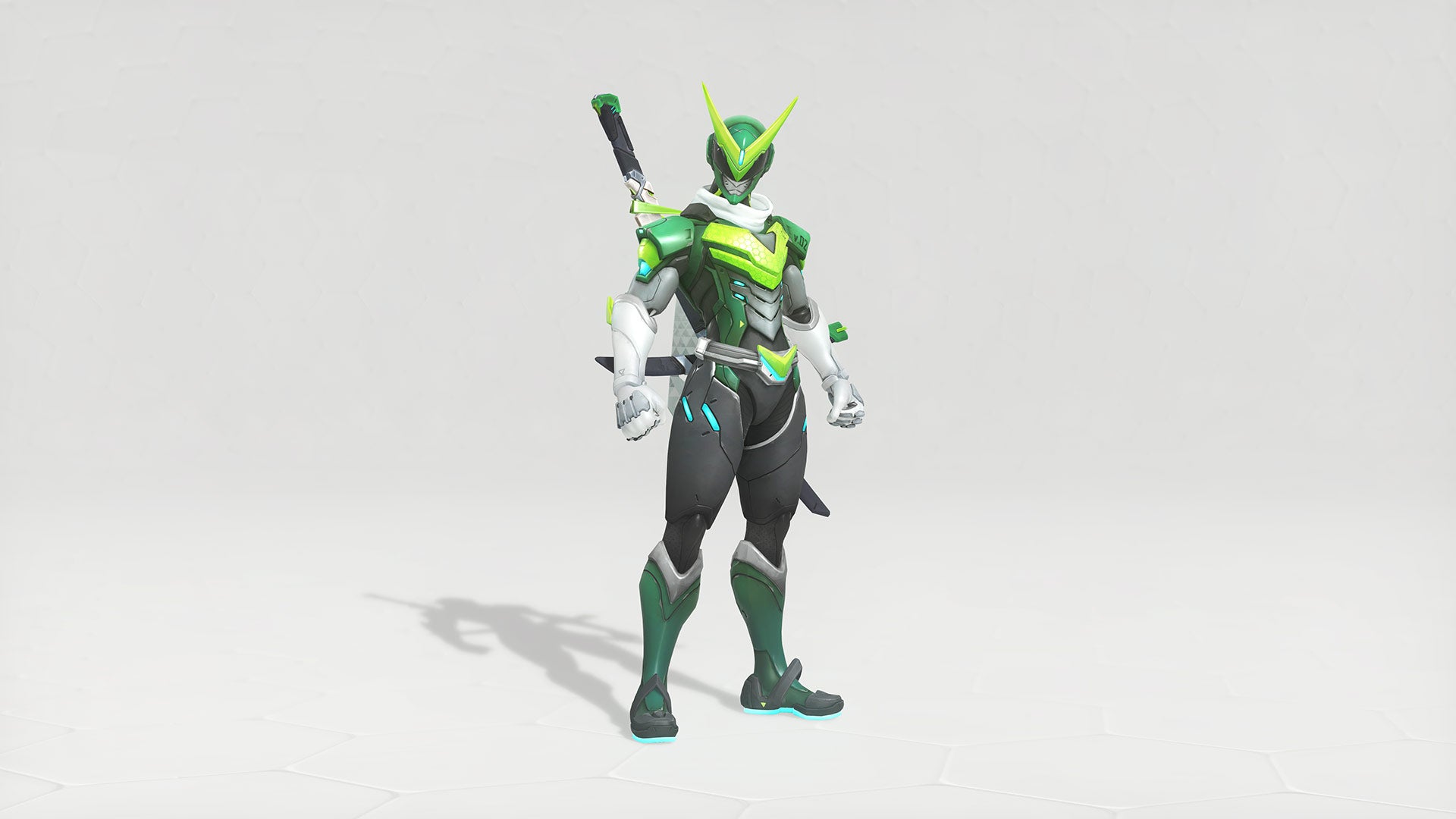 8. Sentai Genji
Introduced: Anniversary 2017
Super Sentai, better known westward as Power Rangers, is a legendary superhero series. In its many iterations, the series has brought people of all different backgrounds together and let them don a superhero identity. To celebrate the Japanese series, Overwatch's Sentai Genji doesn't look precisely like a Ranger, but it'll do. (Probably because they don't wanna get sued.) Sentai Genji has a bright lime green suit, making him stick out like a sore thumb. But with all the flips Genji can do, the cyberninja looks even more powerful. —Caty McCarthy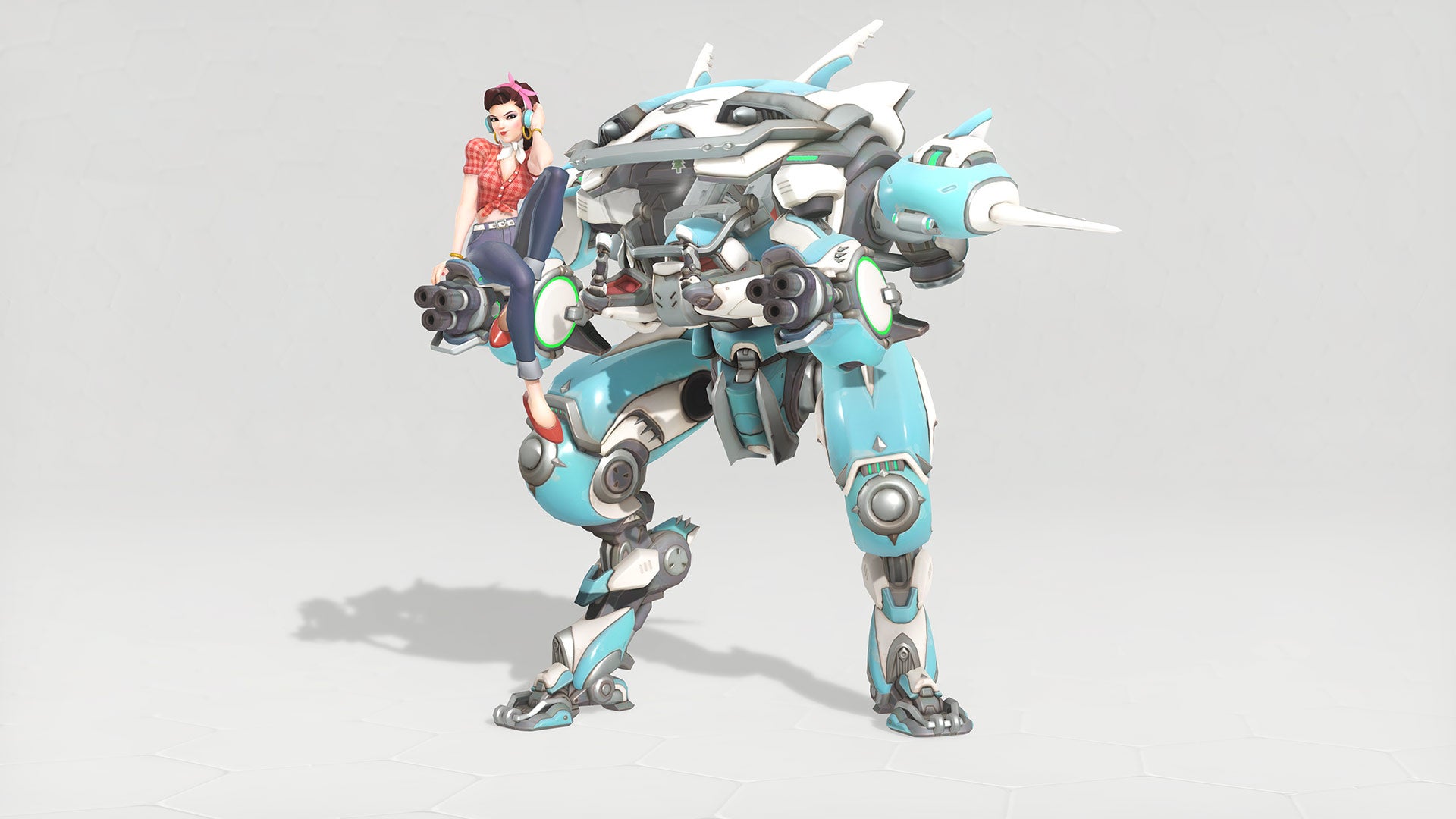 7. Cruiser D.Va
Introduced: Anniversary 2017
D.Va has never been cooler than she is in her Cruiser skin. Introduced last year along with the game's first anniversary, D.Va took on a 1950s pin-up vibe—complete with a classic car-inspired Meka. Cruiser D.Va looks like she's about to hit up a drive-in and drink a strawberry milkshake. And honestly, she'd probably do that exact thing on the Americana-themed Route 66 map in Overwatch—where the Cruiser feels right at home. —Caty McCarthy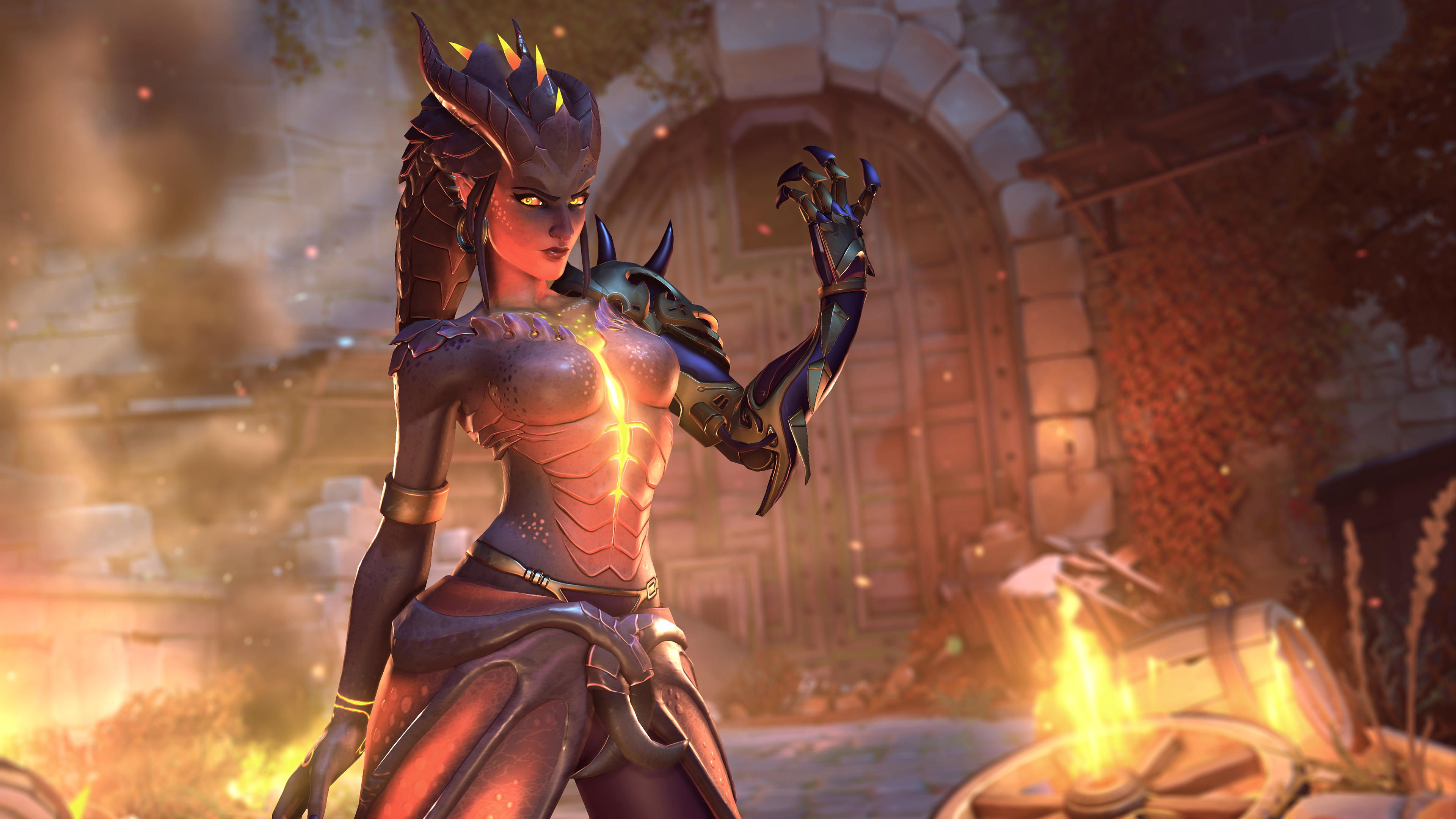 6. Dragon Symmetra
Introduced: Halloween Terror 2017
Symmetra is one of the characters that's often felt criminally underutilized when it comes to new event skins. The Dragon skin, introduced last fall during Halloween, was the big exception though. At last, Symmetra got the killer skin she's deserved for so long, and it made her terrifying. Dragon Symmetra makes her look more like a demon, like Devil Mercy if she didn't look like she was just wearing a silly Halloween costume. There's something downright sinister about the scaley get-up, and that's what makes it one of the best skins in the game. —Caty McCarthy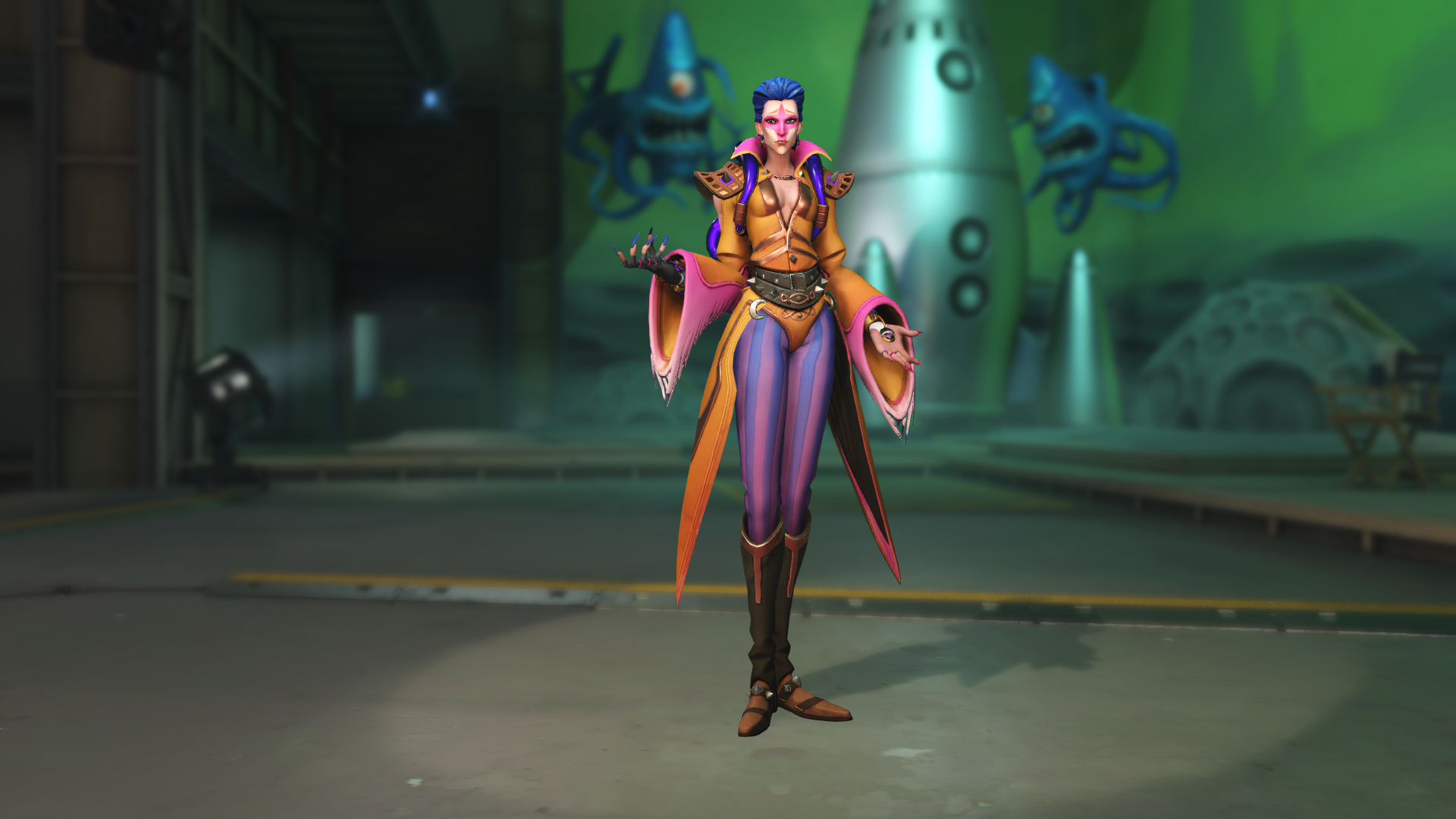 5. Glam Moira
Introduced: Overwatch
David Bowie was a legend in music, acting, art, and probably a dozen other disciplines too. Moira, one of the newest characters to join the Overwatch roster, is the only one on this list to have a non-event skin as her top choice. It's the Glam skin, which makes Moira look like she's on her way to a Ziggy Stardust tribute night at a local bar. She looks fabulous with blue hair and the signature face paint (even if it's a star rather than a lightning bolt). There is no better base game skin that Moira's Glam. —Caty McCarthy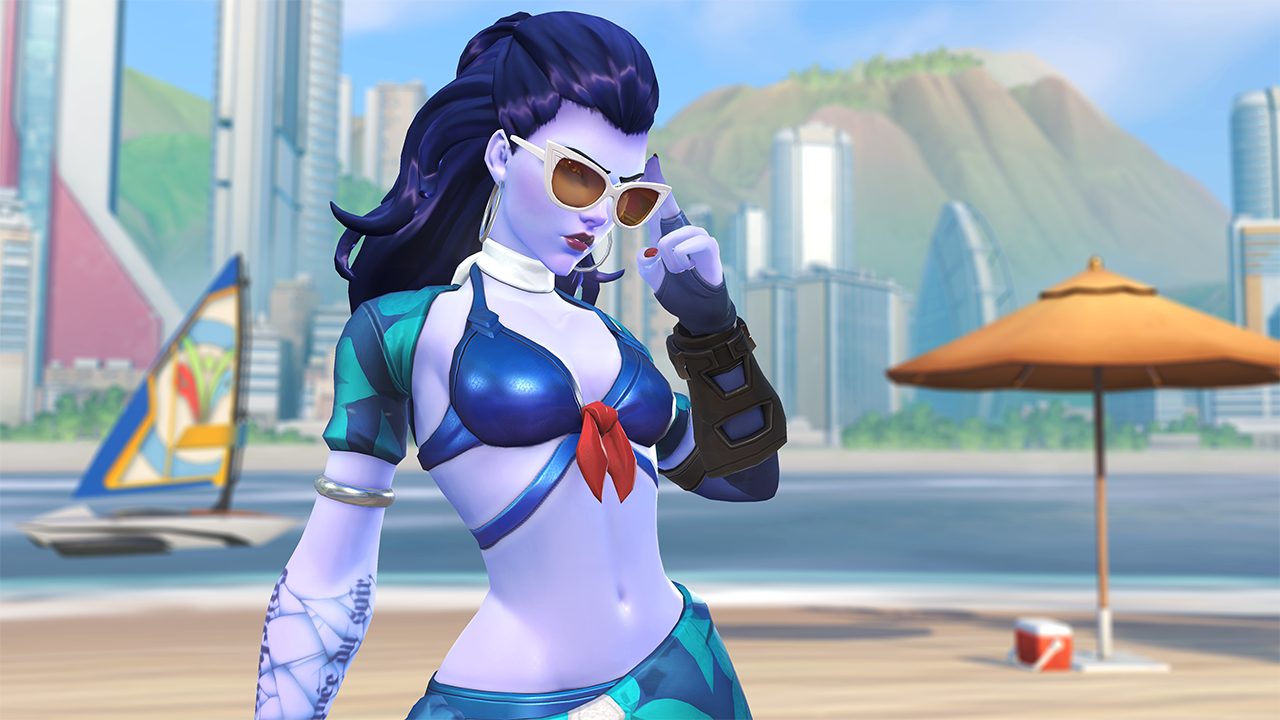 4. Côte D'Azur Widowmaker
Introduced: Summer Games 2017
Widowmaker has a lot of good skins, and it's because of her stellar base character design. Her skin-tight bodysuit is reminiscient of those plug suits characters often wear in mech anime, such as Neon Genesis Evangelion. The Côte D'Azur takes her out of the body suit though, and into some loungey vacation wear. Widowmaker's probably exhausted from all those perfect headshots, so she's definitely deserving of a beach-ready vacation. The best part of the Côte D'Azur skin? When she activates her Ultimate, instead of her visor sliding down, it's her sunglasses. So if she catches you in her sights, you might want to hide in the shade. (Not that it'll do much.) —Caty McCarthy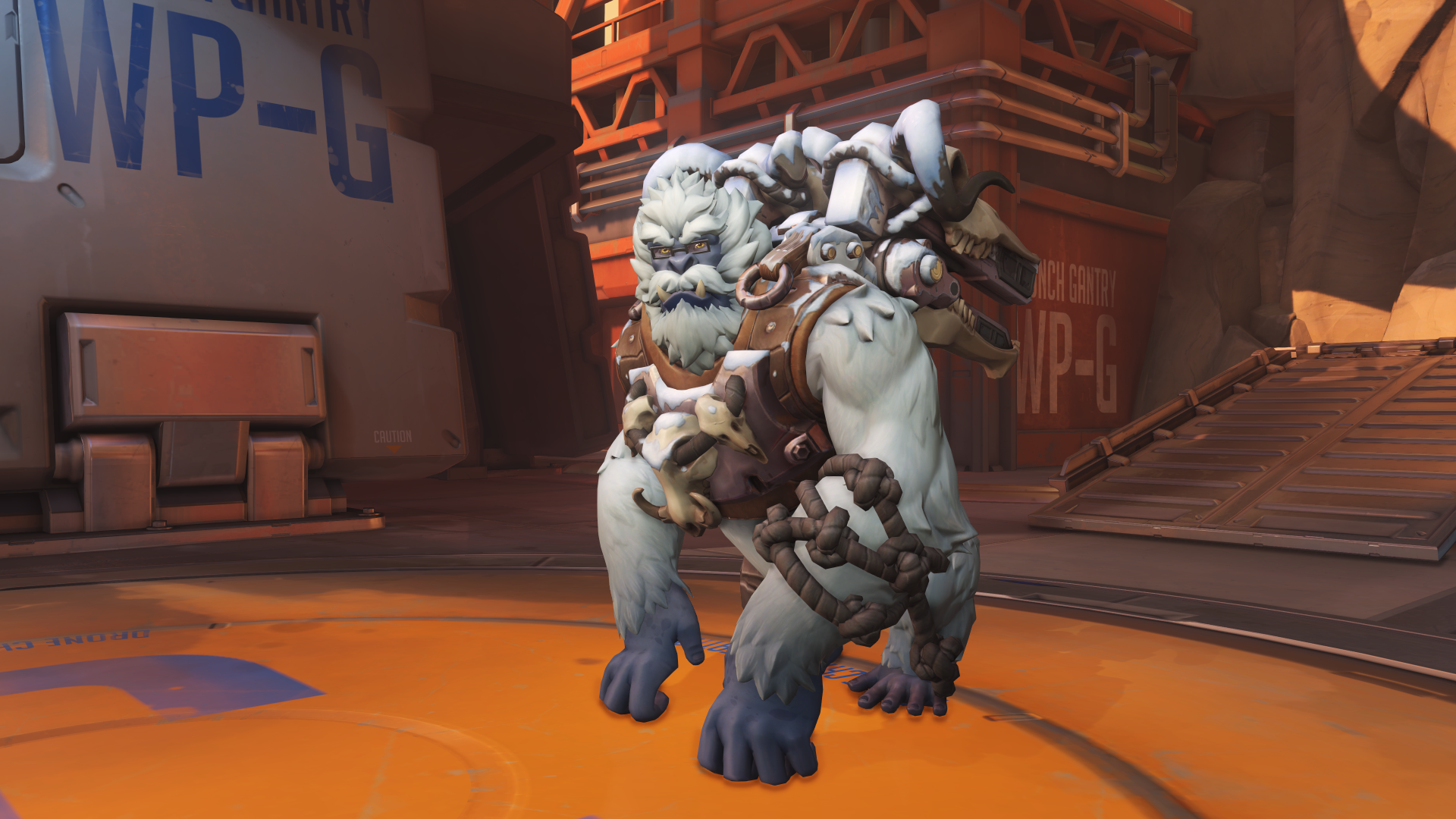 3. Yeti Winston
Introduced: Winter Wonderland 2016
The Abominable Snowman made his debut in Overwatch back at the end of 2016. The Yeti Winston got another chance in the spotlight during 2017's Winter Wonderland event too, where he was pitted against several Meis in the Snowball Offensive mode. Much like the Rudolph skin for Roadhog, Winston's Yeti skin gives a much beloved character a nice comedic edge. It's not that Winston wasn't adorably dumb to begin with, but his Yeti skin makes the character look like some sort of old grandpa. —Hirun Cryer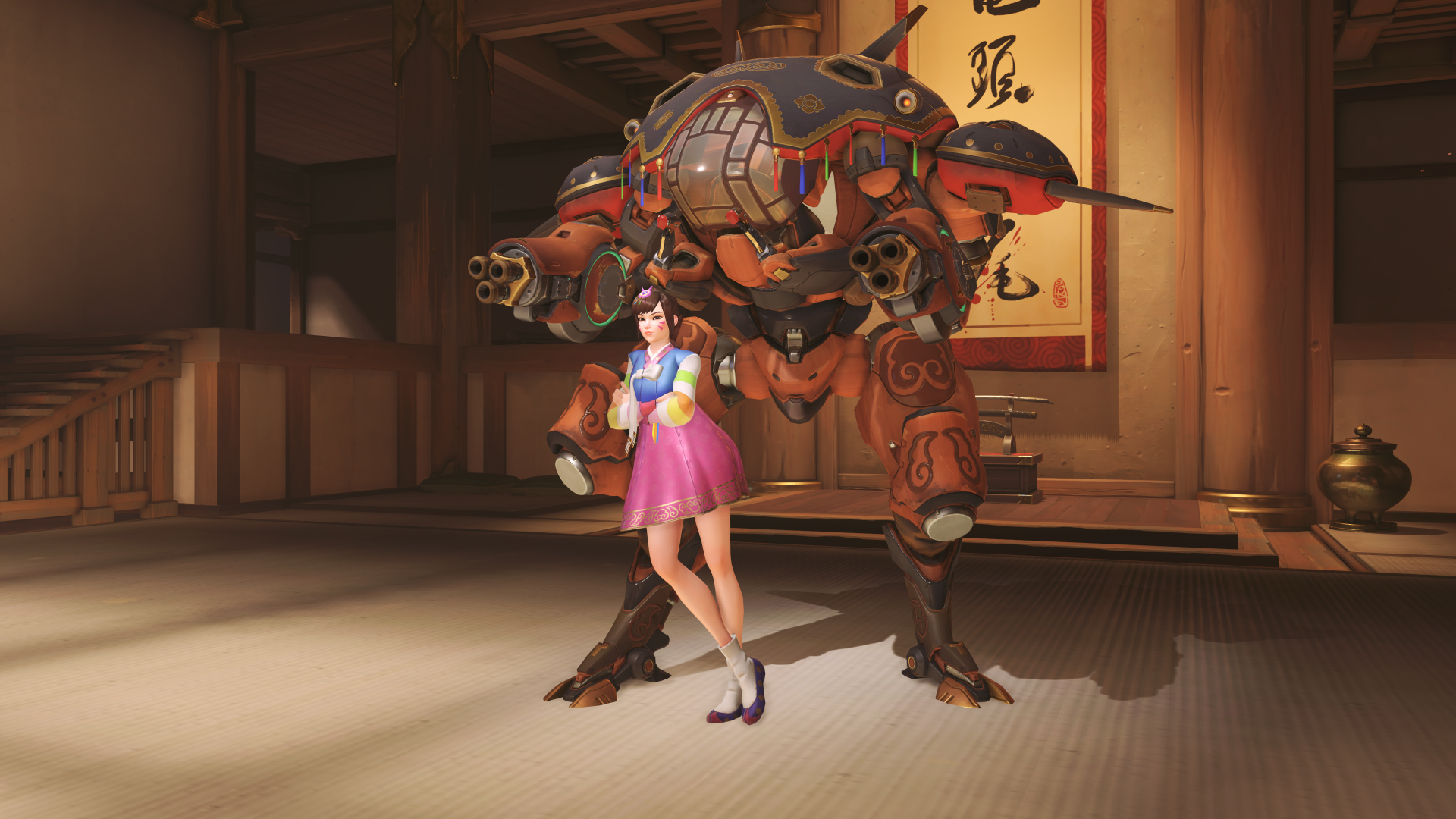 2. Palanquin D.Va
Introduced: Lunar New Year 2017
One thing that Overwatch does exceptionally well is letting its characters revel in their own culture. Genji and Hanzo's ultimate voice lines aren't translated to English for the worldwide audience, for example, allowing them to still maintain their distinct identities. The Palanquin was D.Va's chance to shine, and shine she did. The skin decked out both Hana Song and her mech in traditional Korean designs, only furthering voice actress Charlet Chung's opinion that D.Va is "more of a real person." The Year of the Rooster event might have been dedicated to Mei near the beginning of 2017 to mark the Lunar New Year, but the addition of D.Va's Palanquin skin was definitely one of the highlights. —Hirun Cryer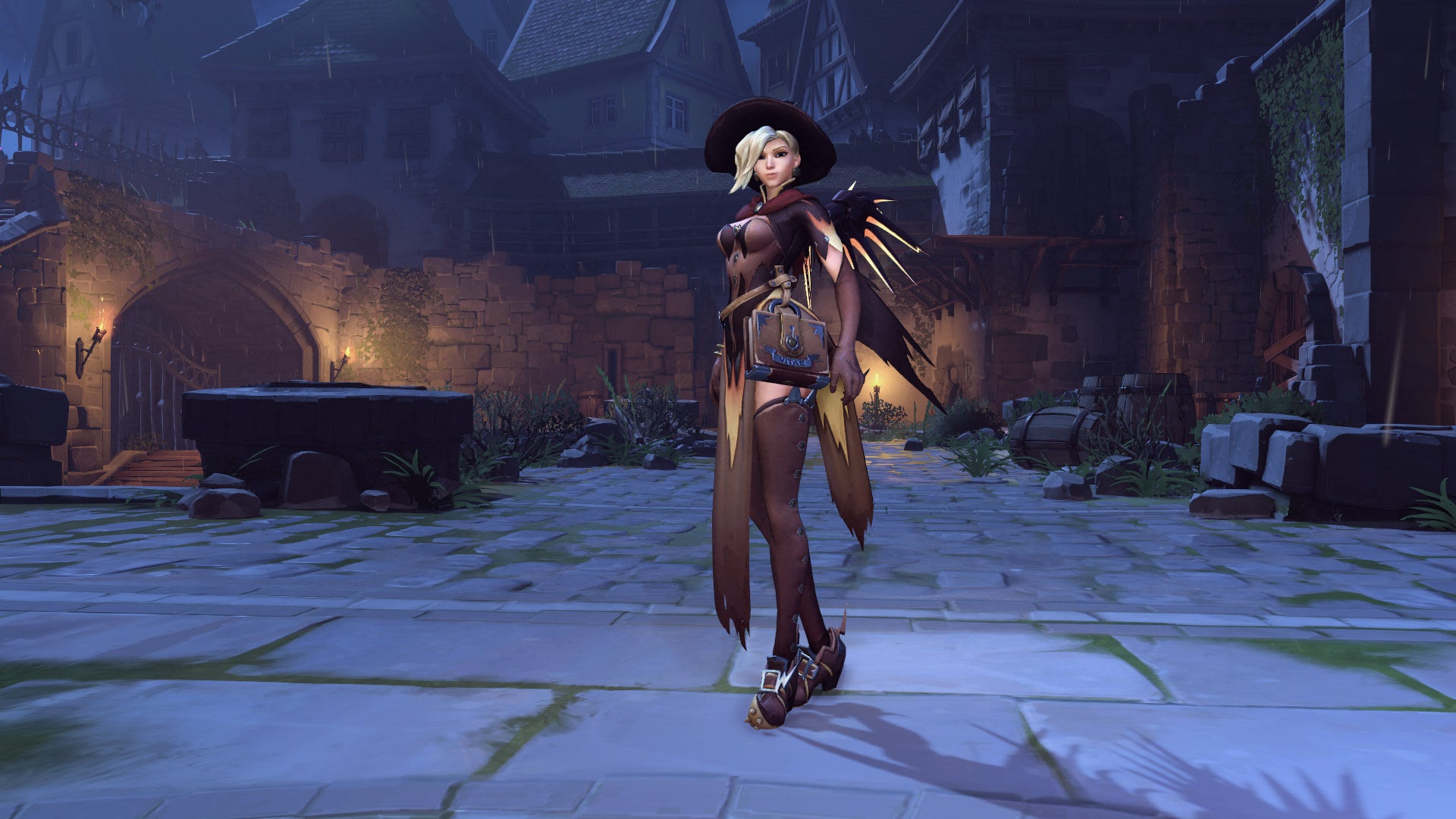 1. Witch Mercy
Introduced: Halloween Terror 2016
Overwatch hadn't been out for a huge amount of time when Witch Mercy rolled around, and it was the skin that everyone instantly wanted from the Halloween Terror event back in 2017. Witch Mercy was actually the final boss of Junkrat's Halloween Terror PvE mode, and it finally gave a nice aesthetic boost to one of the most underappreciated characters in Overwatch at the time. The outfit made amazing use of Mercy's oft-ignored wings, letting her glide over the battlefield with grace and style. I spent far more money than I'm willing to admit on loot boxes for a chance at the Witch Mercy skin, and over a year later I still have zero regrets. —Hirun Cryer