PS4 Pro and an HDR display will make Horizon: Zero Dawn even more beautiful - check out these screens and tech babble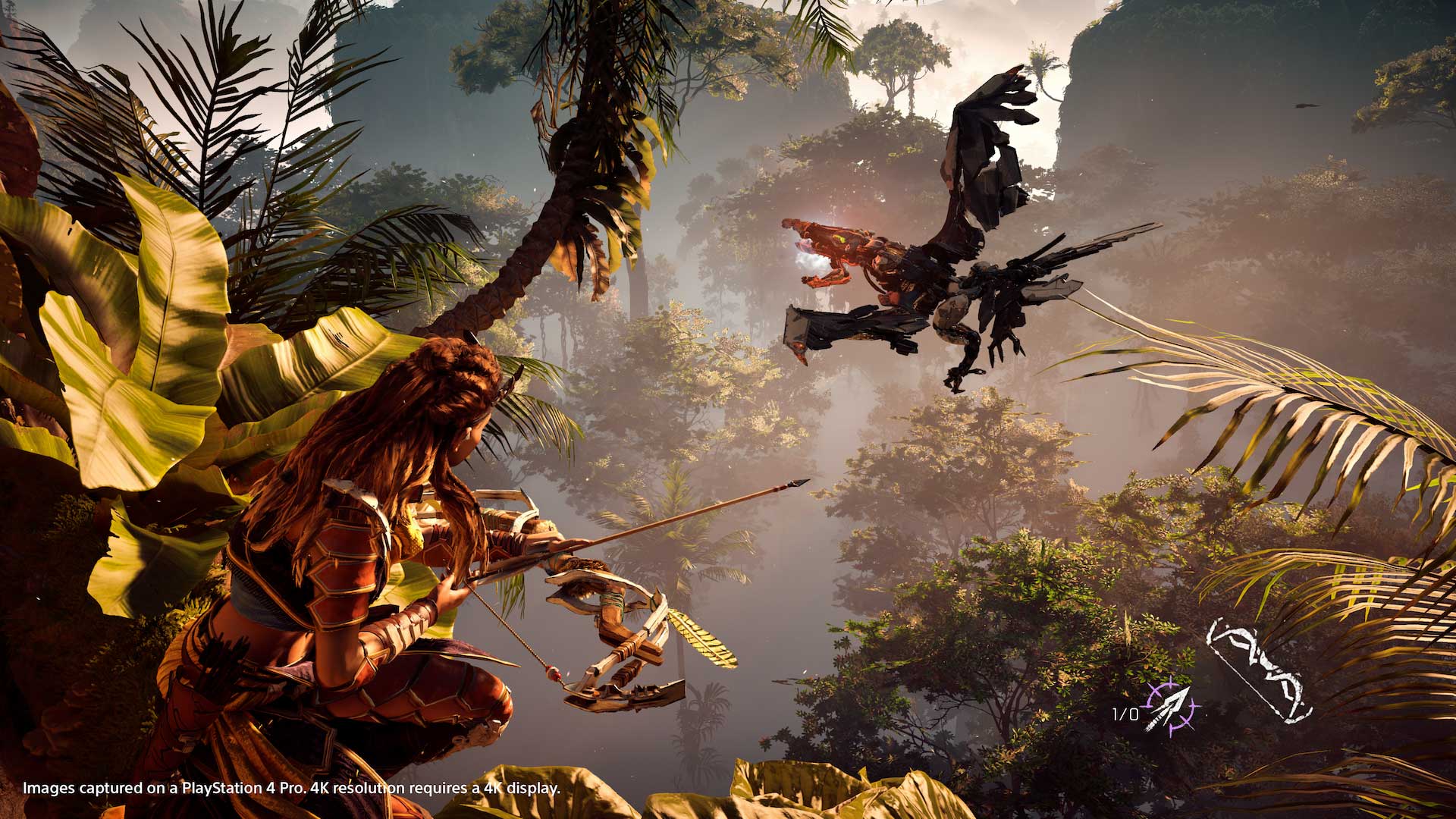 Horizon: Zero Dawn shows off what the team behind Killzone can do when it's let off the grimdark chain.
Horizon: Zero Dawn comes to us from one of Sony's premiere graphics tech teams, so it's no surprise to learn the PS4 Pro version will be pretty fancy.
Guerrilla Games goes into detail on exactly how it has leveraged the PS4 Pro's extra oomph in a lengthy post on the PlayStation Blog. I'm not really the sort to get excited about graphics tech so my eyes glazed over a bit, but here's what I extracted:
If you have a 4K display, Horizon: Zero Dawn goes up to 2160p checkerboard, which "looks incredibly good on a 4K TV" according to Guerrilla. This will allow you to view details like "stitching on Aloy's outfit, individual leaves and branches swaying in the wind, kilometers away in the distance and more detail in all machines and NPCs in the world" of Horizon: Zero Dawn, which are presumably invisible at smaller pixel counts.
If you're even luckier and have an HDR-compatible display, you'll get to see "truly awesome" benefits: "the image in its full glory, with brighter and deeper colours, more contrast and vibrancy, in its pristine state" rather than cranked down to rubbish standard TV standards. For a colourful game like Horizon: Zero Dawn, that's pretty interesting.
Also, I love this line about what HDR is, since that's something people ask a lot:
"[It's] a brand-new feature that enhances the range of colours we can display. It's very exciting and hard to explain, as it's something which most people haven't ever seen before, so they don't know what to expect. You can't print it, it's not in cinemas, your phone's screen can't do it. The only thing that you can compare HDR with is reality."
Golly. PS4 Pro arrives November 11 and Horizon: Zero Dawn launches in February, so you have a few months to sell your soul or whatever it takes to get a 4K HDR display: goodness knows there won't be one in the Hillier household unless it starts raining money before then.
That said, If you only have a regular old 1080p TV without 4K or HDR, you'll still see image quality improvements on PS4 Pro over the base PS4 build. For starters there's supersampling. "a very high-quality anti-aliasing technique" through which Guerrilla Games is able to have Horizon: Zero Dawn internally render at something much closer to 4K and then shrink down to 1080p. Apparently you get fewer jaggies and a "smoother image". Ah yes, of course.
Guerrilla Games is also fooling around with enhanced shadow maps and better quality anisotropic filtering. We know precisely what that means, of course: higher quality texture sampling for more detailed versions of Horizon: Zero Dawn's environmental textures. (It said so right in the next sentence, see.) Check out some more screenshots:
By the way, if you really want to see these Horizon: Zero Dawn PS4 Pro screenshots in all their glory, go to the PS Blog post linked above and click each of them to see the original versions on Flickr at higher resolutions. I, of course, shrunk and then compressed hell out of them so they'd open on your phones in less than four years at a time. You're welcome?