Pillars of Eternity: exploration, story, and murdering dudes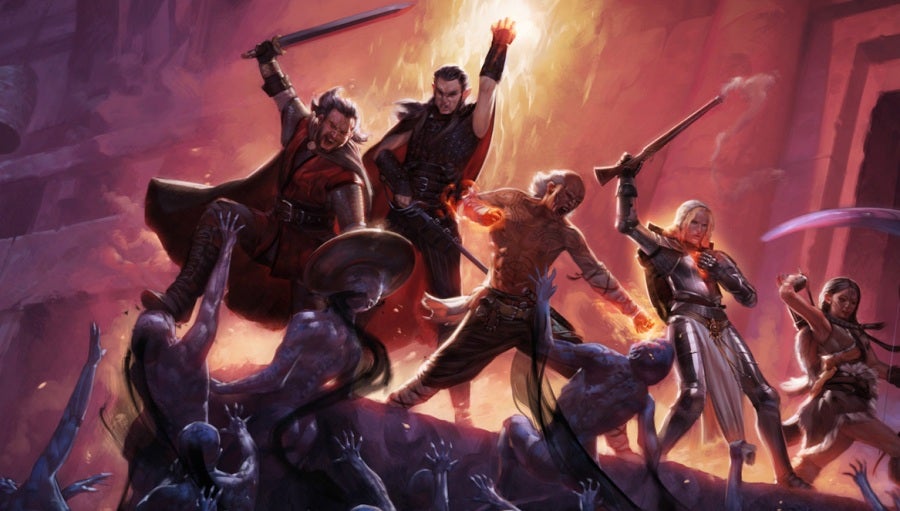 Director Josh Sawyer discusses the three core concepts behind RPG Pillars of Eternity, and why it chose to partner with grand strategy kings Paradox Interactive.
"I said, for every quest, I don't have to complete it by murdering, but I want the ability to complete it by murdering. Always give me the option to murder something."
Last week during GDC, Obsidian announced that its Kickstarter old-style CRPG Pillars of Eternity would be published by Paradox Interactive, a boutique publisher known mostly for its strategy titles like Crusader Kings and Europa Universalis. What will this mean for you? Maybe not too much.
"I think from the end-user perspective it's not going to change things from what they were expecting," director Josh Sawyer told me at the show. Paradox typically distributes its games via Steamworks, which requires all copies of the game to launch through the Steam client, but Pillars will maintain its planned release strategy, which includes a DRM-free option through GOG. Paradox will be handling physical copies of the game, however.
"Physical distribution is something we were always concerned about from the beginning," Sawyer continued. "We could try to do it, but why? We could try to handle all that stuff, but it just doesn't make sense. They're way better at that stuff."
Another big bonus for Obsidian in this distribution deal - or rather perhaps the largest headache they get to avoid through working with Paradox - is in dealing with rewards for Kickstarter backers. They've got nearly 4,000 DVDs and 1,000 t-shirts to send out whenever the game hits, which is a hell of a thing to deal with. And they didn't really like thinking about that, Sawyer said.
"You see a lot of Kickstarter campaigns where you have these devs nobly struggling to do fulfillment themselves. I remember the video of the Banner Saga guys, and their entire house was filled with posters that they were all hand-rolling and shipping, and it's cool that they have such a great amount of support for their game, but they wound up on the hook for all the fulfillments. That's not what we really wanted to deal with."
Aside from the practical sense of this partnership, the pairing is also a bit philosophically appropriate. Paradox does not generally put out games that are built for a mass audience, instead aiming to really hit niches that bigger companies tend to neglect, which is why it pretty much owns the grand strategy genre at this point. Pillars of Eternity, too, is going to be a bit of a niche thing just because it is a tactical RPG and it evokes thoughts of old Black Isle games like Icewind Dale that a lot of people find intimidating today.
Still, Sawyer did insist that fans of the more modern style of console RPGs - like Obsidian's Fallout: New Vegas and South Park: The Stick of Truth - who are receptive and open should be able to have a good time with it. You won't, he said, boot up the game only to be greeted with blocks of text explaining its systems in the most alienating fashion, something that's made it difficult even for me to revisit old classic CRPGs like Baldur's Gate.
"You get personality-specific reputations, where if you're an asshole repeatedly, you meet people who are, 'Oh, you're that huge asshole guy'."
"We're fairly tutorial-lite. We tried to keep the mechanics so that you can learn up as you go along, where all the complexity just emerges from the scenarios you get put in," Sawyer elaborated. "We don't want to dumb it down, but we also don't want things to be hard to learn or intentionally obtuse. You do have to do a little bit of system learning, but once you've learned it, it's a very consistent system."
I know there are going to be some folks - I'm talking about you, old-school CRPG diehards - reading those assurances and getting a little worried that it won't be complicated enough for your tastes, but Sawyer did also promise that it's not "fucking dumb baby crap." So there's that.
Even so, Pillars of Eternity is not just for the crowd that loves character stats. It's still a modern Obsidian game, with the modern Obsidian DNA in which what you choose to do matters. How you behave in your interactions with other characters is meaningful. And there's plenty of interacting to do.
"For people who like New Vegas but aren't necessarily experienced with this, you know, six-party-member type of [RPG], I think they will appreciate how we reward their choices and allow them to branch and form alliances and screw up alliances with people," Sawyer said.
"How we let them build reputation, I think they're going to dig that. We've actually expanded that more than we have in previous games. You get personality-specific reputations, where if you're an asshole repeatedly, you meet people who are, 'Oh, you're that huge asshole guy,' Some people are like, 'I love how you're a fucking crazy asshole!'"
For Sawyer, the Pillars of Eternity experience is supposed to be truly about role-playing and all that has entailed from the tabletop era to now. In the common parlance, "role-playing elements" refers to stats and levelling and gear, but those things are not literally what role-playing is. They are methods of execution. And so there will be dungeon crawling, sure, yes, of course, but there will also be equally significant portions of exploration and dealing with NPCs.
"We really tried to focus on three things - they don't necessarily have to be equally balanced, but we want it to feel like a balanced experience - which are exploration, talking and story shit, and murdering dudes," Sawyer said, before emphasizing that those elements will of course intertwine with each other, with, for example, long dungeons featuring scripted portions and key conversations to keep those crawls from turning into "slogs" that turn off the anti-grind crowd.
"We don't want players to feel like we're settling into this endless depth of murder."
That's not to de-emphasize the murdering aspect of Pillars of Eternity at all, though, as according to Sawyer's own design philosophy, murdering is paramount.
"I said, for every quest, I don't have to complete it by murdering, but I want the ability to complete it by murdering. Always give me the option to murder something as part of completing this quest."