Monster Hunter World – here's the current Event Quest Schedule for April 27 - May 17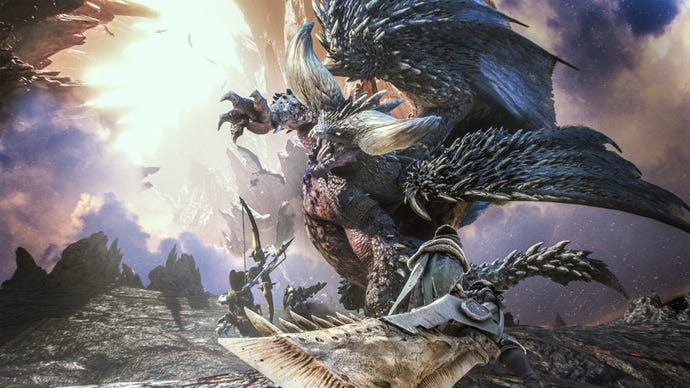 A new schedule for Monster Hunter World events running through mid-May is now available.
Capcom has released the latest timed-event schedule for Monster Hunter World.
Many of the quests occur monthly, but happen on different weeks. Many of these will be familiar to current players, including Ya-Ku With That?, Flesh Cleaved to Bone, Rollin' with the Uragaan, and more.
Code: Red, the Devil May Cry cross-over event for Monster Hunter World, is currently live. Participants will be able to earn Dante's armor and stylized weapons.
This is a level eight quest, and players must be at Hunter Rank 14 or higher. Just head over to the Arena and hunt all target monsters.
Also right now, the Kulve Taroth Siege is still going on, but it ends next week on May 3. The quest was recently patched to fix a few bugs, so if you had issues with it previously, make sure you've applied to the update. If you need help, be sure to check out our Monster Hunter World Kulve Taroth Siege Guide.
The Street Fighter-themed events, such as Empress in Full Bloom, are also returning. Players will be able to try for Ryu's High Rank armor set, and it looks to be blue. The HR Sakura Armor will be available next week and the HR Ryu armor will follow the week after.
Current and upcoming Challenges Quests, including intermediate and expert along with Slay Events are also listed.
Players at Hunter Rank 16 or higher will be pleased to know the Nergigante Slay Event is still live. Just head over to the Arena in order to battle the elder dragon. Three will take place in the Arena, and one in the Special Arena. If you need some tips on taking down Nergiagante in Monster Hunter World, we're here to help.
If you need some pointers on any of the monsters you'll need to slay to complete these quests, here's a list of strengths and weakness for some of the larger beasts.
The Monster Hunter World quest schedule can be looked over in the image at the bottom of the post, but we've also outlined it below. If you click on the image and open in a new tab, it should zoom to full size for you.
Monster Hunter World is available for PS4 and Xbox One. The PC version is expected later in the year.
Monster Hunter World Quest Schedule: April 27 - May 17
April 27 - May 3
Kulve Taroth Siege: Banquet in the Earthen Hall
Code: Red (ends May 10)
Ya-Ku With That?
Deep Green Blues
May 4 - 10
Flesh Cleaved to Bone
Triple Threat Throwdown
Relish the Moment
A Simple Task
May 11-17
Wicked Wildspire Warfare
Kirin the Myth
Rollin' with the Uragaan
Keeper of the Otherworld
Monster Hunter World Challenge Quests: April 27 - May 17
May 4-17 (PS4)
Empress in Full Bloom 1
Empress in Full Bloom 2
Empress in Full Bloom 3
May 11-17 (PS4)
The Awakened Satsui no Hado 1
The Awakened Satsui no Hado 2
The Awakened Satsui no Hado 3
Now - May 10
Nergigante Slay Event 1
Nergigante Slay Event 2
Nergigante Slay Event 3
Now - May 24
Gale & Fangs Slay Event 1
Now - May 31
Gale & Fangs Slay Event 2
Now - June 7
Gale & Fangs Slay Event 3
May 2 - June 14
Now - May 10
Challenge Quest 1: Intermediate
May 11-17
Challenge Quest 1: Expert