Man of Medan preview: multiplayer and 69 ways to die - nice!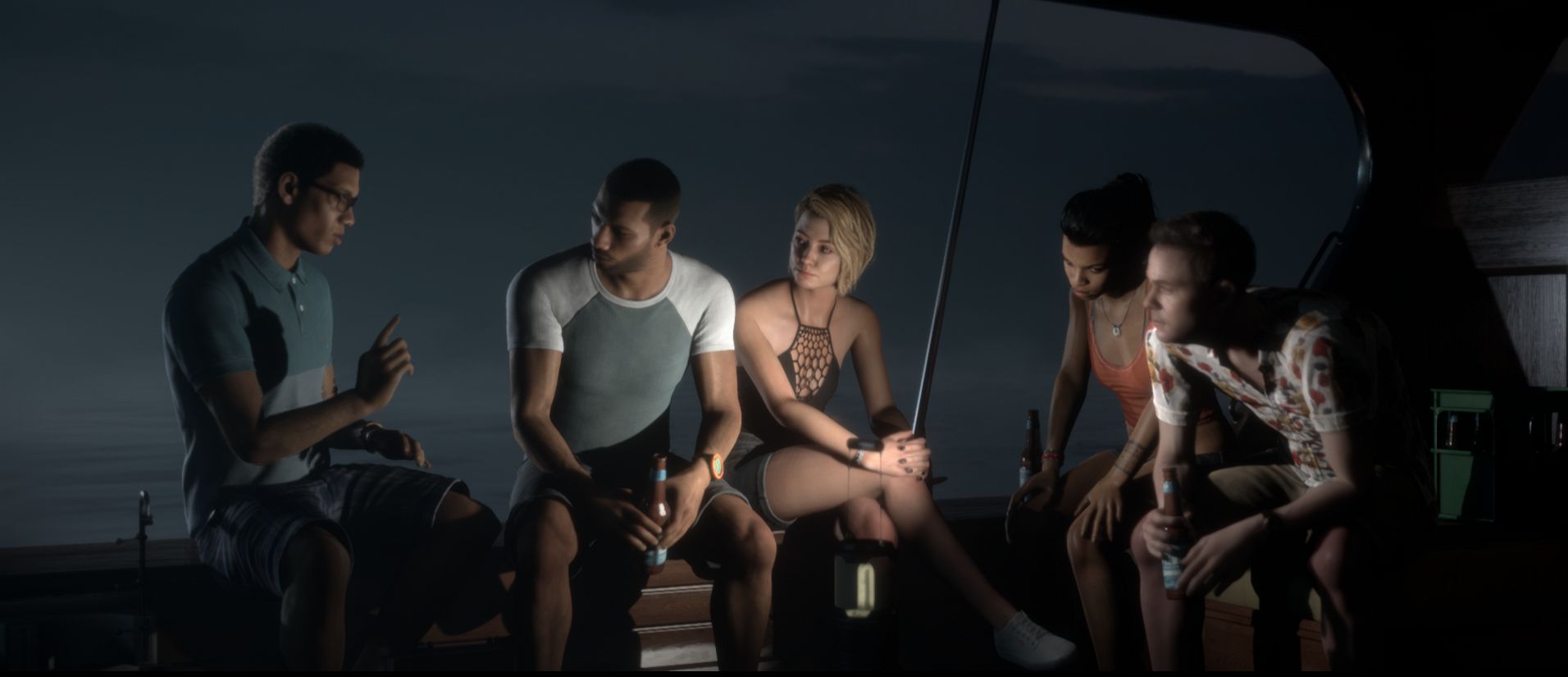 Have you ever played a Quantic Dream game with a friend? According to director David Cage, this is how most people experienced Heavy Rain, sitting and deciding together how in-game choices should play out.
Even though movies are more passive than video games, we often experience those stories together as well. There's something about the ritual of it: grabbing the popcorn, sitting together, laughing together, and decompressing in the aftermath, discussing the key moments. The next game from Until Dawn developer Supermassive Games runs with this concept.
Man of Medan is the first game in The Dark Pictures Anthology, a series - five projects are currently in development, each around five hours long, two coming out per year - that tackles different horror subgenres. For the first, we get nautical horror crossed with home invasions. Each of the games have been designed to be played through entirely in online multiplayer.
Though you can still play alone, the preview session I attended was focused around this new feature. Multiplayer places you in the shoes of different characters - the game constantly swaps control between them for both players - but you only see the full picture if you play through both the A and the B scenario.
In one section, I take a character on a dive into a wrecked WW2 bomber. While I'm down there, a line catches on the cockpit and tears it away. I head to the surface just in time to see an explosion from the deck of our ship. I have to make a choice: rush up to check on my character's brother and risk getting the bends, or decompress. From the other character's perspective, they see the events leading up to that explosion, but they don't see what discoveries I make beneath the surface. It's a setup that means you have to make choices based on a portion of the facts, often like in real life. "You're supposed to feel a little confused and misdirected," art director Robert Craig tells me.
While it's an interesting concept, it does occasionally feel weird. In one section, I stick some scissors through a man's shoulder and face off an armed assailant with my new human shield. As the camera pans, it reveals the other player who's controlling another character and also has a human shield. I have no idea how they got there or how they managed to capture another enemy, which is the entire point, but it's jarring to only get a portion of the picture in these shared action moments.
There are a bunch of areas where you're free to explore and have conversations together as well. It feels mostly natural, since this is how things play out in real life: people pair off and chat about different things simultaneously and you can hear the other pair's chat as ambient noise while you focus on yours. It's not often you hear two conversations firing at the same time in games, for readability purposes, but it works here because of how the sound mixes.
When you're exploring with a friend, it's not as rosy. The opening prologue has you both play as navy grunts aboard a ship. Walking down the tight corridors with the cinematic, constantly changing camera angles exposes how clumsy the movement is in Supermassive's games - at one point, my partner and I entered a scene at the same time and ended up orbiting each other for a good 30 seconds before the controller registered that we wanted to travel in a new direction. There's a reason the original Resident Evil trilogy used tank controls. When it does work, however - when your friend disappears from view and, suddenly, you're all alone - it really works. I wouldn't say what I've seen so far is scary, but there's a real tension, since characters can permanently die at any time.
Man of Medan is schlocky horror that's self-aware enough to get away with it. The scares are cliche, the characters are archetypes you've seen before, and one guy claims he "could charm the fish from the oceans". Another character says, "Let's kick it and be legends". It's hilarious and I'm 60 percent sure it's intentional.
At one point, after celebrating a successful dive with my boyfriend, I break up with him with a handbrake turn conversation that would give the Incredible Hulk whiplash. Because you never spend too long with any one character, you feel more like a puppet master controlling these lives - there's no rule in place to say you have to leave a positive imprint. This aspect of these narrative games is blown right open with two players - leaving your friend to die is always going to be more fun and interesting than helping them, after all. Calling this a co-op game would be underselling it.
"We actually have 69 deaths in the game," explains Craig as my brain screams "nice". "We like to think of imaginary ways to kill off the characters. There's no right or wrong. Some people see it as the goal, to keep everyone alive, like that's the win and lose thing. For a lot of people, myself included, it's not like that - the game unfolds and whatever happens, that's the movie you get. If they all die, it's that kind of movie. It can be so-so different."
According to the developers, you would have to play through eight times to see everything, which is one of the reasons they created a shorter experience than Until Dawn. "We tried to design a playtime that's right for the kind of game this is, the kind of experience this is," Craig continues. "A lot of people kind of assumed that this means it's cut down or lower budget, but that's totally not true. The amount of branching in this game is absolutely massive. It's a really big game, it just doesn't make sense for this game to be a 20 hour playthrough because nobody would ever be up for replaying it, it's too daunting."
This release model also allows the developer to make drastic changes between games. Each one will focus on a different subgenre combination, but Supermassive also plans to use feedback and reception of released games to work on improvements for upcoming games in the anthology.
My Man of Medan play session ends as I board the massive ship, following on from a short home invasion sequence above a speedboat. It's really only just getting into gear by this point, but I'm left wanting more. The online mode feels genuinely fresh, it's a good laugh, and it's intriguing enough to hook me in during those opening hours. I'm looking forward to seeing how it all fits together on launch.
Man of Medan releases on PS4, Xbox One, and PC on August 30. The game can also be played in single-player, or in a pass-the-pad party mode.