Luigi's Mansion 3 is looking great in this direct capture E3 footage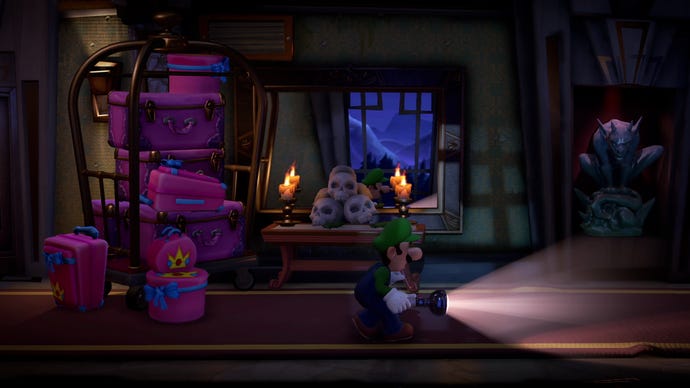 Luigi's Mansion 3 is coming to the Switch later this year, and some footage of the E3 demo - along with some new screens - give us a good idea of what to expect.
The footage, captured by NinEverything at E3, shows about ten minutes of footage, during which Luigi explores what looks like a haunted medieval castle. This is our first proper look at some extended gameplay from the game outside of the short snippets we've had in trailers.
After the opening cutscenes, Luigi soon finds himself fighting a few blue ghosts that he's found swordfighting one another. He can charge up his flashlight for a powerful flash and when a ghost is being sucked up he can slam it into the ground, or even into other ghosts. The gameplay looks very familiar if you're a fan of the two previous Luigi's Mansion games, especially the second one.
You can use the vaccum to suck up just about anything, use a blacklight to seek out hidden items, or shoot suction cups to pull at parts of the environment. In the opening section here Luigi fires a suction cup at a suspicious looking wall, and sure enough there's a treasure chest behind it.
The footage shows an extended section, and pairs well with the E3 trailer.
In the next section, we get to see Gooigi in action. In fact, three separate puzzles in this ten minute demo require Luigi's gooey doppelganger, who can be summoned at will - it looks like working in tandem with Gooigi will be an important part of the game, even in single-player. He's summoned with a click of the right stick, and if you set him to a task you can switch back to regular Luigi and move him.
The demo also showed Luigi battling ghosts with shields, which can either be pulled away with suction cups or smacked out of their hands by slamming another ghost into them. It also looks like interacting with every part of the room will be a big part of the experience, and you'll want to run your vaccum over just about everything.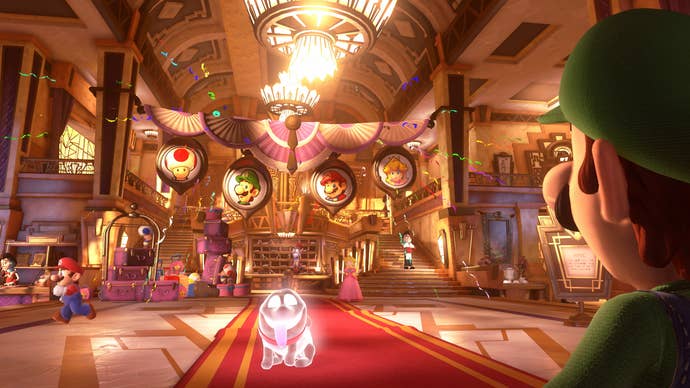 Luigi's Mansion 3 releases on Switch later this year, although an exact date has not been set yet.