Looks like Skyrim isn't "confirmed" for Nintendo Switch despite starring in the new trailer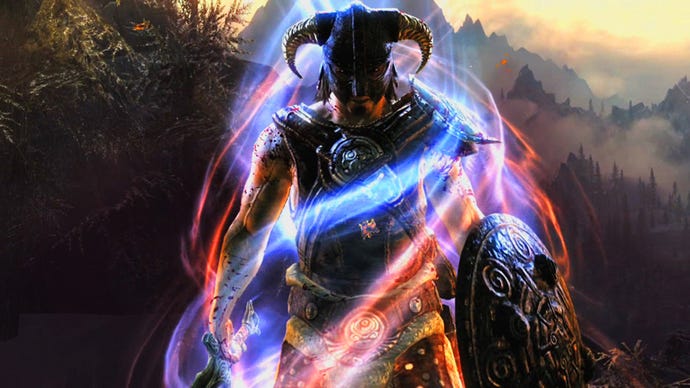 Skyrim as a Nintendo Switch launch title? Well, about that.
Nintendo revealed the Switch console today with a polished three minute trailer showing off its ability to take multiple forms.
Several games were shown during this trailer including The Legend of Zelda: Breath of the Wild, what seemed to be a new Mario game, one or another Mario Kart, Splatoon and The Elder Scrolls 5: Skyrim.
Everybody likes Skyrim and Nintendo's the only platform holder not to host an Elder Scrolls (or Fallout) game, and with the Skyrim Special Edition HD remaster coming out now it seems a solid title to slip into the Switch's launch line-up. Unfortunately, neither Nintendo nor Bethesda will say whether it's actually happening or total nonsense.
"We're happy to have had the opportunity to collaborate with Nintendo on the video. While we are not confirming any specific titles at this time, we are pleased to announce our partnership with Nintendo and support of the Switch," Bethesda told GamesIndustry.
"We look forward to revealing specific games and details in the future."
Meanwhile, here's Nintendo's own statement from the official Switch reveal:
"Today's video incorporated short glimpses of representative gameplay to demonstrate the liberating nature of the Nintendo Switch home gaming system. Full game demonstrations, the list of launch window titles, as well as launch date, price, product configuration and related specifics, will be shown and announced prior to the March launch."
In other words, what we saw may not be what we get. Like, at all. Temper expectations accordingly. Of course, this may just be Bethesda's attempt to prevent cannibalisation of Skyrim: Special Edition sales this month, as people wait for new hardware to pick up the remaster.