Watch the reveal trailer for Hypergun, the roguelite shooter with a Far Cry 3: Blood Dragon-style look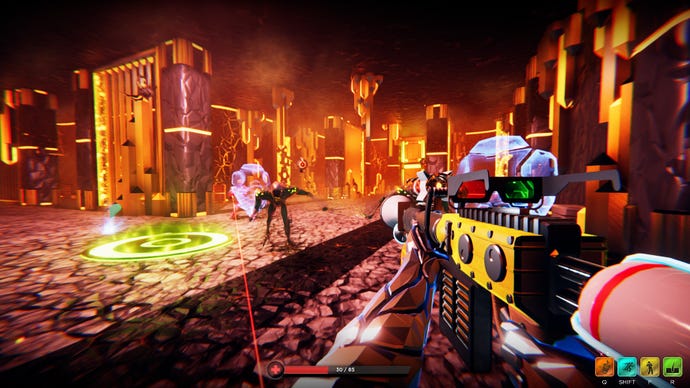 Hypergun is a roguelite shooter fond of 1980's neon-filled aesthetics and sounds.
Developed by NVYVE Studios, the team behind P.A.M.E.L.A., Hypergun is a completely different project from the studio's survival horror first game.
In Hypergun, you play as Dewey Owens, an intern at DevTech Labs who must use the company's most powerful weapon: the Hypergun, to eliminate invading aliens.
This a simulation designed to create the ultimate weapon. The game promises 150 weapon modules, making for a strong potential for varied gun customisation.
You're able to combine the various components you get from every run to create a powerful weapon. Some of these combinations look pretty ridiculous, such as the gun with 3D glasses for a sight.
Along the way, you'll unlock abilities you can use in combat. Hypergun features procedurally generated levels, and each is capped off by a boss fight.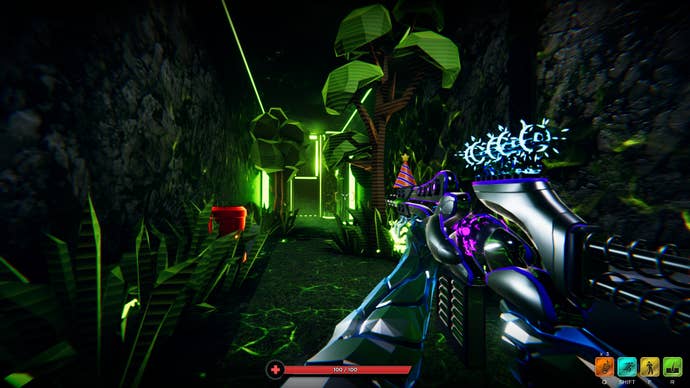 The roguelite genre may seen saturated, but there aren't actually that many decent shooters with roguelite elements. Top-down shooters have Synthetik as their benchmark, but the first-person kind needs a strong entry. Let's hope Hypergun plays as good as it looks.
Hypergun is out on PC, PS4, and Xbox One sometime this year.