Forza Horizon 2 NAPA Chassis Pack is now available and contains two great muscle cars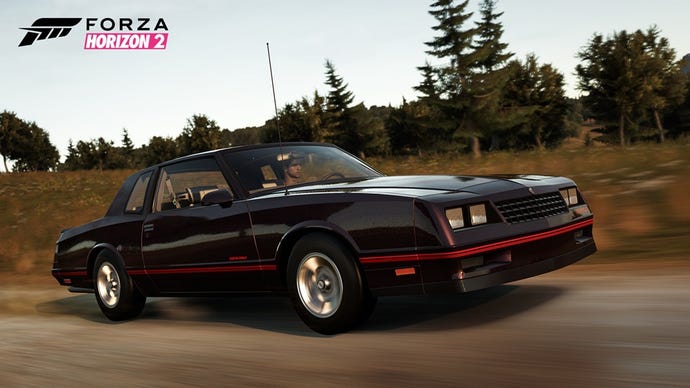 The Forza Horizon 2 NAPA Chassis Pack is now available, and along with cars you would probably see cruising along ritzy, beach side or white fence-lined roads, the pack also contains one or two which you may rarely see - if at all- anymore.
Those two cars being the 1970 Buick GSX and the freaking 1988 Chevrolet Monte Carlo Super Sport. Oh em gee. I love that car.
No joke, I do. While the Monte Carlo SS drudges up images of mullets, stone-washed jean jackets and 80s hairbands for some, to me it brings back less cheesy memories.
These memories include: my first speeding ticket; the volunteer firefighter siren in it I used to scare the shit of out my friends with (until they became the wiser); being refused alcohol by the bootlegger because he thought it was an undercover cop car; and my father's girlfriend at the time stealing it one night to go meet up with another guy.
Sure, the old girl was pushing 12 years old at the time (the car, not the cheating girlfriend) but old Cecelia as I called her, would flat out ROAR. She was fantastic.
I always have some car story to share with you guys don't I? Too many I suppose.
Anyway, along with the Monte Carlo SS, the pack contains the 2015 McLaren 650S Coupe; 2014 Land Rover Range Rover Supercharged; the aforementioned 1970 Buick GSX; the 2015 Audi RS 6 Avant; and December's free car the always snazzy 2002 Lotus Esprit V8.
Enjoy the video featuring all the shiny, new, virtual cars below.
The NAPA Chassis Car Pack for Forza Horizon 2 on Xbox One is available today for $5