Epic Games Store updating user profiles, adding hover previews and more soon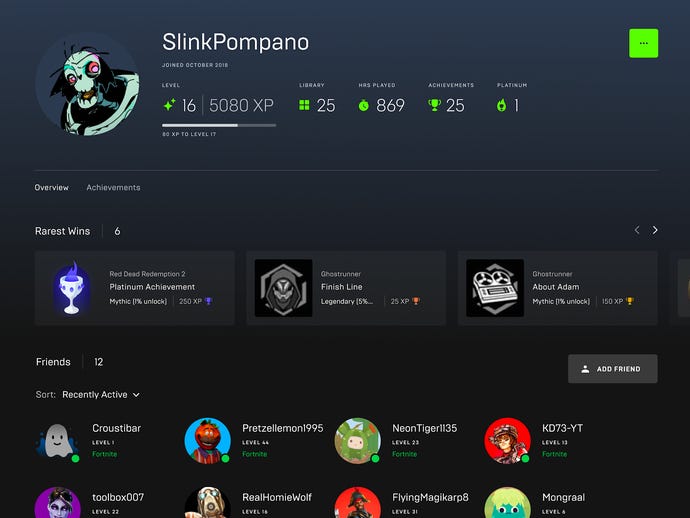 A host of new features will soon join the Epic Games Store, the company has confirmed.
As Epic continues to upgrade its popular storefront to make it more viable competition with other, more established platforms, we're seeing some major improvements arrive – and some of the biggest updates are due to hit soon.
As per the company's Trello page, we can see that a suite of new updates are due to land for EGS soon.
First up, Epic is adding preview on hover on the store. Essentially, this means you'll get a new interaction where – on hovering over a game tile – a small card will appear giving you a more detailed preview into the games details, saving you having to click all the way through to the product page to see what you need to know.
Next up, there are achievements, which will work better with revised user profile pages.
Epic promises to refine the Achievement service for titles on the Epic Games Store which – in all honesty – looks like what you'd expect from other platforms when it comes to unlocking in-game rewards. Similar to PlayStation's way of doing this with Trophies, you'll get bronze, silver and gold and platinum rewards (and each will give you experience, too).
These are slowly being added to some games, with more due to get the full achievement treatment over time.
As mentioned, Epic is upgrading user profiles. Seen in the image above, these hubs are designed to show off a player's public information in a clean and easily understood way: stats like the number of games in your library, achievements collected and hours played will be displayed alongside your friends list and an overall level.
There are no solid dates on when these features will arrive, but you can likely expect them soon since they're all filed to the 'Up Next' column on the Trello board.
Epic is committed to continually improving EGS and its functionality, it seems. The app recently received text/voice chat, and party support.
Given that Epic Games Store gained over 52 million new users in 2020, and seeing as the company wants to ramp up exclusives, too, it's easy to see why so much work is being done on making the platform a more comfortable and user-friendly place to play.
Sonic Mania, and Horizon Chase Turbo are free on the Epic Games Store until July 22.