Court filings claim Infinity Ward delayed CoD map pack at EA's request, EA claims email "was a joke"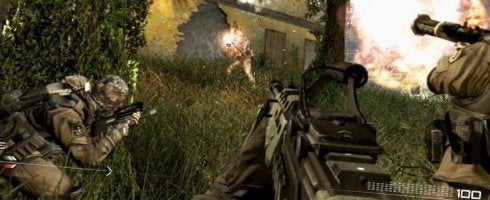 Kotaku has gotten its hands on an internal email belonging to EA, which suggests Infinity Ward put off releasing a map pack for Modern Warfare 2 at the request of the firm. The letter was released today as part of court filing in the Activision suit against EA and Infinity Ward co-founders Vince Zampella and Jason West.
Here's an excerpt from the mail:
"A couple months ago, I asked Vince to hold back their map pack until after we launched. (He owes me one,)...Given that they've already made a billion, he was cool with that, obviously (Activision CEO ) Kotick took it as being belligerent."
The email was dated March 2, the day DICE's Battlefield Bad Company 2 hit stores and 28 days before the "Stimulus Pack" map pack for Modern Warfare 2.
It was written by EA's senior director of global marketing Lincoln Hershberger, and sent to quite a few executives including EA Games head Frank Gibeau.
Activision added Electronic Arts to its ongoing lawsuit against West and Zampella back in December.
Joystiq has more quotes from the emails here, as well as more quotes from the court documents.
Meanwhile, EA vice president Jeff Brown said the email was a joke, and should not be taken as anything more.
"This was obviously sarcasm," he said. "It's clear from the email this was a joke and they never spoke. We explained this to lawyers at Activision – who apparently don't have much of a sense of humor."
When asked to elaborate on the accusations, especially regarding the court documents claiming Brown was aware of a meeting between an EA executive and the Infinity Ward heads, Brown told us he had "nothing more to add."
The emails in question were handed over to Activision by EA as a part of the legal proceedings, and were allowed into the public record by the Los Angeles Superior Court earlier this week. The new documents include emails between EA execs discussing the hiring of West and Zampella, as well as talking about using a more "aggressive approach" to bring the duo over.
Activision is claiming this is more proof of EA trying to court West and Zampella away from the firm, which, if proven, means both men were in breach of contract by seeking employment elsewhere.